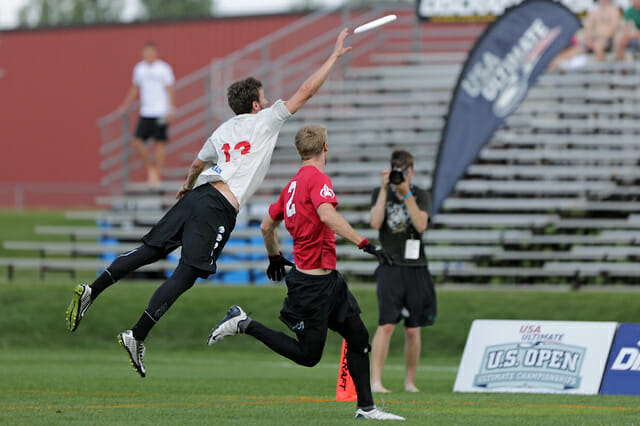 1. San Francisco Revolver: A second straight US Open win kicks off another season for the seasoned Bay Area crew. Despite an ugly loss to Johnny Bravo in pool play, Beau Kittredge and crew came back with a strong finals performance to secure their favorite status heading into Worlds.
2. Denver Johnny Bravo: An already solid team added a dizzying array of talent in the offseason and announced their arrival with a blowout win over Revolver at the US Open. Certainly the most dangerous team on paper in 2014, Bravo is eying both National and World titles.
3. Boston Ironside: Another year, another semis appearance for Boston's finest. Additional young talent should help shore up their defensive line this season, which they hope will take them to their first-ever title. They had a good, if not spectacular, start at the US Open.
4. Chicago Machine: Machine was the class of the Chesapeake Invite and look like a team that will be vying for a semis spot this season. The addition of three top Madison players has already helped round out their rotation, and they laid a beatdown on both PoNY and Chain Lightning in the bracket at the Pro-Elite Challenge.
5. Seattle Sockeye: An up-and-down start for the fish at the US Open still showcased their depth and high ceiling. Perhaps the most well-known team in the world thanks to their frequent international appearances, Sockeye hopes to carry their 2013 momentum into Worlds.
6. Minneapolis Sub Zero: It's time to start paying attention to the Minneapolis crew — they scored a spot in semis with an upset of Sockeye at the US Open and look even more explosive than last year, when they emerged as a contender. Their offensive line is as good as any in the country.
7. Atlanta Chain Lightning: Chain may have come up short against Machine at the Pro-Elite Challenge, but the Atlanta crew looked hungry and focused in Virginia. With Martin Aguilera helping coach and a crop of new, young talent, Atlanta may be poised for a return to the semis.
8. Raleigh Ring Of Fire: A new look Ring team — positive, upbeat, and coached — debuted this weekend at Chesapeake. While they showed some inconsistency, they flashed moments of excellence. Their defense looks quite strong, but the offense needs work if they want to reach the next level.
9. New York PoNY: An outstanding start to the season with wins over Doublewide and Ring signaled a potentially huge weekend for PoNY at Chesapeake. But a blowout loss to Machine in semis and then a loss to Ring in the third place game dampened their hot start. Still, PoNY looks capable of reaching quarters if they can clean up their offense.
10. Austin Doublewide: An inexperienced, raw group of youngsters got a lot of playing time for Doublewide this weekend. They opened up against PoNY looking poorly organized and out of sync. However, as the rookies started to find their rhythm, the team made massive strides and ended up taking down a close-to-full-strength GOAT to close out the weekend.
11. Toronto GOAT: GOAT had a rough Saturday, playing with just half their roster. When reinforcements arrived, they played better, but can't be happy about a loss to Austin in the final game of the weekend. Hard to read much into these results, though, and GOAT will likely move up the rankings later this summer.
12. Washington DC Truck Stop: Truck Stop ran wide open lines all weekend as they were still evaluating some tryouts and getting playing time for the rookies. That makes their weekend look pretty impressive: a win over Chain and close losses to Machine and GOAT. We'll see how the MLU experience transfers into the club season when they're at full strength.
13. Florida United: A truly united Florida team had mixed results this weekend as they started getting comfortable with players in new roles. They were also missing Chris Gibson and Cole Sullivan. They probably did enough for an additional strength bid for the Southeast this weekend alone.
14. Vancouver Furious George: Furious George had a mixed weekend at the US Open as many on their roster are preparing for the MLU Championship game this weekend in Philadelphia. A nice win over Seattle Sockeye buoys their resume early in the year.
15. Portland Rhino: Rhino hasn't played yet this year, but a strong year in the MLU playing as the Stags plus a very solid roster should land Rhino back at Nationals this season.
16. Santa Barbara Condors: The early favorite behind Revolver in the Southwest has what captains call the deepest roster in years. They have yet to take the field, but a Nationals appearance last year plus some strong new talent should drive them even higher this season.
17. Kansas City Prairie Fire: Two straight tournament wins for Prairie Fire without a loss. Sure, their best win is probably over Dallas Plex, but they have been dominating their competition. Their closest win came by five to Houston H.I.P. in the finals of Texas2Finger. They could make the leap to Nationals this year.
18. Michigan High Five: The second-year Michigan squad didn't quite make a splash at Chesapeake this year as they did in 2013. But they did beat Truck Stop and Sub Zero in pool play. They have work to do, no question, but they will be motivated after losing the bid they earned to Madcow last season.
19. Palo Alto Boost FC: Boost played together for the first time this weekend — that's right, no practices before this — and came out with a strong win over GOAT in pool play and a close one over Madcow to close out the weekend. Not too shabby.
20. Madison Club: Hard to say how this Madison team will stack up in its region, but they looked strong to start the year with a win over Sprawl to take home the San Diego Slammer title. The loss of some of their key players last year to Machine — including Dave Wiseman and Pat Shriwise — will hurt their depth, but there are a lot of strong players in Madison.
21. Columbus Madcow: A nice win over PoNY at Chesapeake looked like it could signal a big weekend to come for Madcow, but they stumbled down the stretch and went home winless on Sunday. They have some excellent talent, but not great depth. They will be in the hunt for another Nationals appearance, however.
22. Pittsburgh Temper: The new Pittsburgh team that replaces Oakland still looks a lot like the former team: lots of Pitt players and influence. But a new coaching staff and a focus on winning, not development, could change the team's fortunes. They lost to High Five by four in the finals of No Surf earlier this season.
23. Phoenix Sprawl: Sprawl reached the finals of San Diego Slammer where they fell to Madison Club, but beat regional rival San Diego Streetgang in semis. Sprawl is always in the mix at Regionals, but haven't ever been able to break through to claim a bid.
24. Philadelphia Southpaw: Southpaw is back in 2014, but haven't yet played a tournament as Southpaw. They went to the Boston Invite as Geno's, where they lost in the finals to Ottawa Phoenix, a team prepping for Worlds. The battle for the bid(s) in the Mid Atlantic should be intense this year, as Pittsburgh and Philly are back on the scene.
25. Boston Garuda: Last year, Garuda narrowly missed stunning PoNY in the game-to-go to Nationals. They hope to turn that into confidence and success this season. They lost to Southpaw/Geno's handily back in mid-June, but haven't played since. They lost a number of key players — including Jeff Babbitt — to Ironside this season.
25. San Diego Streetgang: Streetgang played well at their home tournament, Slammer, notching wins over Sprawl and Seattle Voodoo before falling to Sprawl in the semis. They hope to make a dent in the deep Southwest.