WFDF desperately needs observers.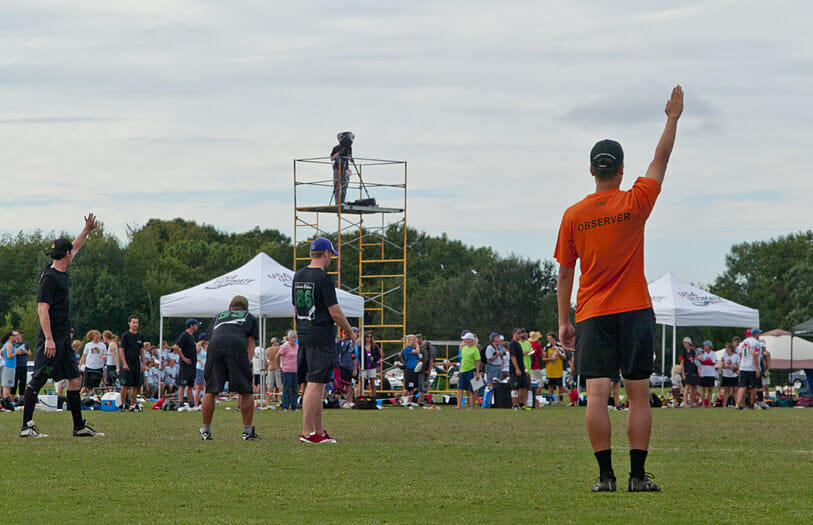 Think of all the things you can talk about after a game of ultimate: big layouts, clever throws, an amazing individual performance, the game-changing turnover. Sports are captivating both for participants and fans because there's always the opportunity for greatness, for an amazing moment. Never is that more true than on the sport's biggest stages, like the World Ultimate Club Championships.
There is a problem, then, when many of those post-game conversations are about foul calls.
Though many of this week's games at WUCC have been clean and spirited, I have never seen so many games at a tournament marred by dreadful foul calls, contests, and what I am comfortable calling cheating. Yes, cheating. People taking advantage of the self-officiated nature of the game to gain an unfair advantage for their team.
This has to be a wake-up call for the international game. This is not an "isolated incident" or a "bad apple" — there are systematic problems, particularly in the Open Division, under the WFDF ruleset.
To WFDF's credit, they convened a Spirit of the Game task force to come up with a plan to deal with the highly visible examples of poor spirit, bad calls, and long discussions. They settled on game advisers, third parties who are on the field to help with timing, rules clarifications, and keeping the game moving. Eventually, they will be given the power to offer their opinion on disputed calls, if asked — but not to make a ruling like observers in the United States. It is important to note that that power is NOT in effect this week in Lecco. It will not be tried until next year's U23 Worlds.
However, game advisers have been quick to offer up relevant rules that might suggest to players what the right call might be. Unfortunately, they have sometimes been ignored. Players have ignored the rules and maintained their calls.
This is madness. And there's no reason for it. There is a perfectly good system that allows players to maintain full control of the game, except when there are complete disagreements on the outcome of a play: observers.
Observers are not referees. They aren't really even anything close (more on this later). They simply adjudicate calls in moments when players on the field cannot agree, ensuring that games are played more fairly and within the rules. They can also enforce sanctions on players that intentionally break the rules or violate Spirit of the Game through various mechanisms.
I want to make a public case, aimed at international players, for moving to observed ultimate. It is better, more fair, and more fun. Spirit is still vital, and can thrive. Referees are nowhere in sight.
First, I want to let you hear from Josh McCarthy, the coach of Boston's Ironside. I spoke to him after his team's loss to Buzz Bullets in the round of 16. He was frustrated by some of the calls at the end of the game. Listen:
That is an eloquent explanation of the need for observers in all major games. I have seen far too many contests this week devolve into angry, heated affairs with escalating bad calls, physicality, and bitterness. There is simply no need.
Here are three reasons WFDF needs observers.
1. Spirit of the Game is healthier than ever in the United States.
Despite the bad rap that North American teams seem to get with regards to spirit, I am confident in saying that spirit in the USA is better than its been in years, and a good deal of that is due to the rise of observers.
Observers are like arbitrators, only intervening when you need them. Many games with observers are played like they almost aren't there. Players make good calls, and respect one another, because they know that breaking the rules simply won't be tolerated. The observer will overrule bad calls and give misconduct fouls to habitual violations (like bumping on the mark).
As a result of an increasing number of observed games at the high levels of US ultimate, games have become cleaner, quicker, and much better spirited. In those cases where calls do happen, they are resolved without long discussions. And if you feel you've been wronged, it's almost always due to a decision by the observers, not your opponents.
That is a particularly potent point. Teams no longer leave games feeling angry at their opponent. In rare cases, perhaps they feel angry at the third-party observer, but that is certainly an improvement.
Some players feel that observers remove responsibility from the players for fair play, but the experience in the United States has been that unobserved games have also become more spirited! Observers reinforce what are good and bad calls, and players expect to play within those bounds at all times. SOTG is healthier than ever, across the board.
2. SOTG is better in the US than internationally.
Some players, wary of observers, think that how the game is played under WFDF rules is already working! Self-officiation is a perfectly good system!
At pickup, yes. At low level tournaments, sure. At major international events? I can tell you from what I've seen this week: it's not working.
Spirit circles after a game do not solve the problem of flagrantly bad calls and unspirited play during the game. The system isn't working.
If observers were the wrong step, wouldn't we expect to see significant SOTG problems in the United States and Canada? Wouldn't we see great spirit all around Europe and Asia?
We don't. If you think the USA has major spirit problems, you're living in the past. What I have seen this week in Lecco has moved me enough to write this column. I rarely discuss spirit-related problems in the US.
3. Observers are not referees, and they don't lead to referees.
There is a valid concern from some international players that any step towards third-party officiating will lead to referees. But that just doesn't have a logical basis.
Some will surely point to the USA's semi-professional ultimate leagues — the AUDL and MLU — which are using referees as PROOF that observers lead straight to referees. While a convenient argument, it is a false one.
USA Ultimate, the governing body of the sport in the US, has explicitly siloed itself off from the semi-pro leagues, largely because those leagues use referees. The leadership at USA Ultimate is fully committed to self-officiated ultimate with observers. WFDF officials are fully committed to self-officiated ultimate. North American players, by and large, strongly prefer observers.
Arguments that observers will just mean we have referees in 10 years are classic slippery slope fallacy: no logical connection between the facts (a robust observer system that has existed for many years in the US) and opinions (new players will want referees!).
***
The utopian vision of ultimate with pure self-officiation and no third parties continues to fail real world tests. It is time to stop pretending everything is working and implement a system that punishes cheaters in the moment and improves overall spirit of the game over time. It's time for WFDF to adopt observers.
An Endnote: Perhaps the process to move to observers is already underway. With the progression of game advisers at next year's events, WFDF may have already taken all the right steps to start to clean up the game at international events.