The team from Austin looks vastly different than the one that won a National Championship just two short years ago.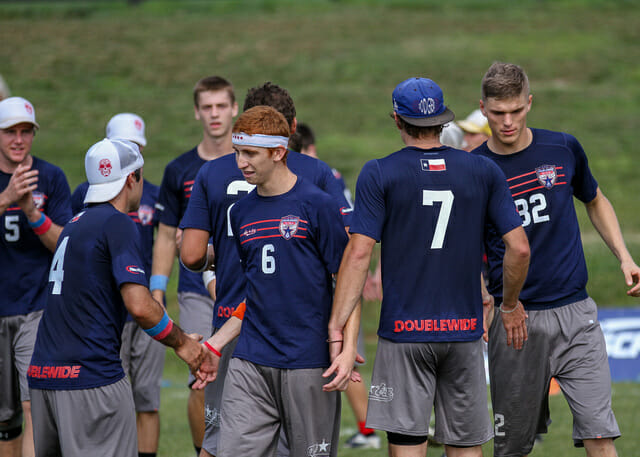 Kurt Gibson, Kiran Thomas, Ryan Bigley, and the Pitt contingent of Alex Thorne and Tyler Digirolamo are some of the big names departing from last year's roster. The core that remains, including Captains Jerrod Wolfe, Steven Darroh, Jeff Loskorn, and star Will Driscoll, will have a heavy burden placed on their shoulders this season.
Much has been discussed about roster moves and consolidations this year, and it appears that Doublewide is one of the victims of 2014; many of the names on the roster won't jump out at you like they did in previous seasons, but that doesn't mean there isn't a lot of talent there.
A New Class
"The roster looks quite a bit different this year," says Captain Loskorn. "Over half of the team is in their first or second season with Dub, and there are more rookies this year than members of the 2012 championship team."
With 11 Doublewide rookies on the roster, team leaders know that the mentality had to shift as well.
"The culture of the team hasn't changed, but the attitude towards the season has," Loskorn explains. "The group this year is very unassuming – they already know nothing will be handed to them. They've embraced the uphill battle we have this season, and they understand complacency is not an option. There's no sense of entitlement. Many starting spots are up for grabs so everyone has been hungry to earn their keep."
While many of these young guns lack the name recognition of past Doublewide rosters, nearly all are extremely talented and many have impressive ultimate resumes.
"We've already seen all of our young guys step up in some capacity in our early season practices," Loskorn says. "Chris Brooks and Chase Cunningham continue off their Nationals run with TUFF this past college season; Andrew Watson and Andrew Amerson are both stellar athletes that have switched over from Mixed; and Reid Bacon and Wes Nemec have already shown some great poise with the disc. Ryan Purcell, who is more of a vet despite this being his first year on Dub, is a workhorse that brings a lot of experience to the table."
Lofty Goals
Despite the youth, Doublewide isn't settling in 2014. In their minds, this isn't a rebuilding year, or a step backwards to set up a future season. They plan on competing to win at the highest level, even if that means finding new ways to achieve that victory.
"Our goal at the end of the season is to win Nationals" Loskorn maintains. "However, right now we are focused on integrating our system and developing confidence in ourselves. Our practices have been very productive for both thus far."
In many ways, being out of the spotlight means a lack of expectations, but this can also create opportunities.
"Without the US Open or Worlds to deal with, our season sets up nicely to peak at Nationals," says Loskorn. "Gaining that experience and confidence will be far more important than the results of any regular season game. A championship for Dub this year will require an attack that keeps the opposition guessing. If we keep the same guys in the same roles, we become predictable. When everyone on the field becomes a threat, we become dangerous."
Underestimate this team at your peril; many games this year could be lost by opponents who think they know how this squad will play and exactly how good Doublewide is going to be.
Shift in Strategy
"In the past," Loskorn explains, "we've neglected some of the basics of our offensive and defensive strategies and molded our game plan around a handful of players. That's no longer the case. We don't have a top heavy roster. Instead, we've bought into a team system in which every player is a threat when they are on the field. Everyone trusts everyone. Anyone can be a game changer."
Offensively for Doublewide, this year is about hitting the open man and playing smart.
Doublewide will run multiple stacks and use a far more scripted system than in the past. They won't be able to simply highlight one or two players this season and expect raw athleticism and talent to win. There will be far more set plays, far more quick and small disc movement, and a emphasized greater use of the breakside.
There is still a lot of talent on this roster; they are a cadre of young athletes, led most notably by Driscoll, a rising star in the ultimate world and an extremely skilled player on both sides of the disc.
Expect the handler core and the offensive line to suffer through growing pains especially, as many of that group's standouts are now gone. The team's cohesiveness needs to be reforged and the new players need to step up into elite roles. Purcell, especially, will be one to watch as he's a veteran that can make an impact.
On defense, expect the same aggressive mentality, but tempered with smart play. Doublewide's famous zone (a variation of the large cup/ trap used often in recent years by Florida) will be interesting to watch over the course of the season. Close, tall defenders make this zone very tough to break through, but some of Doublewide's height is gone.
One of the things that makes this squad dangerous will be its fluidity. Any tactics or results seen in the regular season may not be good indicators of what to expect come October, as the squad will be trying new things and may moving people around throughout the summer.
"We're going to be a little less strict on our O and D line splits," Loskorn explains. "In general, we know who is playing where the majority of the time, but we know we'll have to mix things up. We are still experimenting with different guys in different spots, but our philosophy remains the same across the whole team – trust your teammates. We expect each player to play within themselves and make good decisions. With that mindset, our chemistry builds on a team level, not a separate O or D line level."
So Far
Recently, at the Chesapeake Invite, Doublewide went 3-2 in pool play, with losses to PoNY and Ring and wins over GOAT, Madcow, and Boost FC. They then went on to take 5th place, going undefeated in the back door bracket.
Early in the tournament, the team looked incredibly nervous (understandably so, for many of these players are new to the elite game). Dropped passes, throwaways, and mistakes were common, especially in the early loss to PoNY.
However, the team that ended the tournament was impressive. The talent that is there started to assert itself, as Doublewide grew more and more comfortable. The final win over GOAT is a good example of their potential coming together, and an impressive quality victory that many who watched the early rounds would not have expected.
The team has proven that, while different in many ways, they are still contenders. Texas has a lot of strong talent and they are as gritty as any squad gets.
On the field, their play improved consistently throughout the weekend. Expect this to be a trend for 2014, as a new identity is shaped in the regular season. Without an AUDL season to draw upon, early tournaments will be the time they grow, and it may work to their advantage in terms of peak.
The Balance
This year the balance for Doublewide will be for experimentation versus definition.
It is undoubtedly a year of change for the team from Austin; unpredictability may be their hallmark, but a true team identity needs to be established for them to do well.
Also of note is the bid situation. Johnny Bravo is the team to beat in the region, if not in the country; to get to Nationals, the Austin squad will have to go through the Denver team or else earn themselves a second bid. A regular season of growing pains will also need victories for that to happen. So far, they are on the right track. The South Central is poised to grab either two or three spots, with Dallas PLEX starting the season strong and potentially bringing in a third bid to regionals.
Will the young players form a new core that will establish Doublewide as a threat? Or will there simply be too many roles to fill to be successful?
Outlook
Doublewide can be the team of the future, but 2014 will hold a lot of challenges.
So far, Austin has proven they belong in the top 16 in the country, and this will probably continue to hold true.
However, they may not be able to match the elite of the top eight, at least not this season. The road to Nationals may not always be smooth for this squad, but expect them to be there in October. And expect them to get better with each game they play.