Heavyweights is filled with top Midwestern talent, but can the surging outsider Molly Brown steal the belt?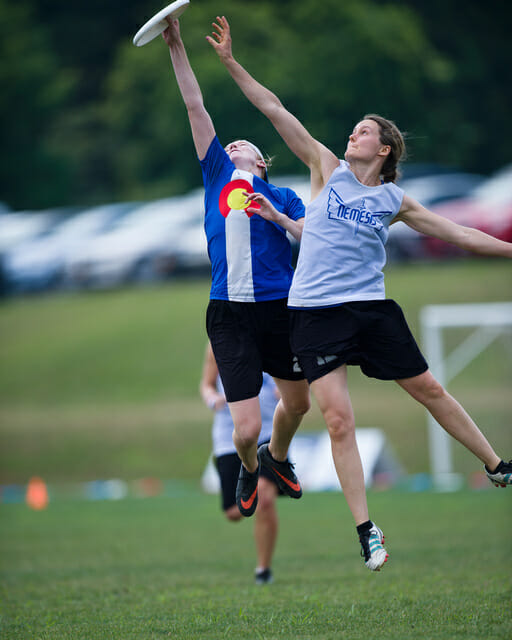 As the Ultimate community recovers from the highs and lows of WUCC, we turn back to the Club teams who are still slogging through the August grind as the postseason looms. This weekend, all the usual suspects in the Midwest convene in Rockford, Illinois, to duke it out. Chicago Heavyweights has not been a turning-point tournament in the past; scheduled just before and after big weekends like Labor Day and ECC in the past, CHC has been a way station during teams' seasons.
This year's slew of emerging talents may change that narrative. From the unstoppable force of Molly Brown to the vulnerability of a young Nemesis, from the rising Phoenix to the promising Heist, the Heavyweights belt is anyone's to grab.
Madison Heist Seeks a Signature Win
Heist enters CHC as a 3rd seed with plenty of promise, and therefore a lot to deliver. So far this season Heist has performed admirably without grabbing any signature wins. They faltered at Chesapeake Invite against top teams like Scandal and Brute Squad, but they put together a nice weekend at Colorado Cup despite missing captain Robyn Wiseman for Worlds.
They have plenty of depth in their midfield from Wiseman and Jen Nowak, coupled with calm handling from Arthi Padmanabhan and newcomer Jessica Mast. Georgia Bosscher will set her stamp on every point she plays, and teams will have to reckon with her and Wiseman if they share points. A victory over Nemesis, a rematch against Phoenix, and a challenge in Molly Brown offer plenty of chances for Heist to push their names into a bigger conversation.
Redemption for Nemesis?
Chicago Nemesis has had a lot of time to think since their last showing at Chesapeake Invite, where they went 2-4 with heavy losses to Molly Brown (4-13), Phoenix (8-10), and Dish (8-9). This weekend they get another crack at all three teams. Their problems at Chesapeake stemmed from still-developing chemistry, which only time and practice can solve.
Heavyweights marks the first time that Sara Scott will be joining Nemesis for a tournament. Scott was Wisconsin Bella Donna's Callahan nominee, and she was a driving force behind her team's success in the college season. Her dominant presence on the field, particularly in zone offense, won't be a panacea for Nemesis. But she could instead be a missing puzzle piece that helps click their offense into gear and provide a defensive spark on the turn.
Veteran playmakers like Sara Miller and Katie Dyer will take the offensive helm, with newcomers like Stazi Tangherlini and Jessica Sipperly adding fresh legs and drive to the O-line. Risa Umeno adds speed to the D-line, where Servia Rindfleish and Laura Moore stand as experienced defensive staples. If this elements come together like the team is hoping, Chicago might give some hints as to their ceiling this season.
The Molly Brown Summer
Molly Brown seems unstoppable this season. They haven't lost a game since they saw Brute Squad in the semifinals at Chesapeake, and they're only getting more polished with practice. Along the way, they won Colorado Cup in a gritty finals against New York BENT, the road to their victory littered with high-margin wins throughout the weekend. Alas, they won't get another crack at the country's top teams again until the Series because they're in the Elite Flight. But some big roster pickups and a tougher mental attitude make Molly Brown the emerging threat of the season, and their seeding at the top of CHC in their inaugural appearance shows how far they've come as a team.
At the beginning of the season, Molly captains said that they would focus on encouraging both consistency and aggression in their play on both sides of the disc. In one respect, Molly Brown has overperformed: they play a head-on offense that produces big plays and big points from their talent-laden downfield. At Colorado Cup both their O-line and D-line took aggressive looks, compensating for their conversion rate with a balls-out mental game. This approach falters when they face unrelenting discipline from teams like Scandal, but it's clear that their development as a team isn't complete.
Molly Brown faces an easier tournament than their opponents: they already beat Phoenix and Nemesis with ease at Chesapeake Invite, and Heist will have to outperform in order to have a defensive impact on Molly. But Molly Brown has let teams back into the game, particularly in the second half, and any of these teams could make long runs that Molly can't afford in the post-season.
Phoenix Still Looking to Define Themselves
Raleigh Phoenix is yet again a young team this year, and they are yet again rebuilding toward becoming a nationally competitive team. But their win-loss record so far doesn't display the dominance they will need to swing with the big kids, with wins over Nemesis and Heist counterbalanced against losses to Ozone and Underground so far. Phoenix is poised to make a power play, to break into a higher echelon of teams. But first they have to deliver.
Despite captain Michelle Ng having run CHC for the past several years, this will be Phoenix's first appearance in Rockford, IL, and it will give them another run at several Elite- and Pro-Flight teams. Ng will be balancing her time between playing and running the tournament, but her presence on the field will nevertheless act as ballast for the young team.
She's joined by Phoenix veterans like Jessi Jones and veteran rookies like Jinny Eun (from Riot). Again and again, the Phoenix captains have emphasized their growth and developed throughout the season. Now, in late August, it's time to reap the rewards.
Chicago Rising
For the first time in a long time, all three Chicago women's teams made the early season power rankings: Nemesis at #15, Dish at #18, and Spicy Tuna at #25. This feat shows the growing strength in the Chicagoland area, and it hints at how dangerous Dish and Spicy Tuna will be in Pool C and Pool D.
Chicago Dish has long been a team that stayed close to home in the Midwest, playing local but competitively within the region. They have deep experience on their team, from handlers Steph Knell and Emilee LeDonne to their speed downfield in Jessica LeDonne and Amy Morrison.
They run tightly regimented plays that exploit the open side and favor a deep game, and so far this season their discipline has paid off: while their Chesapeake ledger was predominantly red, a 9-8 win over the tired Nemesis made a statement for Dish. They followed up with a forceful run at Motown Throwdown, losing only to Spicy Tuna in the finals 8-13. They know how to surprise and then hurt teams, but they will need to tap into better flexibility to move past better defensive teams.
Speaking of Spicy Tuna, this Chicago team has also evolved into a much younger and much more dangerous factor in the Midwest. Captains and Illinois Menace alumnae Allie Fish and Rachel Foster are joined this year by Northwestern Gungho grad Sam Thompson, and they have compiled a roster full of potential. Foster, Alex Chudler, and Angelina Kim command the backfield while Thompson and Bonnie Lin are fast and dangerous downfield.
Already this summer Spicy Tuna made a deep run at Huckfest, and they won Motown Throwdown with a limited roster. Their success stems from their endless youth and energy, and this energy drives their successes and drags them toward their losses. If they can keep their mental game positive and consistent at CHC, they will be a dangerous factor in Tier 2.
***
Ding, ding. Step onto the mat. Let's see who takes home the coveted Midwestern belt.