Emerald City Classic played host to the Pro Flight Finale. A competitive field turned in an exciting weekend, with Saturday upsets to get the conversations started. The final, however, featured the two favorites and Brute Squad ran away with it. The rest of the tournament features plenty to talk about before the Club Series.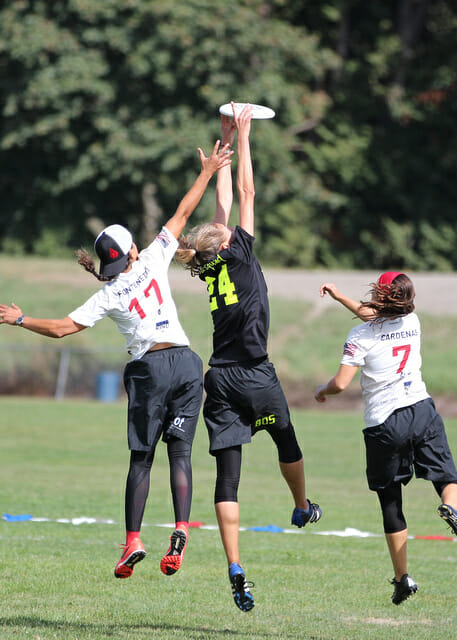 Emerald City Classic played host to this year's Pro Flight Finale, featuring the top eight finishers from last year's Club Championships and many of the top contenders for this season's title. Recent World Champion Seattle Riot entered the weekend the favorite, but a variety of challengers were prepared to gun for the top spot.
The weekend – for the second year in a row – provided plenty of surprises and upsets. Riot went 1-2 in pool play, Fury was bounced in quarters, and Nemesis battled their way into the semifinals. But in the end, it was the top two seeds – Riot and Boston Brute Squad – that took the line in the final. Boston hammered Riot from the first pull to the last and took home this crown in the TCT, 15-7.
Brutal Boston Decimates the Competition
Talk about delivering on your potential! Brute Squad put together a very impressive tournament, an undefeated victory where they won their games by an average of nearly 6 points a contest. Add in a 13-5 Chesapeake win over Molly Brown, and over the last two tournaments, Brute has beaten every team considered in the mix for this year's title and most of them quite comfortably.
During Saturday pool play, they waxed Showdown, in-region and shorthanded Capitals, and bested Fury 13-9. Sunday's quarterfinal matchup did test them: Traffic went up early, Brute responded in kind to dominate the rest of the 1st half, and then Vancouver gave Boston all they handle the rest of the way.
The emphatic conclusion to the weekend was a cherry on top of a very sweet Sunday, the team's first ever W against Riot.
Their handler play is excellent, driving the action for a team with some dangerous downfield weapons. But it is the ability of Leila Tunnel, Paula Seville, Emily Baecher and company that provide fuel for their offensive success. When they don't have the disc, Boston spent the weekend blanketing offenses with high pressure D. You can sense their confidence up and down the roster – 11 different players scored for them in the final, 10 in their semi – and that's a powerful thing.
C-H-I-C-A-GO! Nemesis Shocks with Semis Run
For the second straight season, it is Chicago Nemesis's wins that may be the most intriguing result from the Pro Flight Finale. Last year, it was a round 1 upset of Fury. This time around, it was a round 2 victory over Riot, preceded by a opening upset of Traffic. And just like 2013, Nemesis parlayed their opportunity into a semifinals appearance and a 4th place finish.
But this year was not last year. Little was expected from a reeling Nemesis team, with some hideous pockmarks and a losing record in their ledger. They entered the weekend as the bottom seed, preparing to play a back to back weekend. Were Vegas taking bets, you can be sure Chicago would have been a long shot.
Once they took the field though, Nemesis brought something we had yet to see from them: offensive efficiency. Both their offensive line was scoring effectively and their defensive line taking advantage of teams who gave them the disc. Not only did they go 2-1 on Saturday, but they backed it up with a quarterfinals win over Showdown on Sunday, Katie Dolara said the team had previously "struggled with on a mental level."
"Coming out strong [on Sunday] really meant that we were a consistent team," said Dolara, "not just outperforming as an oddity."
Their top players were effective throughout the weekend. Sara Miller, Katie Dolara, Megan Tormey, and Laura Moore provided consistent play, while Emilia Garcia, Sara Scott, and Emily Hadel all collected numerous big plays. When things broke down – a fairly common sight for the team – they turned to that group to help squeeze them out of it.
And to be honest, Nemesis was not winning pretty. There were lots of messy red zone possessions, crowded and confused dump sets, and high stall bail outs. But they say good teams can win when they aren't playing their best. Nemesis didn't do it exactly how you draw it up, but the results are what matter, and their grit and playmaking made up for mistakes that can be fixed in practice.
"Most of it is timing," said Dolara. "Finally, we're all coming together at the same time and just not giving up."
Sarah Griffith Goes Down During Tough Riot Weekend
The best team in the world (according to their world title) goes 3-3 while the best woman in the world goes down with a potentially serious injury. It isn't how anybody expected the recap of the Pro Flight Finale to go. Even now, it is hard to say what to make of a .500 weekend where a shorthanded Seattle squad lost to Nemesis and Scandal, but also beat Fury and got revenge against DC, all while finishing second overall in a highly competitive field.
The Surge situation is an unknown and an uncontrollable, even if it isn't unfamiliar. The ankle injury looked pretty serious when it happened, as Griffith was clearly in serious pain and was taken off the field in a cart and directly to a hospital for X-rays. She didn't look too limpy on Sunday as she lended her voice to the sidelines for Riot. If it impacts her ability to compete at nationals, it'll obviously be a blow for Riot.
But they dealt with similar issues last season, losing numerous players to ACL tears, including Rohre Titcomb. Callie Mah's season has already ended. And the roster is no one trick pony.
Coming in, we knew Riot wasn't gunning for this weekend's title full tilt. They have grand plans for this season and already have a pretty clear idea of what they are capable of. The Brute Squad game was hard – the team looked sluggish and unfocused after their hard quarters and semis – and filled with uncharacteristic miscues that Riot is unlikely to repeat. If we all are fortunate enough to be treated to a full-strength rematch in Frisco, it'll be appointment-viewing.
Shorthanded Scandal Looks More Polished
Washington DC's Pro Flight roster was a skeleton crew, but that group actually put together a good weekend and looked to be the best version of the team to compete stateside. Even without Opi Payne on Sunday, they were able to come within a few yards of the final.
Scandal won their pool, including a dramatic 12-11 win over Riot. Alicia White proved, as she always does, that she's still one of the division's premier players. Jessie O'Connor and Alika Johnston both also played well, stepping up when Payne was out and without some of the team's more experienced handlers around. Sandy Jorgensen was, per usual, at points unstoppable.
It was, however, the structure and chemistry that Scandal displayed that really impressed. Their defense has looked disheveled at times this year and their offense has had bouts of downright wastefullness. The reigning champs looked a lot more in sync, with more established cutting spaces and more disciplined decision making. That may have been a function of their personnel, but something says this team is just progressing into the threat they've been expected to be all season.
Fury Quietly Solid
Like rival Riot, it was a strange weekend for the Bay Area ladies and they did it without their superstar. Alex Snyder was still recovering from a knee injury suffered in the WUCC final, leaving her sidelined; Cree Howard was also absent for Saturday's contests. But Fury went 2-1 with a solid showing against Brute Squad. Sunday, they were very close to knocking off Riot in the quarterfinals, a tough draw. Both teams were competitive throughout and a couple of missed deep shots were potentially the difference.
With the pressure off, Fury won their following two games to finish 5th overall. 5-2 on the weekend, with their only losses to the two finalists and two top ranked teams in the country. In fact, their five losses this season have been to that group, plus one from US Open at Traffic. We might view the weekend really differently had quarters broken differently.
World's really seems to have forged Fury in the fire. Their mental game looks stronger than it did a few months ago and their new players seem a lot more comfortable. When they rush, they tend to turn the disc over too frequently, but they are still loaded with an impressive roster. And rarely a game goes by when Claire Desmond doesn't do something spectacular.
Underwhelming Weekends for Showdown and Traffic
Neither Austin nor Vancouver went home from Seattle feeling like they had done all they could. Showdown left 2-5 with a 7th place finish, with both of their wins over a tiny Capitals team; Traffic's 1-6 weekend and 6th place finish was filled with close losses, their only win against Showdown.
Traffic really struggled Saturday, looking out of rhythm and failing to execute. A team with a nice balance of skill and athleticism like Traffic really shouldn't be giving the disc away so often and their ability to work between handlers was one of their strengths at the US Open. They'll need to clean it up before the series or they'll be a prime target for a bracket upset.
Showdown, meanwhile, looked out of sorts. Offensively, they just didn't seem to have defined themselves. They have some exceptional playmakers – great things happen when Katey Forth is involved – and their best offensive points involved just giving those players space and letting them work. But they are young and play young and are still making adjustments. Roster turnover really hit Showdown hard and they still look like the type of group that can show up in Frisco and do what they do best: surprise.
Both teams have potentially tough matchups in the Regional finals and may actually put their cards on the table in an effort to improve seed and build momentum.
But What Does It All Mean?
This season's Pro Flight Finale was different than last year, in more than just location. There was just less intensity and less urgency this weekend.
It is fair to call it an outlier, with World's having given five of the teams strange schedules and less reason to treat this tournament as their last chance to measure themselves against key nationals competition. But the format, where every team makes quarters, makes Saturday play feel somewhat irrelevant. And most of these teams are locks to qualify for the Club Championships, with their travel arrangements probably already made.
As a cornerstone TCT tournament, the Pro Flight Finale should be a critical weekend for club teams. And there certainly some important games this weekend for nationals seeding and, combined with Labor Day, potentially for bid allocation. But for the most part, it didn't feel like the biggest regular season tournament and that might not be healthy for the long term success of the structure.