Three bids for the Northwest usually means one thing: Sockeye, Furious George, and Rhino advance. Can Voodoo mix it up this year?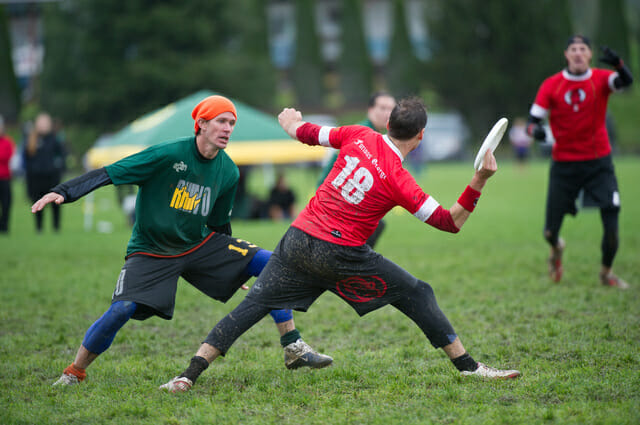 The three perennial Nationals hopefuls from the Northwest — Seattle Sockeye, Vancouver Furious George, and Portland Rhino — have diverged. No longer do the teams see each other multiple times in a season. No longer is the region as dominant as it was in the mid-2000's.
For Sockeye, it's been business as usual. They continue to compete at the top of the Men's Division, finishing as the runners up at the World Championships and the 2013 National Championships. This is a new period of excellence for the fish after some early exits the past few years at Nationals.
For Furious, the future may be bright, but the present is bleak. After dominating the middle of the 2000s, Furious' core of talent has mostly aged itself off the roster, making way for some skilled younger players, but also leaving a large experience gap. Furious' results at USA's Club Nationals have dwindled to a low point last year when they won just a single game. This year, their long-time leader and captain, Morgan Hibbert, announced mid-season that he would be leaving the team to play for Furious' biggest Canadian rival, Toronto GOAT.
For Rhino, it's been a strange road to the #1 seed at Regionals. After missing Nationals last year courtesy of Furious, they have played on the Triple Crown Tour's Select Flight circuit. They went a convincing 5-1 at the Elite-Select Challenge in Colorado, falling only to Raleigh Ring of Fire in the final (after having beat them in pool play). They went on to dominate at the West Coast Round Robin, which included a pair of wins over Furious (they took the final 17-16).
But with three bids, will the wildly varying paths matter?
Seattle Sockeye
Despite Rhino's #1 seed (thanks to their higher USA Ultimate ranking — #3), the rightful favorite is without question Sockeye. Seattle has proven to be the country's second best team every time they are given the chance. They made an improbable run to the finals last season after a lackluster regular season. They reached the finals of Worlds, obliterating every team in their path until they got stopped by Revolver. They got a big win over Denver Johnny Bravo in a televised game at the Pro Flight Finale that secured bragging rights for Sockeye as the #1 contender behind San Francisco heading into Nationals.
Sockeye has won the region since the 2011 redraw removed northern California from the Northwest. This year, more than ever, the team feels sharp and dialed in. They played a fine game against Revolver in the World final, succumbing only due to a few small errors and an inability to punish Revolver for turnovers. They had their chances.
Sockeye captain Danny Karlinsky, coming off of an injury-shortened season that was still impressive enough to land him on Ultiworld's All-Club 1st Team, has been even better this year. He was the star for Seattle in the World final, showing off a versatile game and excellent decision making. Karlinsky will need to stay hot to power Sockeye's postseason run.
The team plays a lyrical game that ebbs and flows through various defensive schemes and personnel. The team improvises more than many of the top teams, and though it sometimes leaves them head-scratching after their opponent scores in five throws, it also keeps the opposing offense off-balance. The only team that has consistently proven to beat their throw-something-new-at-them strategy is the one team they'll be waiting for at Nationals: Revolver.
Portland Rhino
Though Rhino may have landed two blows to Furious George during the regular season, Regionals has always proven to be a more challenging environment for Portland. Furious has had their number over the years and sent them home early last year with a 15-11 win in the game-to-go.
Both teams had a significant portion of their respective rosters playing for the local Major League Ultimate franchises this season, and once again, it was Vancouver coming out on top with a narrow wins over Portland in the Western Conference Finals.
Could this finally be the year that Rhino gets over the hump? With three bids, there's not much pressure to get the win, but they will still have a chance to potentially overtake Vancouver as the #2 city in the region. Furious is not the team they once were, and the departure of Hibbert has only raised more questions about their postseason chances this season. Rhino, while still bringing on a sizable Oregon contingent, is more experienced than ever, with players like Cody Bjorklund, Dylan Freechild, and Jeremy Norden leading the way.
One lingering question: is Rhino ready for the ramp up in play that they will face this weekend? As a Select team this year, they didn't have much opportunity to face off against top teams and only played one of the other teams in the top eight (Ring of Fire), splitting their two games.
That said, Rhino has looked impressive this year. While they are not truly the #3 team in the country, they have certainly played at a higher level than they did last season and are understandably fired up to get back to Nationals. They will have ample opportunites.
Vancouver Furious George
Perhaps more troubling than last season's rough appearance at Nationals or the loss of Morgan Hibbert was Vancouver's 13-9 loss at the hands of Seattle's second team, Voodoo, at Sectionals. Furious opted in to play at the first stop of the postseason (they earned a bye by competing at Nationals in 2013) as they ramp back up after the typical Worlds hiatus. But a sizable loss to Voodoo, whether they subbed tight or not, doesn't build a lot of confidence heading into Regionals.
There is a great deal of young talent in Vancouver right now, and the team is rebuilding from the floor up. The old Vancouver guard has largely left the team, and Hibbert's mid-season exit spells the end of an era. It takes time to get a new core generated. With three bids, they will likely be able to use this weekend as a chance to continue to grow.
With the adversity the team has faced, relying on the younger set to get a big win at Regionals — with a berth at Nationals still highly likely — could catalyze growth going forward.
Youngster Gagan Chatha has been a real bright spot for Vancouver this season, as have veterans Aaron Loach and Matt Berezan. Furious' likely matchup with Rhino should be another great battle.
Seattle Voodoo
Not to be overlooked, Seattle Voodoo is always in the mix on Sunday at Regionals. With the big win over Furious at Sectionals, Voodoo comes into this weekend with some good momentum and perhaps a bit more belief than in years past that they can get to Nationals, particularly with three bids.
Unfortunately for Voodoo, they have always played fourth fiddle to the three teams above them. They also lost to both Rhino and Furious at the West Coast Round Robin in late August; both games finished 15-11. Aside from their Sectional final victory over Furious, they have no notable wins. But that sure is a notable one.
Voodoo will get a shot against Rhino in pool play, and may then see Furious in the game to go. Can they take down Vancouver again, when it really counts?
The Rest
#5 seed Missoula Mental Toss Flycoons arrives as a newcomer to the Men's Division this year after years of playing Mixed. They have struggled this year (including a 13-5 loss to Voodoo), which shows the gulf between the top four in the Northwest and the rest of the pack.
The Outlook
Seattle Sockeye should again take the first slot at Regionals; they have the talent and the experience to continue to dominate the Northwest. As usual, the second bid will be decided between Rhino and Furious George, and most smart money will be on both of them to qualify for Nationals. But Voodoo has a reason to believe they can snatch that third bid this year.