After a stunning upset of Chain Lightning on Saturday, the Southeast went from hum-drum to scintillating in an instant.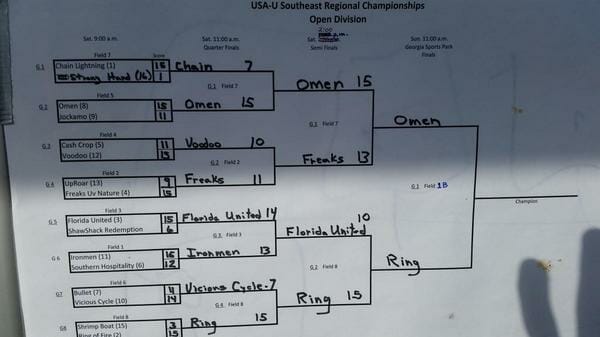 ATLANTA — Everyone was waiting patiently for another Atlanta Chain Lightning and Raleigh Ring of Fire Regional final. Sure, Florida United might give Ring a tough time in semis, and Chain might have to work a bit in their semifinal, but everything should be mostly routine. Enter Orlando Omen.
In the quarterfinals, Omen pounded a shellshocked Chain Lightning 15-7, capitalizing on the sluggish and unprepared Atlanta team's mistakes while playing nearly flawless offense to land perhaps the biggest upset of the year in club ultimate.
That early loss meant, suddenly, that Chain had a long way to go through the second place bracket, while Omen needed just two more wins to get a berth at Nationals. After Ring of Fire took care of business against Florida United in semifinals and Omen beat Huntsville Freaks Uv Nature 15-13, the final was set.
Ring Takes the Title
With a nationals berth on the line Sunday morning, Omen did not shy away from the competition.
Not surprisingly, Omen was the UCF show. Dogs of War stud Brawley Adams kept his team in it on both sides of the disc. Former UCF big men Mischa Freystaetter and Michael Hickson were challenges for the Ring defense, with Freystaetter scoring multiple times in the first half in up to triple coverage. Brandon Shaw, who gave Chain's Jay Clark all he could handle the day before, took the tough match ups defensively to help set up a 7-5 lead and have the ultimate world glued to the Atlanta action. Omen had an opportunity to snag a three point half time lead but Freystaetter couldn't toe the back line in the end zone, giving the Ring offense a rare second chance opportunity.
Ring of Fire went on to score that and break back, only trailing by one at half. The half time adjustments were simple: make them beat us with their throws. The Ring defense forced the Omen big men under and used long, shifting marks to throw them off. While not a revolutionary strategy, it helped them get the only break they would need to take the title. Ring took the lead at 10-9 after a run of chippy, contested play. Their offense did not give up a break in the second half.
The Ring offense is unstoppable when patient. Christian Johnson and Ken Porter were real headaches for defenders, when the handlers found them. After a big of an impatient first half. Ring would hold out on O for the rest of the game, avoiding an unthinkable upset on double game point. Ken Porter simply went break side for the score, the regional title, and the trip to Frisco, Texas.
It was Ring's first Regional title since the Southeast was formed in 2012.
Chain Struggles To Find Their Form
Who knew the number one seed would be so hard to defend? Maybe Omen did. On Saturday, Omen gave Chain a 15-7 beat down and put the favorites from Atlanta one loss away from a far too short season. But it's not really that Omen found an answer; Chain gave them one. The Pro Flight team from Atlanta made numerous fundamental and technical mistakes that were just too much to recover from.
You have to give credit to Omen's defensive offense: after four chances to break they had a 4-1 lead on the one seed. With the game still barely in reach at 10-5, Chain dropped a high pull in their end zone, giving Omen the quick strike and the 11-5 lead. But as soon as that game ended, the recovery began.
Even though the path had changed, the destination remained the same. Chain Lightning won five staight games to earn their place in Frisco, and they weren't easy. Southern Hospitality was one point away from taking half with the lead, until Chain fought back to eventually win 15-11. Then a Sunday morning game against Florida United proved to be as challenging as you might expect from a high powered Florida team. But again, they fought, finding Asa Wilson in the end zone on double game point.
Next came North Carolina Cash Crop, who forced Chain to play at the level expected from them. Atlanta found great defensive leadership in Allan Laviolette, who was calm and reserved in break opportunities. After a back and forth game, the Chain D took it home with a few breaks at the end to win 15-12.
Who doesn't love a good rematch? The leadership for Chain must have known that Omen had just pushed the same seven to a double game point loss, because the Atlanta defense came out on fire. In the first twenty minutes, Chain had a 5-0 lead and had already run away with it. Blocks came from Byron Liu, Christian Olsen, and Jay Clark (who played both ways most of the weekend). Omen's Brawley Adams refused to go down quietky, setting up two breaks with his arm in the second half for Omen. And with the game within reach, Omen put their best on the field. But Chain had an unstoppable sideline, and an energy that can only be found in a team that faced elimination five games in a row and had made it this far. A gassed Orlando team couldn't keep up, as Chain handed them their second game-to-go loss in two years.
***
After it's all said and done, the two bids are dispersed as expected. When Chain was on, their defense rivaled that of any elite team in the country. Their deep group, armed with athleticism and smarts, make you question everything you do as an offense, until you play right in to their hands. Regardless of the road traveled to get there, the goal for Chain Lightning has always been more than a trip to Texas. They want some hardware.