Charlie Eisenhood takes a first look at the Men's Division pools at Nationals.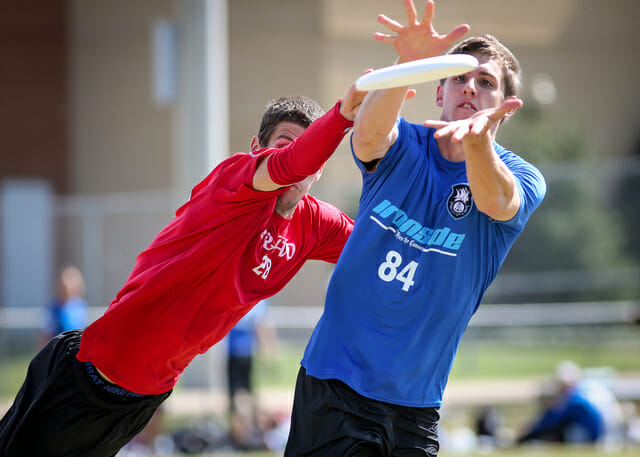 The pools are in and I can't say I'm surprised to see how they finished up.
With that out of the way, we can get right into looking at these pools, how they measure up, who's in a good position, and what might happen at Nationals.
FIRST THOUGHTS
– Your eyes should always gravitate to Pool D. With the reverse snake placing seeds 4, 5, and 9 all in the same pool, it's always going to be a brutal draw — this year is no different. Boston Ironside, Denver Johnny Bravo, and Atlanta Chain Lightning are going to duke it out with their minds on the big prize that comes along with winning the pool (or finishing second).
– Remember, last year all of the pool winners made the semifinals. That doesn't necessarily mean much (since winning games is of course correlated with being a good team), but an easier path through prequarters can be a real advantage.
– Seattle Sockeye and Toronto GOAT rematch is going to be a lot of fun to watch. GOAT's loss to Seattle last year was the nail in the coffin for their Nationals.
– Pool B is the trap pool. Look out, Chicago. What do you really know about how good Portland Rhino is? Do you want to face a full strength Minneapolis Sub Zero? Is Truck the best four seed? Machine almost lost to Truck back at Chesapeake, don't forget.
POOL A: Revolver, Doublewide, PoNY, Prairie Fire
How glorious to be the one seed at Nationals. San Francisco Revolver should breeze through this pool again. Perhaps Austin Doublewide can put up some resistance, but they'll need to avoid burning through their legs in games one and two. Doublewide also seems to play up at the end of the day, so it could be a good sign for them that they get Revolver last.
New York PoNY cannot be thrilled with this draw. Not only do they have to play against two tall, athletic teams above them, they're sure to get Prairie Fire's best effort. Then they have to cross over against a terrifying Pool D. PoNY wants to make quarters, but they have a very tough road.
Prairie Fire starts off against Doublewide. While unlikely, the game does have a whiff of upset on it. With former Doublewider Valley Renshaw helping PF with matchups and Doublewide notorious for its slow starts this season, it is the kind of game Austin needs to be very ready for. Prairie Fire has worked too hard just to be happy to be at Nationals.
POOL B: Machine, Rhino, Sub Zero, Truck Stop
Fascinating pool, and probably the most difficult to predict. Machine's the real deal and should take the top spot, but Sub Zero first thing Thursday morning will be a perilous opening game for Chicago.
Rhino is relatively untested and will have their work cut out for them against all three teams in the pool. Finishing at the bottom of this pool will come along with a big penalty: a strong likelihood of seeing Sockeye in prequarters.
There is so much uncertainty in the bottom three teams. My guess is that it goes Machine, Sub, Rhino, Truck — but really any of those bottom three teams could have a hot day on Thursday and put themselves in a great position for prequarters.
POOL C: Sockeye, Ring of Fire, GOAT, Temper
Sockeye is the clear favorite here, as they should be. Ring and GOAT are both wild cards — neither has been great this season, but both have been good. Ring missed the big test at Regionals against Chain after the Omen upset. How will the team's athleticism match up against GOAT's precise offense? They lost to GOAT way back at the Chesapeake Invite.
GOAT was good but not great at Northeast Regionals, but they look like they could be on the way to peaking at Nationals. They will be a very tough out if that's the case. With much lower pressure and expectations this year, they are a sleeper pick for taking the pool.
Temper will be outmatched.
POOL D: Ironside, Johnny Bravo, Chain Lightning, Furious George
Heavy. Hitters.
There is so much firepower in this pool. It's going to be a blast to sit back and watch these games unfold.
Ironside v. Bravo will rightly be the most anticipated game of pool play (and will be broadcast on NGN). Chain will be tuned up after a serious lull at Regionals.
The three top finishers (which are likely to be Boston, Denver, Atlanta) should have winnable games in prequarters. But the prospect of another game against Doublewide in that round has to give Bravo pause.
***
We will have much more analysis of each pool, the matchups, and more in the coming days as our Nationals Preview coverage rolls out.