Keith Raynor gives his initial thoughts on the 2014 Club Championship pools for the Women's Division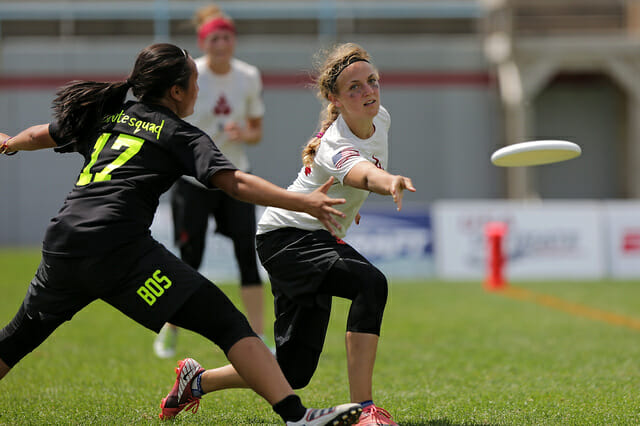 First Thoughts
There are no real surprises in seeding, and the only place our original predictions missed was the most open ended: the 11 through 14 spots, where a lot of connectivity and head to heads made for interesting prioritization. USAU seeded Madison Heist at the top of that group, followed by Portland Schwa, Toronto Capitals, and Philadelphia Green Means Go. Heist's fluctuating roster strength throughout the regular season unsurprisingly makes them the chaotic element; they are now seeded ahead of GMG and Underground, both teams they lost to.
The annual "pool of death" label will, per usual, depend on the third seeds in each pool. That means you're looking at Texas Showdown and Chicago Nemesis, and both give reason to believe they could deliver upsets. Showdown was actually pretty consistently below the elite teams this season, but spent all year battling the best and, for two straight years, has turned their third spot in their pool into a semifinals berth. Meanwhile, Nemesis went from being on the receiving end of some of the season's biggest upsets to delivering them. Which Nemesis shows up in Texas will be one of the weekend's priority stories to watch.
Pool A: Brute Squad, Ozone, Schwa, Capitals
Brute Squad has a pretty favorable draw, with three teams they've had no problem going 3-0 against in the regular season. Such is the spoils of the number one seed at nationals.
Ozone, Schwa, and Capitals has the potential to break any way, however. Ozone was in the process of working over Schwa in front of the cameras before Portland mounted an exciting comeback that came up short; both teams have been inconsistent this season.
And Capitals has a history of showing up well in the series and showed some impressive resilience to battle back to nationals without Kathryn Pohran playing. Capitals has not really shown any of these teams what they can do, so this season's results can't be leaned on too much. Ozone upset Capitals in pool A last year, only to lose to them in the Pro Flight qualifying bracket later in the tournament, so there's history here.
Pool B: Riot, Nightlock, Heist, Green Means Go
Pool B features three of the same four teams from last year's pool, with Green Means Go replacing Phoenix as the last seeded team; Nightlock and Heist have flipped in the 2/3. In 2013, Riot pasted all three teams, and every other game was contested. That could be the case again this year as all three lower seeded teams lock in on beating each other.
You don't have to look far to see how inconsistent Nightlock can be: it was only a few weekends ago that they fell narrowly against Fury on Saturday, only to get shut out in the final by the same team the next day. Their record against their pool is not favorable: while they beat GMG 13-6 at Colorado Cup (and once at Chesapeake), they also lost 12-11 to a shorthanded version of Heist. Their rematch will be on the Thursday games to watch.
Meanwhile, Heist couldn't beat GMG at that tournament without their star players; that's arguably GMG's best win this year. The Philadelphia women are in their first ever nationals while Heist is ready to stop playing the back and has gone through a lot of the growing pains of a young team. It'll be tough for GMG to strike a blow here.
Pool C: Fury, Traffic, Showdown, Underground
If you're looking for questions, this might be the right pool for you. Can Fury's experience help them deliver at nationals? Anything less than a championship is disappointing when you're Fury. Can Traffic play hot and capitalize on Fury's mental mistakes? Can Showdown do it yet again?
Traffic started the year with a bang, upsetting Fury at the US Open in a dominant 15-8 win. There next matchup was a battle, a 15-12 Fury victory. San Francisco looked a lot more explosive at ECC, but also nearly gave up a game to Nightlock at Southwest regionals, so it is tough to say what mental space they are in.
It isn't much more obvious for Traffic, who went from looking like a team with a semifinals ceiling to struggling for big wins at both Worlds and the Pro Flight Finale. This team has the right pieces of leadership, big time playmakers, and hardened veterans, and when they are struggling, it often seems like they are in their own way. They are however, like Fury, 2-0 against Showdown in USAU play.
And we arrive at Showdown, the team that's made a legacy of defying expectations. Where usually we see inconsistency, this team has pretty consistently come up short this season. Their bright spot, however, is beating Brute Squad at the US Open. Few teams have had to endure the type of roster changes Showdown has absorbed, and we saw how late season chemistry worked effectively for Nemesis at Pro Flight. Never count out the Texans, especially playing at home in the lone star state.
Underground has a fairly predictable difficult road ahead, but may benefit from the top three teams butting heads aggressively if each thinks they can win the pool.
Pool D: Scandal, Molly Brown, Nemesis, Tabby Rosa
Scandal and Molly Brown played one of the most exciting of last nationals' pool play games in the first round, a 15-13 Scandal victory. Molly Brown gets another shot this year, after having mostly been denied access to the cool kids club of elite competition. It is time to put up or shut up, so to speak.
The reigning champions opened major competitive play with a sketchy US Open performance, but since then, have lost just two games (to Riot and Brute). They've played some close ones, but expect them to bring some fire – and firepower – to Frisco. Anne Mercier, one of the game's more fearsome offensive weapons, will be back in the fold, with just one tournament with the team under her belt. That's actually been the case for a lot of their roster, so the leadership will really need to get this team gelled.
Molly Brown has been excellent this year against the second tier and below, only drawing one game against a team seeded above them. They were shellacked by Boston in their lone chance to make waves, but that was many months ago. They've added a pair of regionals wins over Showdown to their resume and have spent the year integrating their new additions. The Denver women failed to make quarters last year, losing in a dramatic prequarters game to Nightlock. The pressure will be mounting for them to do well this time around.
Last year, it was Nemesis that was getting all the buzz Molly Brown has this season. Chicago took it upon themselves to create their own buzz, snatching some excellent and unexpected victories at the Pro Flight Finale and showing what they were capable of. It's hard to believe the same team that lost to crosstown squad Chicago Dish could also beat Seattle Riot. They won some ugly points and games in Seattle, and that lack of polish may not cut it at the Club Championships.
Tabby Rosa's story was one of the most fun and exciting ones this season. But now, they face the nation's elite teams and have something to prove. The Florida team is very young, and all but one player will be making their first trip to club nationals. It could be very easy for them to just be happy to be there, but they also could play like a team with no expectations and nothing to lose. But wins will be very tough to come by in pool play.