The World Champions are ready to capture their first USAU title since 2005, and may have all the necessary components to complete the double peak.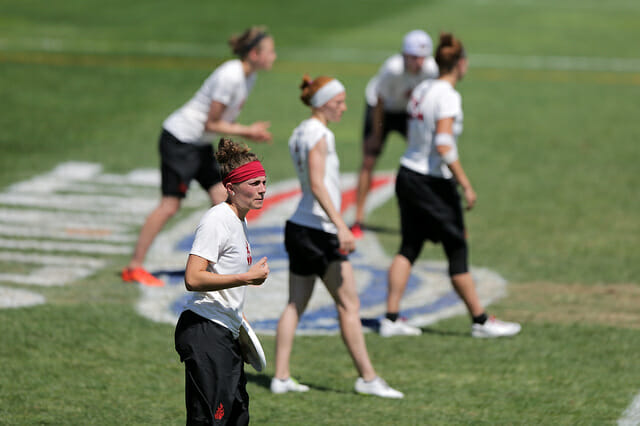 Seattle Riot may be feeling the pain of coming up just short at Nationals for nearly a decade, but surely their pain is eased by the gold medal sitting on the mantle.
That's right, Seattle Riot enters the USAU National Championships as the World Ultimate Club Champions. They earned the title going through the team that embarrassed them in last year's national semifinal — Washington DC Scandal — and the team that spent years keeping them away from the trophy — San Francisco Fury. Riot is one of two teams, along with top seeded Brute Squad, to appear unstoppable at points during this season. Was their stumble at the Pro Flight Finale — let's not forget that was stlil a berth in the final — just an off day? And if that's what they are like when they are off, what are they like when they are on?
They're like national champions. They believe that they will Riot, and a look at their pieces might make you a believer, too.
Riot in a Nutshell
Overall Indicators:
#2 seed at Club Championships
2013 Nationals Finish: 3rd
#2 in Ultiworld Club Rankings
#2 in USAU rankings
2014 WUCC Champions
Positives:
Made it to the final of every tournament they've been to this year, including the World Ultimate Club Championships, winning both the US Open and Northwest Regionals
20-4 record includes multiple wins over all of the other pool #1 seeds, and does not include undefeated trek through WUCCs
Extremely balanced offensively, armed with both dangerous throwers and strong receivers, forcing defenders to guard all areas of the field
Athletic and intelligent defenders capable of making big plays
Deep roster that scales well, from the best player in the world to the end of the bench, giving them a lot of flexibility
Consistent semifinalist at nationals, reaching semis or further for 13 straight seasons
Concerns:
Routed by top seeded Brute Squad in their last meeting at the Pro Flight Finale, thoroughly roughed up 15-7, and the title could very well go to Boston
Sarah Griffith, the world's top player, was injured fairly severely at Pro Flight Finale, and 100% health may be out of reach
Despite numerous shots at the title, haven't won since 2005
Have lost a game to all three of the other one seeds
Struggle to contain athletic deep threats that win battles in the air; Sandy Jorgensen, Chelsea Witte-Garcia, Claire Desmond, and their ilk have hurt Riot
Season Recap
Seattle Riot's season up to this point has been impressive enough to make them a potential title favorite. Their first foray was at Eugene Summer Solstice, where they notched three early wins over national teams before falling to Fury in the final, 15-11. While it was merely a June tournament, in a World's year, both Riot and Fury were somewhat ahead of schedule.
It was the last time the Seattle team would lose for nearly two months. The US Open put Riot on a big stage and they used the opportunity to put on a show. While most teams were exchanging wins in Minnesota, Riot took down all challengers, including thrashing Fury 15-7 and beating Scandal 15-9. While Fury gave them a good run in the semifinals, Riot beat Brute Squad 10-7 in a windy final to win the tournament, their second three point win over Boston at the tournament.
Their spot as the favorite to win the championship was further buttressed by their performance in Lecco, Italy. There were some close games from international challengers that pushed Riot to show strong mental game, but each time they emerged unscathed. Both Scandal and Fury were felled on Riot's march to a World Championship.
The return to US soil was less triumphant. Riot lost their first two games stateside to Scandal and Nemesis at the Pro Flight Finale. While the team's leadership had stated they had little to prove that weekend, coming off a post-Worlds break, the struggles did show they are not unbeatable. Even worse, the team lost both Gwen Ambler and Griffith, who each had to go to the hospital with injuries. But the tournament's forgiving format let them rally back to the final, where they met up with a buzz saw from Boston that put them through the ringer. Unlike Seattle, Brute Squad had plenty to prove, and their victory helped them earn the #1 seed that Riot had held in their clutches.
Northwest Regionals was a less than thorough affair, with four bids available. Riot still went undefeated but wasn't dominant, beating Portland Schwa 13-8 and winning the final over Traffic, 15-13. They head into the tournament 15-4 against the field (not including WUCCs).
Playing Style
If there's one phrase an observer takes away from watching Seattle Riot play, it is "break side." The World Champions are adept at generating opportunities to attack the vulnerable side of the field, both with their cutting and their throwing. Their offense functions on the simple principle of forcing defenders to try and stop two different things at the same time.
For the throwers, this means both the inside and around breaks. The ability of Riot's throwers to slice low release IO flicks and pop flat backhands into the inside lanes is remarkable: Angelica Boyden, Rohre Titcomb, and Hana Kawai show off the variety of different motions that can lead to the same result of broken marks and out of position downfield defenders. When Riot catches a reset, they dictate their mark with their fakes and their threats.
Of course it takes two to tango, meaning the cutters need to scare the defense just as much as the player with the disc. Riot's cuts initiate from deep space, driving defenders up to high speed. With speedsters like Griffith, Calise Cardenas, Dominique Fontenette, and Fiona McKibben, defenders are already in a tough spot. If they take away the open side, the cutter can slice across to the break side to take advantage of the committed defender. If they give up the space, Riot can gobble up open side yardage. They do not throw very many short upfield throws, preferring big gainers.
Riot's cutting systems are isolation based. Fellow cutters offer an expansive stage to whichever cutter is active. The horizontal space that envelopes the active cutter is crucial to the offense's success, forcing defenders who choose to poach to vacate their assignment if they want to offer defensive assistance. Deep cuts are usually hit from handler movement to set up power positions or deep throws to the break side.
Riot's defense is predicated on intelligent positional downfield defense and incredibly active harassment on the mark. Whether in their 3-3-1 zone, lane poaching, or person to person sets, Seattle's defense is smart enough to adjust the amount of pressure they're applying, confusing offenders into making mistakes that Riot's athletes can take a bite out of. Their marks are a flurry of waving extremities and bouncing bodies, only adding to the chaos the offense must endure.
Their personnel gives them a lot of impressive pieces to send careening downfield to ruin offenses' days. Ultiworld has already covered the impact Griffith can have. Calise Cardenas can also wreak havoc, as can Katey Craley and Bailey Zahniser. 2014 addition Kelly Johnson has made her mark as one of the team's top handler defenders. Boyden is apparently addicted to gargantuan layout catch blocks. Rohre Titcomb is more than one of the best pullers in the division, but also a rock solid defender who can do a bit of everything. As a group, they're fast, smart, and cohesive.
Likely Ceiling
National Champions. The World Champions are attempting the double peak and have sought the title for many years. This season, they look very capable of taking it.
Likely Floor
Another semifinals exit. Strange things have happened to seemingly powerful Riot teams before when they've taken the field at Nationals. While this year's entry seems pretty strong mentally, we can't say how much of the Pro Flight Finale was "world's hangover" and how much was Riot flaws.
Worst Matchup
Scandal may not have fared well over the past few months against Riot, but don't take the 3-1 record (including WUCCs) that Seattle has against the reigning champs at face value. Two of those games went to double game point and Worlds was the closest Scandal has come to the fully stocked roster that will be at nationals. If Griffith isn't at full speed, Jorgensen, Opi Payne, and Ashley Daly have the speed to match up with her and Cardenas. Jorgensen has been absolutely destructive on offense against Riot, as well.
Note: This "Worst Matchup" section was changed following initial publication.