Pool B looks volatile.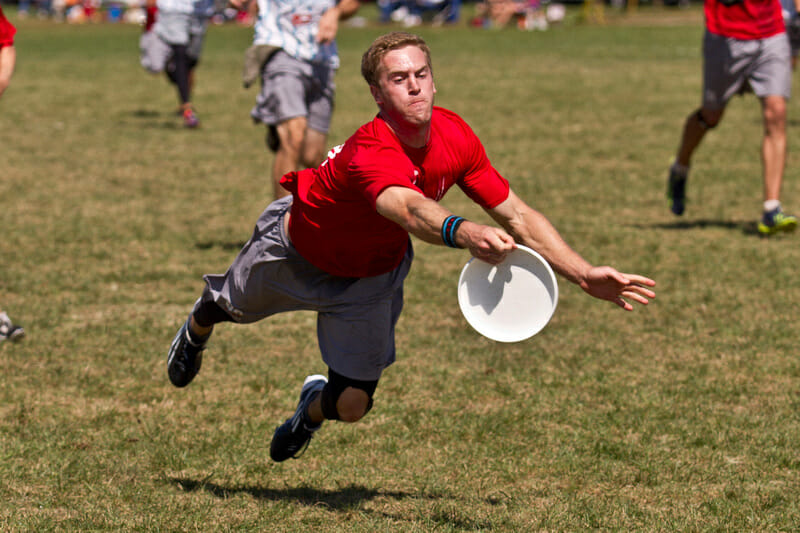 What happens when you drop a flaming torch into a barrel of explosives?
Pool B.
The top seed is the consensus hottest team going into Nationals, but the three below it are unknowns, darkhorse picks, full of potential, with their own superstars and their own unique styles, just waiting for the right moment to explode.
Nationals could be that moment.
A pool with three regional champions and a young, fearless, up-and-coming squad, a pool with some of the top names in the sport, a pool where anything is possible.
As these teams clash in the early part of the tournament, expect tight, unpredictable games, exciting matchups, and potential upsets.
Chicago Machine (#2) Looking To Stay Sharp
The group from the Windy City is the match, sparked into life at the beginning of the summer, and now heating up with even more ferocity after the close of their excellent regular season.
With two huge tournament victories under their belts, coming in as the number two seed overall, they feel confident about their system. The changes this year — Ron Kubalanza as player/coach, huge Madison Club additions in a few top players, and a full embracement of the AUDL — have left them stronger than ever. Analysts are wondering if this can be the year they break through to the semifinals and beyond.
Disciplined, smart, and athletic, this balanced team seems to have it all put together.
An offensive line with the likes of A.J. Nelson, Bob Liu, Tom Annen, and Pat Shriwise will be able to go even deeper into the strategy book, and the defensive squad led by Kevin Kelly, Walden Nelson, and the returning Craig Poeppelman will use that same intelligence to pick their matchups.
Yet Machine knows that every squad they'll face is dangerous.
"Each team plays a totally different style of offense, by formation, by focus on handler motion vs cutter motion, etc." said Kelly. "We are going to have to be able to adapt and change how we counter attack each and every game."
The real concern is whether or not the flames on Machine are dying or rising.
The season has been long and very good, and eyes have been on Machine since the start. They've purposefully taken the AUDL embrasure into account in their training (and have avoided injuries for the most part, only losing Greg Slover), but it has nevertheless been a very tiring ultimate season for most Machine players. What's more, their success, especially post-Worlds, has put a target on their back and people have been watching lots of film of their team.
"There has been plenty of video coverage of us this season," says Kelly, aware of the scrutiny, "so we anticipate each team will have a good grasp on what we like to do offensively and defensively, so we are anticipating seeing certain types of attacks, and have consequently been preparing some new looks and counter attacks of our own since our last major tournament."
Could this be the year that the championship is brought back to the burning bright fire of Chicago?
Can Minneapolis Sub Zero (#11) Live Up To The Darkhorse Hype?
This team is the C4, plastic explosive of the arsenal. You can drop, throw, kick it, and it will still survive, all potential still intact.
But if you put a detonator in it: boom.
What is that detonator? If it was to be anything, it would surely be a matchup with this pool, facing off with their old Midwest rival  Chicago Machine in the first game of the tournament.
Sub surprised many last year at Nationals with their success and again had people shaking their heads early in the season after the U.S. Open. Looking down the roster of Minnesota's top team, you clearly see the strength of the top names jump out at you.
Then why do they continue to surprise?
Regular season injuries and prior commitments have kept the team apart most of the summer and created a record that didn't earn a bid. They've taken their fair share of bumps and bruises, but still have kept themselves together and ready. Only at Regionals were they finally able to field an entire offensive line; the results were fantastic.
Simon Montague, Grant Lindsley, Eric Johnson, Josh Klane, and a score of other North Central stars fly around the field, with precision handling and quick attacking.
They can play small ball better as well as any other team out there, but aren't afraid to huck to their experienced cutters either. They will have teams chase them around the field all day long and their vertical stack plays off the pull (already an impressive sight at Regionals) should only get better.
They had a relatively relaxed Regionals, winning finals convincingly and watching Prairie Fire fight Madison for the second bid, and they still haven't hit their full potential. They hope to reach that this weekend.
Can An Untested Portland Rhino (#7) Rise Up?
Nitroglycerine — volatile, liquid power. One drop hits a hard object and all hell breaks loose. Portland Rhino, the dangerous unknown.
Hidden for most of the year, teams won't be able to ignore them in Frisco.
As a Select team in 2014, they were unable to face off against the top competition like the other squads in the pool, but that may also play to their advantage. They are the only team in Pool B to have no games against inter-pool competition. It will be harder for the other teams to draw off of experience and video footage to scout for this team.
The squad had a very impressive regular season, looking good all year long, culminating in a strong showing at Regionals where they defeated Furious George twice to take the second spot in the region and prove, once and for all, with their fourth win over Vancouver for the year, that they are definitively the better team.
Some of the best of the Northwest, this team brings combative energy to every game. Dylan Freechild, Eli Friedman, Jeremy Norden, Cody Bjorkland, and crew aren't afraid to bring that in-your-face pop to their contests.
The veterans rising to the front of this squad off the rebuilding effort of 2013 are young and intense, with exciting prospects continuing to come out of Oregon, only reinforcing the strong Ego contingent. Other teams may not have even heard of some of the young defenders guarding them, but they are an impressive group who capitalize on mistakes quickly. This squad is, in short, a group of young gun-slingers who (rightfully) believe anything is possible.
This kind of dynamic can create excitement at every turn — no game is safe against a team that has no fear — but can also craft inconsistency.
Freechild's speed and play-making ability helps create smooth disc movement which opens up a fearless huck game, but it's been the young, tough defense that has been letting Rhino cruise all season long. If that defense stalls against some of the heavy offensive llines at Nationals, and things get tight, will their offense stay on course?
Can Washington DC Truck Stop (#14) Finally Find A Rhythm?
Combustible and intense, Truck Stop is the dynamite of the pool. It is perhaps the hardest explosive to time: perfect detonation requires a match, fuse, and just the right conditions. But once it goes off, stand back because it has a mighty kick.
Inconsistency in explosion could describe D.C.'s regular season. Up-and-down all year, they came away with a few impressive wins, but also a few head-scratching losses. The offense never really seemed to get into a rhythm, the defense never really seemed to shine, and it felt like they were hanging on by sheer grit alone at times.
D.C. has had a rep the last few years: they've got a good talent group, but can't come up with the big wins when games get tight and that keeps them from being great.
Going into Regionals, the squad had something to prove and they did. They played a close final against Temper and the best of Pitt early, but were able to pull away to win a blowout, 15-7. Jeff Wodatch and Peter Prial were the deep beasts on the offensive side, and David Cranston and Keven Moldenhauer lead the D line, giving momentum to the team moving forward.
The group has gone through many trials this year and it has surely forged them into a tightly packed band together. Truck's captains have worked hard at instilling new approaches to the team's mental game, hoping that it will improve their resiliency and growth together.
Confidence should be high, as they were able to put together a dominant win with their system in the end of Regionals.
Truck Stop hopes to play spoiler in this pool matchup, but they'll have their work cut out for them. If the other heavyweights hum and the going gets tough, it'll be hard to predict whether the dynamite goes boom or bust.
Matchups
Machine will match up well against Portland and D.C., although they'll need to keep their offense under control (especially against Rhino) to avoid long points and save their legs. If either of those two teams and Machine go huck for huck, it could force a few long points and see an athletic showcase, but Machine should have the athlete and thrower advantage across the board, and it is far more likely that Chicago's disciplined system will convert on chances. Rhino's youth and Truck's inconsistency will play a factor as well; Chicago's players have nearly all been to Nationals (most last year as a top ranked group) and have run strong, steady tournaments.
Sub Zero should also have the advantage against Rhino and Truckstop; their speed and throwing ability may be just too much to handle. Despite the heat of the pressure and competitive fire, Sub should stay frosty when it matters.
The most exciting game is clear. It will be to see pool leader Machine versus Sub Zero and it will come first thing Thursday morning, much to Chicago's dismay. Fans — arrive early; you don't want to miss a point of this game.
Each group has its superstars, but both have a lot of depth and it should be a battle of two juggernaut offensive lines, each with its different style. Expect this to be a nail-biter duel to see who blinks first. One or two breaks will be the barest difference as each defense desperately seeks the advantage.
Both run plays very well: Sub Zero likes to isolate off of a vertical stack, while Machine will run a variety of plays out of a variety of sets to many different players.
Both have done very well to limit breaks this year; each won their respective regional final letting up only one defensive score to their opposition.
Eyes will be on Sub's defensive strategy. How will they slow Machine's strong athletes and their plays? Logic points to some type of zone, especially if the conditions are windy enough, perhaps a wall or poach employed for the first five throws or so. The younger defensive line has developed well all year, but they'll still have a tall task.
Machine's defense, on the other side, will have to find a way to limit Sub Zero's quick-hitting disc movement. Chicago likes to play a lot of man (or man after an initial play disrupting zone of their own), often specifically forcing the disc to players they believe they have advantages over. The trick will be to hold the force on a team (although the big wingspans on a few of their defender will help) that can adapt very easily and often plays as if the mark doesn't exist.