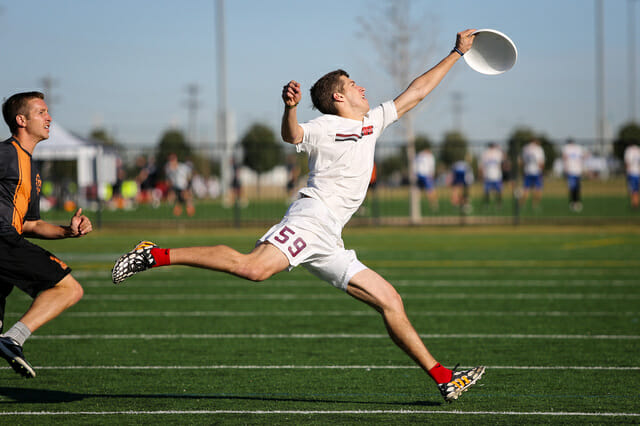 Here's a look at the second round action from the 2014 USA Ultimate National Championships.
Men's Division
POOL A
Austin Doublewide (#8) v. New York PoNY (#12)
After a lackluster performance in round one, Austin Doublewide wanted to bounce back. They accomplished that goal, taking care of New York PoNY 13-10 in a sloppy, hard fought game.
"Our defensive energy was much better," said captain Steven Darroh. "We settled down and didn't play timid, which was the case in our first game."
Doublewide still struggled to find any type of flow offensively. Easy throws were turfed, the stack was stagnant, and throwers looked flustered on the disc. PoNY was able to capitalize on Austin's mistakes to take an 8-7 lead at half.
Doublewide took over the game in the second half on the defensive end. Their zone, which features a minimum of five players over 6'3″, gave PoNY all sorts of problems. Austin was able to grab the lead early in the second half and converted their downwind points the rest of the way.
Going forward, Doublewide needs to raise their energy if they want to avoid a difficult matchup in the pre-quarters. They will need some help as well. Austin has Revolver in their final round. Without a win, they will most likely face either Johnny Bravo or Ironside tomorrow morning.
PoNY has a tough matchup against a sharp Prairie Fire team; they need a win to avoid an 0-3 day.
San Francisco Revolver (#1) v. Kansas City Prairie Fire (#13)
In the first half of what looked to be a lopsided matchup, Prairie Fire showed that they might be the best four seed at the tournament. After a 15-12 win over Doublewide, Kansas City came out hot against this years World Champions. After exchanging breaks in the first few points, neither team had a turnover until 7-7. Offensive efficiency for Kansas City came from Handlers Abe Coffin and Valley Renshaw who, at times, were able to create their own offense.
At 7's, Prairie Fire started having a hard time spreading the disc, turning it over three straight times. On the third, Revolver finally capitalized and broke to take half 8-7. For the rest of their game, Cassidy Rasmussen was relatively unstoppable. After Rasmussen would distribute, all the Revolver cutters were experts in using the full forty yard width of the field. Revolvers ability to create space downfield while simultaneously breaking the mark proved to be too much for Prairie Fire in the long run.
In the second half, Revolver looked like their old selves. Tight defense and perfect around throws are this teams mantra, and it will get them very far in this tournament. As for Kansas City, Abe Coffin and Valley Renshaw play at an elite level, but in the long run they'll need to find their depth to compete.
A note: Beau Kittredge didn't see the field for Revolver in this game, as he rests in preparation for bracket games later this weekend. He has played just three points so far today.
POOL B
Chicago Machine (#2) v. Washington DC Truck Stop (#14)
Truck Stop threatened early, but Machine quickly pulled away and this game was no real contest. Chicago was in control all the way, locking up the #1 seed heading into prequarters, and winning 15-11.
Machine, after a double game point win over Sub Zero, had to cross the length of the tournament complex and had less rest than their counterparts from D.C.
This showed early, as Machine hucked too deep to start and Truck capitalized to take a break to start the game up 1-0.
Both groups struggled with the wind early, forcing a few long points, but Machine began to settle in and clearly had the better throws in the breezy upwind-downwind conditions. Truck Stop's hucks were often off-target, often too-long downwind, giving Machine many chances.
Machine scored two in a row to take a 2-1 lead and then had several other opportunities to break as the teams traded. After another long huck from Washington D.C., Chicago worked it upwind and took the lead 5-3.
From that point onward, Machine held firm control. Truck Stop tried a variety of defenses, throwing zone upon occasion, but couldn't slow Machine down. Bob Liu looked supremely confident going upwind, throwing several hammers upwind for over twenty yards of gain.
Machine, for their own defensive line, threw a clam zone often to stop set plays, or would poach a handler off of the vertical stack to limit/ unsettle the hucks, and got lots of shots, either on floaty passes (where their height served them well) or on unforced errors.
With the win, Machine clinched the top spot in the pool.
Portland Rhino (#7) v. Minneapolis Sub Zero (#11)
Sub Zero took an early lead over Portland Rhino in the second round, but let them back into the game before finally pulling away to win 15-13.
Minneapolis opened up a 4-1 lead against Rhino, who looked rattled early after their first round loss to Truck Stop and made some bad drops.
It's clear that the top four players from Sub Zero — Grant Lindsley, Simon Montague, Nick Stuart, and Eric Johnson — can take over the field and are very difficult to guard. All four have incredible speed and throws to match, and their defensive matchups haven't had much success yet at Nationals.
Rhino's youth was apparent in multiple ways. They started with two turns in the first two possessions. Kelly Van Arsdale is a tall receiver that is a key part of their offensive line, but has had a few key drops, including in the endzone, early today.
However, Rhino's energy kept them in the game. The group started to loosen up, sidelines proving silly meant relaxed, and they were able to chip back in and eventually pull back into it. They had a shot to break with the game at 6-7, but Sub held on and took half 8-7.
The second half, for as close as the score was, proved relatively tame.
Both offensive lines were shooting downwind; Rhino had greater success when running their side stack and setting up huge space-gaining unders. On their successful points, they'd use their speed to get big gains and in two throws, they'd be up the field, on the endzone, and let their quick handlers attack and score upline several times.
The only obvious weakness in Sub Zero was their D line's inability to get a break without an offensive player's help. When the true D line was playing, anchored by Julian Childs-Walker at center handler, the group really struggled to move the disc.
Rhino gave Sub Zero plenty of opportunities in the second half, but Sub simply couldn't cross half field going upwind. One or two throws would go up, before a drop or a floaty throw caused Rhino to get a second chance and score.
In the end, Sub Zero's O-line, however, couldn't be matched; they kept their cool, limited their downwind turnovers, and held. Both groups traded until Sub put it away 15-13.
POOL C
Raleigh Ring of Fire (#6) v. Toronto GOAT (#10)
It's a free fall for overall #6 seed Raleigh Ring of Fire, who is now 0-2 after losing to Toronto GOAT 12-9.
GOAT went up 5-2 then Ring narrowed it toward the end of the first half but could never get ahead. Toronto's defense stifled the Triangle team's in cuts, creating late stall, unfavorable hucks.
Turning point: Ring gets an upwind break to make the score 6-5 GOAT. They put a massive backhand blade pull into the end zone that catches and edge and rolls – hitting the knee of a Canadian handler and out the back. It's tapped in at the back line and the Ring defense has GOAT covered in Callahan territory. GOAT calmly breaks a force backhand force to Mark Lloyd who hucks it to midfield. The GOAT receiver gets fouled, and Ring is unable to complete the upwind break. 90 yards to go and a chance to knot the game at 6s…that point will linger.
The bottom line is that Ring hasn't found their game in the wind. Now they need to find a way to adjust to the elements against Sockeye. Not easy.
Speaking of having a hard time adjusting, GOAT racked up multiple profanity TMFs that cost them major yardage.
GOAT receiver Justin Foord got fouled on a huck going downwind. He was a little shaken up and cursed. The foul was upheld, but the observers get him on a profanity technical, the team's third.
So Toronto has to walk the disc back 80 yards to the middle of their own end zone — after getting fouled.
This happened a couple other times to Toronto for big yards. They were about 15 yards out of Ring's upwind end zone but got sent back to their own end zone on an F bomb.
"I get that [USA Ultimate] wants the language cleaned up. I respect that. But to impose it on the final tournament of the year without precedent in-season is a little bit offputting," said 10 year GOAT veteran Phil Watanabe.
When asked if he'd ever seen anything like it, the 43 year-old Watanabe gave a quick, "Never. Especially in a self officiated game."
It's hard to imagine what the firestorm that would have been had GOAT lost this game. They got through it and they're playing great — expect them to fix this immediately.
Ring will finish 4th in the pool regardless of the outcome of the Sockeye game.
Seattle Sockeye (#3) v. Pittsburgh Temper (#15)
Temper continues to turn heads as they hung tough with Seattle Sockeye to 8-8 before falling 14-9.
Some Pittsburgh players relayed that they had the same subbing approach as they game before; pretty open and not stacking up their lines. Sockeye was doing the same thing. Temper's offense was far from clean in the first half, but they kept getting the disc back and they kept scoring. Sockeye broke to go up 11-8 and Temper opened the lines up, which was an appropriate display of discretion for a cinderella four seed that's playing great Ultimate. Why go nuts against Sockeye now?
Sockeye is still rolling. They're on another level than the rest of the pool. They've clinched the pool and have a meaningless game against Ring of Fire in the 3rd round.
POOL D
Denver Johnny Bravo (#5) v. Atlanta Chain Lightning (#9)
Boston Ironside (#4) v. Vancouver Furious George (#16)
Denver Johnny Bravo has all the right pieces, but some of them still haven't quite gelled. In a game that wasn't particularly close, they allowed a frustrated Chain Lightning a handful of breaks, and the game — 15-11 Bravo — ended looking tighter than it was.
At halftime in the second round, Bravo had spread the wealth all over the field, taking a commanding 8-3 lead. Bravo had goals from Ryan Farrell, Kurt Gibson, Stanley Peterson, Matt Farrell, Dennison Bechis, Sean Keegan, and Jackson Kloor. Gibson was the only player to appear in the endzone twice.
A zone to man shift from Bravo with the wind at their backs frustrated Chain's offense, who were forcing big backhands upwind to streaking cutters across the field. Unforced errors were the story of the game for both teams, although Chain had a few more, and Bravo were able to capitalize as the much deeper team. Atlanta's core of Jared Inselmann, Tyler Conger, Nicky Spiva, and Joel Wooten were working very hard to keep the disc moving, but the entire team seemed similarly frustrated this round, as they were in the first against Ironside.
The wind picked up in the second half, brining more throwing errors from both teams, and Chain climbed back into the game on a 4-2 run. At 10-7, Bravo tried to dial back in their play. While Denver were not putting on defensive lines to get breaks, they were confident enough with disc to hold on through 14-11.
Oddly enough, the first and last points of this game were most notable for their abundance of turnovers. After Chain dropped a would-be break in the up wind end zone, they would get a point-saving block on the opposite end, then turn it again out the back of their end zone. Off a time out, Bravo gave Brodie Smith the disc and sent Kurt Gibson deep. 75 yards later, the game was over.
While Bravo struggled to find clean offense and conversions every point, a very deep Boston Ironside — their minds set on the top prize at the end of the weekend — easily dispatched Vancouver Furious George 15-6. Though the top few players on Furious are strong, Ironside put tough defensive matchups on those guys and forced the disc into the hands of others.
Ironside now sit at 2-0, waiting to meet Johnny Bravo, who are also 2-0, in the marquee matchup of this pool this afternoon at 3:45pm.
Women's Division
POOL A
Atlanta Ozone (#8) vs. Portland Schwa (#12)
Ozone must have had so much fun in their double game point matchup with Capitals that they wanted to do it again. Schwa turned in a second half comeback to make it the game close, but Ozone scored key upwind breaks that put the Portland squad's back against the wall. They responded admirably to bring the game to double game point, but once again, Ozone found a way, winning 14-13.
Boston Brute Squad (#1) vs. Toronto Capitals (#13)
The benefits of the number one seed are looking really good right now. Boston Brute Squad is a team on a mission, and they've yet to get scored on in the first half. They smashed fellow Northeast team, Toronto Capitals, 15-3. Brute has given up just six points through two rounds of play.
POOL D
Denver Molly Brown (#5) vs. Chicago Nemesis (#9)
Chicago Nemesis came off a tough blowout loss to Scandal in round 1, but bounced back in a very competitive round 2 matchup with Denver Molly Brown. The game was a battle all the way through, with the lead never extending past three. Despite pulling on the final point, Molly Brown escaped the upset with a 14-13 victory.
The first half was tight for the duration, with Molly Brown taking the 8-7 lead. Resets were a major battleground for both teams: Nemesis had issues with spacing and timing and Denver's offense had to deal with strong opposing marks and poaches. Few points were easy or clean.
Denver stayed hot out of the half with a pair of scores to stake out the game's largest lead, 10-7. From there, the teams exchanged downwind scores. Molly Brown was more content to work the disc or get short field turns – captain Carolyn Matthews told Ultiworld that the team has a focus on "small ball" – while Nemesis's huck game was dialed in.
The late game comeback for Nemesis was propelled by Laura Moore, who had an excellent second half with a goal and an assist to complement strong cutting and stifling defense. Chicago broke upwind to tie it at 12-12 and Moore took an under cut and found Megan Tormey to snag the 13-12 lead. The next point was hotly contested, with huge Ds from Lindsey Cross and Emily DePalma, Molly Brown's Paige Applegate yanking in a high stall Dena Slattery hammer just on the goal line to tie it up. The final point featured a number of turns, but in the end, Matthews located Tina Snodgrass in the end zone for the game.
Matthews credited the team's adjustment to Nemesis's poaches as being a big factor in their win, bringing players into the backfield when left unchecked. But the captain also noted that Denver's handlers will need to step up their game if they want to take down the Pool's top seed, Scandal.
Washington D.C. Scandal (#4) vs. Florida Tabby Rosa (#16)
Scandal got out to an early 5-2 lead against Tabby Rosa, who struggled to convert their defensive possessions all game. Tabby's offense found some rhythm, but their abundant huck turnovers and wasted possessions doomed them against a much deeper and more experienced Scandal squad. The reigning champions won 15-8.
Mixed Division
POOL A
San Francisco Polar Bears (#1) v. Seattle Mixed (#12)
Seattle Mixed was looking poised for a huge first round result, leading 11-8 after a big upwind break, but the experienced Polar Bears rattled off five straight to avoid the upset and win 13-11.
Atlanta Bucket (#8) v. San Francisco American BBQ (#13)
Atlanta Bucket, after going down early, controlled most of the contest and built a big enough lead that a 3-0 run from American BBQ late wasn't enough. Bucket secured a first round win 12-11 on hard cap (not double game point).
POOL D
San Francisco Blackbird (#4) v. Boston Wild Card (#9)
Wild Card stunned the Southwest Regional champion Blackbird with a convincing 14-10 victory. Wild Card handled the windy conditions better than their opponent and stayed in front for most of the game.
San Francisco Mischief (#5) v. Oregon The Administrators (#16)
Mischief cruised to an easy 15-6 win over the last-seeded Administrators.