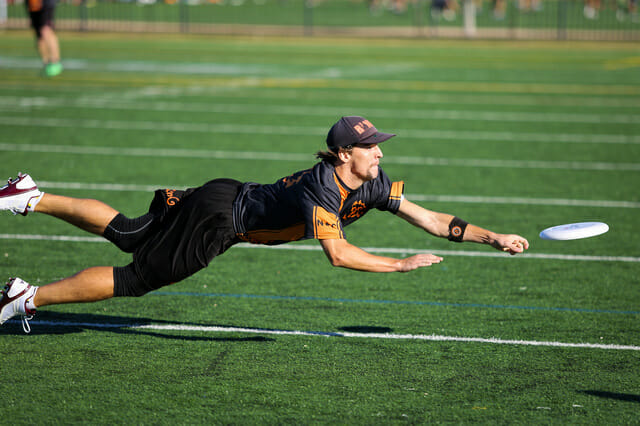 Here's a look at the third round action from the 2014 USA Ultimate National Championships.
Scoreboard
Men's
Machine 15-14 Rhino
Sub Zero 14-12 Truck Stop
Sockeye 10-15 Ring of Fire
GOAT 13-15 Temper
Women's
Brute Squad 15-11 Ozone
Schwa 11-9 Capitals
Riot 15-6 Green Means Go
Nightlock 12-14 Heist
Fury 15-7 Underground
Traffic 13-12 Showdown
Scandal 15-14 Molly Brown
Nemesis 15-12 Tabby Rosa
Mixed
Drag'N Thrust 14-9 D'Oh Abides
Slow White 5-11 Santa Maria
CLX 13-11 AMP
7 Figures 11-13 Cosa Nostra

Men's Division
POOL B
Chicago Machine (#2) v. Portland Rhino (#7)
The 1/2 matchup in Pool B went to double game point on a hot, gusty afternoon, but instead of an exciting battle to determine the top spot, it was a Machine victory 14-13 to deny Rhino a first day win, after Chicago had locked up the pool the game before.
It was a loose matchup; that style seemed to favor Rhino in nearly all aspects. Early in the game, Chicago — running a clam to stop Rhino's early huck looks and then transitioning to tight man after a few throws — was able to pressure Portland into making a few mistakes.
Machine was guaranteed the first place position regardless, but also seemed to want to keep the victories rolling for their momentum. Their second defensive line snagged a few breaks, as their first defensive line alternated playing O points with the standard group. No player for Machine sat, but the playing time was distributed to the deep squad.
Machine built a 5-3 lead.
As the points grew longer, however, and the play grew more physical with multiple turnovers coming from both squads, Rhino seemed to relax. The Portland squad wanted the game more, it was clear, fighting for their first win; they took a break back.
Machine claimed half 8-5, but Rhino brought the intensity and started to get fired up as they mounted a comeback. Rhino broke three times out of half to tie the game at 8.
From there on out, the game got tight as both groups traded; Rhino was louder, more physical on the defense, and playing hard, while Machine was throwing a mix of zone and man and seemed indecisive. The standard O-line for Chicago kept playing, every other offensive point or so, but was definitely a step or two slower. They weren't fully committed to winning, but didn't seem to want to let the game go either.
In the end, it went down to double game point, Machine receiving, going downwind. The team worked it down to the endzone before Rhino got a layout d to extend the game. Machine got another chance on a throwaway, but then another block from Rhino gave them a final shot. They hucked upwind, but Machine claimed it with a sky D. Eventually, Bob Liu put up a big, 25 yard scoober into the breakside of the endzone for the win.
Machine goes 3-0 and will face Ring of Fire in prequarters, a team that has had a disappointing Nationals thus far. Chicago has a shot an old rival (Ring knocked Machine out of Nationals two years ago), while Rhino will have yet another big match against Sockeye.
Minneapolis Sub Zero (#11) v. Washington DC Truck Stop (#14)
The game was back and forth throughout, in a major upwind-downwind fight, but Sub Zero was able to win on hard cap, 14-12.
Sub Zero, wearing tights on the hot turf field, started off going upwind on offense and was broken to begin the game.
The first half was mostly downwind trading. Both teams had a few chances, with Sub Zero seeming to have slightly more opportunities, but they kept coming up short, with turns inside or very close to the upwind endzone. Sub's defensive offense is just not as clean as their O-line counterparts; the vertical stack seems to creep in, swings are far more difficult, and drops and throwaways seem to pop up and kill the movement at the worst moments.
"We struggled to get pressure going defensively in the first half," said Charlie Reznikoff. "We needed a switch in strategy and matchups."
The answer was in part simple; Sub will create a hybrid line about three or four times a game, seeing players like Johnson and Lindsley getting into defensive points after timeouts. These, according to team leaders, almost always garnered a break.
Sub Zero did just this as the end of the first half drew closer; Eric Johnson threw an upwind goal to put the squad up 7-6.
Sub loaded up a line again, ready to take the downwind and half, but Truck had other plans. D.C. answered with an upwind huck to get it back, Markham Shofner connecting with Chris Kocher, and then Truck scored a quick downwinder after Simon Montague floated a break throw.
Truck led 8-7 at half.
It was the strategic shift after half for Sub Zero that made the difference. "We started disrupting the cutting lanes and messing with the mark," explained Reznikoff.
Sub was flashing in the lane and generally confusing the D.C. offense through poaches, and this forced several Truck miscues, leading to a few throwaways and drops. If Truck's huck game, in particular, wasn't clicking, they really struggled. Sub Zero reeled off three in a row, taking an 11-9 lead, and the teams traded downwind points from there, Sub Zero winning on softcap 14-12.
Though they'll likely see the number one seed overall, Revolver, down the road in the bracket, Sub said that didn't play into their main thoughts. It was easier for them to just play to win, rather than game the system.
"We're still trying to get better," said Reznikoff simply.
Sub Zero will face GOAT in prequarters tomorrow. Truck Stop will face regional rival Temper.
POOL C
Toronto GOAT (#10) v. Pittsburgh Temper (#15)
If anyone was still unsure after they beat Ring of Fire and stayed with Sockeye to 8-8, here's the scoop: Temper is for real.
The gritty four seed underscored that point in their last round of pool play as they ground out a hard win against GOAT 15-13.
Serious upwind/downwind conditions made breaks hard to come by but Temper got one early when Eddie Peters hit Carl Morgenstern up line. Then Pitt completed the downwinder to go up 4-2. Those two goals carried palpable importance and it was no surprise when Temper took half 8-6.
GOAT's D line was completely unable to work the disc going into the wind in the first half but the second half was different. Toronto broke upwind, then they completed the break after Mark Lloyd got The Foot Block Heard Around Frisco on Pat Earles, (GOAT handler Adrian Yearwood picked up the disc and told the observer it was split and had to be replaced). Tied at 8s.
The game would stay on serve with both teams only scoring downwind until Morgenstern, who already had a big upwind hustle play in the Ring game, caught a layout upwind break from Mark Fedorenko to end the game.
Toronto had a couple sniffs at the upwind end zone in the second half, including a great scoring chance at 10-10 which was probably the turning point.
Temper's Tyler Degirolamo called a timeout after catching a huck a yard or so outside the downwind end zone. A great defensive stand by GOAT gets things going the other way. Toronto works it a bit and takes a strong deep shot to Morgan Hibbert up wind who steps out and throws a low backhand that floats just over the hand of Trevor Henry for what would have been the go ahead goal.
Temper held as Alex Thorne hit his brother Max on an absolute dime. The Canadians had a similar opportunity after a huck at 12-12 but a swing pass was rushed and zipped out of bounds.
Since Temper was receiving with the wind every time all they had to do was keep scoring. They did a nice job of not monkeying with it on their end of the field.
"We just tried to play smart D strategically and get great field position more times," said Max Thorne racked up four goals and three assists. "We were making sure we had no turnovers near the upwind end zone, getting it downwind, and from there just playing lock down defense."
Toronto was ready for some punting by the Pitt O line but when the deep look was covered Pittsburgh did a great job of hitting big in cut gainers.
It's no secret that Temper's roster is stacked with college talent. The counterpoint to them playing at the club level is exactly that – COLLEGE talent. Well, it's not college talent anymore. This is club talent.
"We had some bad reviews, saying were going to be outmatched. We just had fire," Max Thorne said. "We really want to win and that's what we're doing."
Temper will rematch against Truck Stop tomorrow morning in prequarters; GOAT will face Sub Zero.
Seattle Sockeye (#3) v. Raleigh Ring of Fire (#5)
Ring of Fire got their first win of the weekend against Seattle Sockeye, 15-10, but it didn't mean much. Sockeye had already clinched the one seed, and nothing Ring did could help them climb out of the basement of the pool. Both teams rested starters.
Women's Division
POOL A
Boston Brute Squad (#1) v. Atlanta Ozone (#8)
There was little rhythm in this third round meeting between top-seed Boston Brute Squad and Atlanta Ozone. The wind blew to a point where upwind scores became scarce for both teams, but Brute held on during the long points they needed, and pulled out a gritty 15-11 win.
Early in the game, the Boston women snuck in two straight scores, first against the wind, and then with it. Both teams pulled out full zone defenses, with Ozone frustrating the Boston handler core using a 4-person cup that left Brute cutters stranded and handlers frustrated. Points in the first half dragged on and on as turns became more of a problem -even well-timed swings were grazing fingertips and tailing away.
Sheer grit gave Brute squad the edge in this game, and they received big contributions from many of their stars, including Emily Baecher and Leila Tunnel. Becky Malinowski was able to hang onto floating throws for Brute as well, and may have given Brute the edge they needed. This was their first real test here in the post season, and if the win continues, other contenders in the top four will take note, and Brute could face some unexpected challenges.
Portland Schwa (#12) vs. Toronto Capitals (#13)
The game between Pool A's two bottom seeds was critical for both, as avoiding the peril of the bottom seed can be the difference between a quarterfinals spot and a prequarters exit. The Toronto team went up in the first half, taking an 8-6 lead. But Schwa, as they've shown a propensity to do, fought back in the second half and clawed their way to an 11-9 victory to secure the third spot in Pool A.
POOL B
Seattle Riot (#2) vs. Philadephia Green Means Go (#14)
Seattle Riot completed an impressive undefeated start to their nationals, cruising to a healthy victory over Philadelphia Green Means Go. The 15-6 score tells you all you need to know. The question is if the easy Thursday will have them out of sorts when it comes to tough and intense bracket competition.
San Francisco Nightlock (#7) vs. Madison Heist (#11)
Both teams have shown themselves capable of both great and weak play during this season, and the rematch of their Colorado Cup game was an exciting as billed. Heist had both Robyn Wiseman and Georgia Bosscher this time around, making for a much different quality of play than what Nightlock had faced at Colorado, where they lost 12-11. Despite excellent play from Bree Cahn, Heist muscled their way to a 14-12 victory and the women's division's first upset.
Coming out of half with an 8-6 lead, Heist scored the opening upwinder to add another point to the San Francisco hole. Wiseman and Bosscher's ability to huck upwind caused trouble for Nightlock throughout the game, and Wiseman continues to be one of the division's most impactful onfield forces; she recorded 2 goals and 2 assists in the game. Nightlock seemed poised to make a run when a massive Heather Waugh layout block set up an upwind break to make it 11-9.
Both teams clearly felt the pressure and exhaustion of the day in the second half. Between them both, there were 18 first half turnovers and 41 second half turnovers. Long grinding points became common and each felt more and more crucial to the end result.
But the comeback was not to be. Nightlock had trouble converting upwind chances and Heist seemed to win the majority of the long hard points. Bree Cahn was everywhere, with 3 goals and 3 blocks in the second half, including two key handblocks. It was not enough and Heist completed the upset on a downwinder.
POOL C
Vancouver Traffic (#6) vs. Austin Showdown (#10)
In a windy and sloppy round three brawl, Traffic and Showdown went head to head. Showdown took the early lead, landing the first big blows. But Traffic fought back in the second half. Vancouver broke upwind on the final point to defeat Showdown, fighting off the upset and winning 13-12.
Zone was the weapon of choice for both teams and Showdown used it to great effect early on. Tina Woodings was the acting command in the deep space, directing her teammates into optimal positions and denying options to Vancouver. Mariel Hammond marshalled the troops on offense and drove Showdown to an 8-4 halftime lead.
Traffic found their rhythm in the second half, but when soft cap went on at 11-9, they still had quite a hill to climb. The consistently spectacular Catherine Hui had a few miscues, but the play of Ashlee Davison and Terri Whitehead were critical for Vancouver. Showdown took some aggressive deep shots that were carried too far in the wind and their opponents made pay for being so generous with possession. That theme bled into the final point, when an overthrown downwind deep shot to a wide open receiver set up Traffic to go the other way, gain field position, and eventually score after a short field turn. The victor gives Traffic the chance to go undefeated and win Pool C if they can upset Fury next round.
San Francisco Fury (#3) vs. Seattle Underground (#15)
After a close first half, Fury opened the game up. Controlling the second half and the pace, the three seed was able to dominate and close out a 15-7 victory.
POOL D
Washington D.C. Scandal (#4) vs. Denver Molly Brown (#5)
As perhaps the most highly anticipated game of pool play in the women's division, the match-up between Washington D.C. Scandal and Denver Molly Brown did not disappoint. Coming back from a 10-6 deficit in swirling gusts, the defending champs once again displayed their indefatigable grit and won on double game point, 15-14, despite pulling upwind.
Some tight downfield defense paved the way for an Alicia White run-through D on the final point, about 30 yards out of the endzone. Only a few passes later, Anne Mercier would put up a trailing inside-out flick to Sandy Jorgensen.
The tension as Jorgensen and her defender followed the floating disc was thick.
Two hands rose up, but it was Jorgensen's that came down with the disc, as the Scandal star managed to toe the line and secure her team the victory. Scandal wasted no time in rushing the field.
The win gave DC top honors in pool D and the opportunity to play the bottom seed of pool A tomorrow morning. Molly Brown, meanwhile, takes the second spot and will have to play the third place team of pool A in prequarters.
As for the two squads' showcase faceoff, despite Denver leading for much of the game, no squad ever had a solid stronghold in the contest. At any point in time, it appeared as though either team could make a run and take it.
Molly Brown notched the first break to go up 2-1 but would soon give it back. It wasn't until their late run before the half that would give Denver the 8-6 lead at the break, set to receive.
A 2-0 run out of half made it 10-6, and for a brief instant it looked like Molly Brown might run away with it.
That was the moment Scandal really ramped up their offensive attack, and most of all, their dump defense.
Despite excellent handler work from Denver's Claire Chastain, Molly Brown would often have to earn their resets the hard way. Such an occurrence cut down on their often smooth continuation cuts.
Scandal used these turns to their advantage, often with Octavia Payne running to pick up the disc off a fresh turnover and ripping it to a streaking Jorgensen. One particular instance saw Payne putting up a trust huck to Jorgensen, who at that time was a few steps behind two defenders, only to see her blow by both opponents for the score.
Molly Brown had no answer for Jorgensen's dominant athleticism.
Washington D.C. would earn a break back to make it 10-8, before both teams traded holds amidst a fair amount of turns.
At 13-11, however, Scandal went on a mini-run to make it 13-13. Though Molly Brown would score the next one on a huge sky by Tina Snodgrass over Jorgensen in the endzone, they looked less confident as a unit in the final points. It cost them dearly.
Scandal would go on to punch in the final two points and solidify the impressive comeback.
Molly Brown's offense looked smooth and flowing for much of the game, but they'll need to figure out a way to stay aggressive down the stretch against elite opponents if they expect to make a deep run this weekend.
Chicago Nemesis (#9) vs. Florida Tabby Rosa (#16)
The battle for the third spot in Pool D was an exciting one where both teams were in it the whole way through. It was the surprise 16th seed from Florida who caught Nemesis off guard, recovering from some early mistakes to take a 4-3 lead. However, Nemesis brought it back even and took half 8-6. Tabby didn't fold and fought in the second half, but Chicago used their grit to fend off the feisty Floridians. An exceptionally patient zone O point for Chicago put them up 14-11 and essentially sealed the deal. They went on to win 15-12.
Mixed Division
POOL B
Minneapolis Drag'N Thrust (#2) v. Seattle D'Oh Abides (#11)
Defending National champion Drag'N Thrust got off to a strong start against the Northwest top qualifier D'OH Abides with an easy 14-9 win in their first game of this year's Nationals.
Boston Slow White (#7) v. Columbus Santa Maria (#14)
Santa Maria started their Nationals campaign red hot, with a big upset win over the top Northeast team, Slow White. Columbus closed out a dominant 11-5 win by simply playing better in the windy conditions.
POOL C
Ames Chad Larson Experience (#3) v. Philadelphia AMP (#10)
AMP looks much improved from earlier in the season, but CLX still came out on top 13-11 in this first round for each team.
Los Angeles 7 Figures (#6) v. Austin Cosa Nostra (#15)
Cosa Nostra played well on Texas turf to upset 7 Figures 13-11.