Revolver rested starters en route to a 3-0 day as the rest of the pool split their games.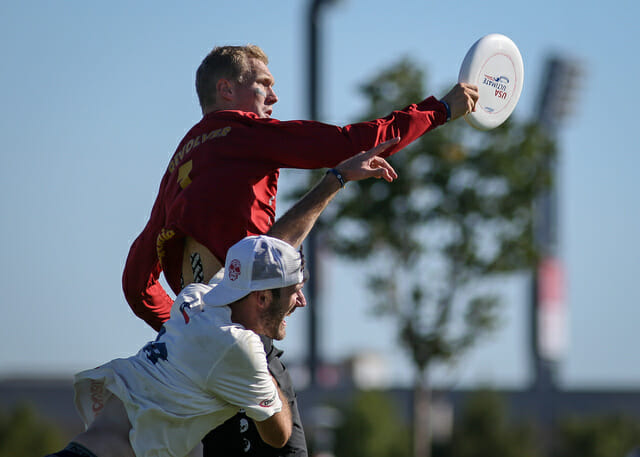 On a good day in ultimate, everything works out as it should. Teams finish where they deserve, regardless of original seed. Such was the case for Pool A on Day 1 of the Club Championships. The pool which most often goes to seed was thrown upside down with the emergence of a not-so-underdog.
At the end of the day, the teams of Pool A finished in the exact order that they deserved.
Revolver Takes Care of Business (3-0)
San Francisco Revolver came into the weekend as the top overall seed. Thursday's pool play showed why. Revolver was extremely solid in each of their games, dominating their competition on both offense and defense for most of the day.
After disposing of PoNY and Prairie Fire easily, Revolver matched up against a Doublewide team that had underperformed in their first two games. Though they played well overall, San Francisco showed some weakness against the top tier team. The wind picked up for the last round of the day, and it had a major effect on the game. Revolver struggled at times to move this disc against Doublewide's athletes upwind. Still, Revolver pulled it together and put together a perfect offensive point to win on double game point.
Their few wind struggles aside, Revolver had an amazingly efficient day. Offensively, they were led by Joel Schlachet (8 goals and 4 assists) and Josh Wiseman (8 assists and 3 goals). They were able to rotate their offensive lines loosely the entire day, often resting some of their bigger players.
On defense, Revolver was outstanding. They consistently made it difficult for teams to complete the easiest of throws. Their positioning is a thing of beauty. Teams have to work for every cut and every point.
The scary thing for everyone else in the tournament is that the best player in the world, Beau Kittredge, only played eight points on the whole day. He didn't play a single point in their second game against Prairie Fire. A well rested Kittredge heading into bracket play is not good news for their opponents.
Revolver should have a cake walk to the semifinals. They face a Furious George team in the pre-quarters who got crushed in each of its games today, which would set up a quarterfinal matchup against either Sub Zero or GOAT. Both of these teams can play very well, but if Revolver continues their great play from today, they shouldn't be tested until semis at the earliest.    
Prairie Fire Comes To Play (1-2, +1)
Nobody knew what to expect from Prairie Fire. This is their first appearance at the Club Championships, but that didn't show. From the start, the Kansas City club played with no fear, high intensity and a swagger that a four-seed in a pool shouldn't have.
Prairie Fire started the day against Doublewide, a team they are very familiar with. After jumping to an early lead, they battled their way to a halftime lead that they never relinquished. Kansas City capitalized on a number of Doublewide mistakes in a sloppy game. Overall, Prairie Fire wanted to win more.
Their win boosted their confidence heading into their second match against Revolver, but the top team was just too much for Prairie Fire. Though they played extremely hard, the wind and their lack of depth allowed Revolver to pul away in the second half. Still, Kansas City played well, and were in great position to claim second place in the pool.
For Prairie though, things did not go as planned. In an extremely sloppy game, Prairie Fire lost focus offensively, and fell to PoNY 12-10. 
"We lost our decisiveness as the conditions worsened," said captain Joe Nickels. "Overall it was a successful day, but the last game left a bitter taste in our mouths. We could have gotten better results. We wanted to claim the second seed in our pool."
Prairie Fire was still ultimately able to claim a second place finish due to point differential, which sets up a pre-quarters match against Chain Lightning. This matchup may prove to be tough for Prairie Fire. Chain's deep game will test a smaller Kansas City team.
Doublewide Struggles Early Again – (1-2, 0)
"For us, the story has been the same all year," said Doublewide captain Jerrod Wolfe. "We lack energy and focus. We've had a slow start in every tournament we've played."
This succinctly sums up Doublewide's first day at the Club Championships.
Their day started in a 0-3 hole and it was a battle to recover. Doublewide struggled to find any type of rhythm, both offensively and defensively. Simple mistakes, a lack of energy and a hesitance to adjust their gameplan plagued the Austin club.
After falling to the four seed in the pool, Prairie Fire, Doublewide had to battle against a feisty PoNY team to avoid going 0-2 to start the day. Austin's big name players — Will Driscoll, Jeff Loskorn, and Rory Orloff — were contained for a majority of the day. It was clear that teams were ready for Doublewide.
"We like to throw to our big guys," Wolfe said. "Everyone knows that and poaches against us. We need to do a better job recognizing the poaches and adjusting our offense."
Despite their early struggles, Doublewide put together a very solid game against Revolver, nearly taking down the number one seed and claiming the top spot in the pool. This is what makes Doublewide a scary team. They athletically matched up against the best team in the country and were a few small mistakes away from a big win.
Doublewide seems to play up to their competition, regardless of how they have played the entire day, something they will need to do in their pre-quarters match tomorrow morning.
Because they finished third in the pool, Doublewide will meet Ironside first thing in a huge pre-quarters matchup. Austin will have to be their best if they want to avoid an early exit from bracket play.
PoNY's Rough Day – (1-2, -1)
New York PoNY never gives up. You have to give them that. But a lack of depth and top level talent proved to be too much for the club.
It didn't help that PoNY started the day with a Revolver squad who was on top of their game. New York struggled to move the disc against San Francisco's suffocating defense, and only converted one of their few break opportunities. Still PoNY battled.
For a short amount of time, it looked like PoNY might take down Doublewide, but they ran out of gas near the end of the game. They just haven't proven they can match up against the top teams. Against Prairie Fire, though, New York fought their way to a sloppy 12-10 victory.
PoNY struggled against the athleticism of their opponents today, which isn't a good sign. Their pre-quarters matchup against Johnny Bravo, arguably the most athletic team in the country, will be a struggle. The likelihood of PoNY keeping this game close is low.