Is Ironside finally on the path to a Championship?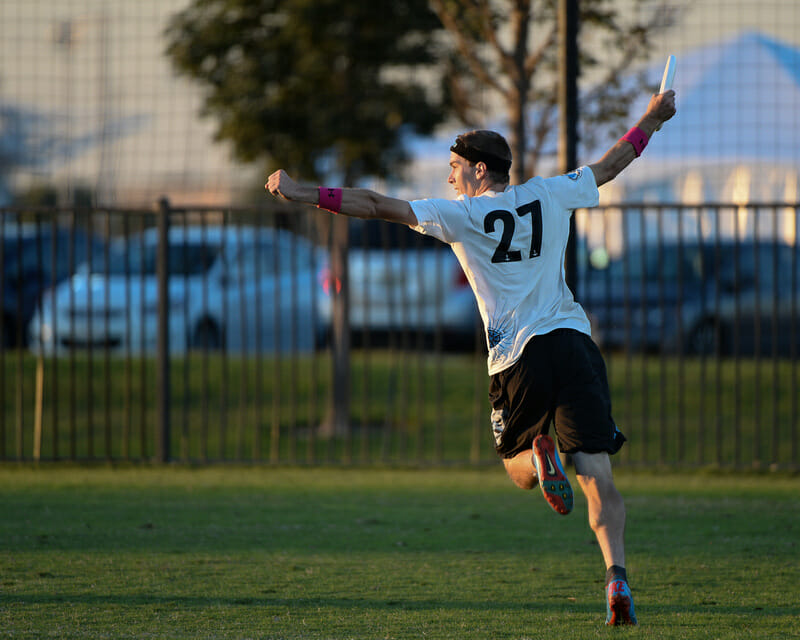 Boston Ironside squashed any hope of a Cinderella run for Portland Rhino — and qualified for their 7th straight National semifinal — with a dominating 15-9 win in the quarterfinals.
The outcome was never in question.
Ironside's George Stubbs set the tone for the game early. After trading points, Boston forced an errant throw. Stubbs promptly took over the offense and threw a beautiful break throw to Russell Wallack. Stubbs may have sealed the game right out of half when he got a huge layout block on Dylan Freechild, and then another break throw to put Ironside up 9-5, and out of reach.
Ironside showed plenty of the "swagger" coach Josh McCarthy was hoping to see from his team moving forward. Offensively, Ironside was patient and clinical. Defensively, their high pressure man defense forced double-digit turnovers for Rhino, which Ironside was able to convert to break scores six times.
Boston's defense today was fantastic. Against Rhino, they employed the same strategy as earlier against Doublewide: shut down their best player. Again, Stubbs was given the assignment of covering the opponent's best; for Rhino, that was Freechild. The Oregon star had to work extremely hard all game to get open. When Boston would force the turn, Stubbs and Mark Sherwood were outstanding at moving the disc.
On offense, Ironside very rarely turned the disc. Rhino was only able to convert two breaks in the game. Danny Clark was an absolute force as a cutter. He was consistently wide open, and orchestrated a number of scores for Boston. Their vert stack created matchup advantages all over the field against a less athletic Rhino defense. A majority of Ironside's turns were unforced.
Rhino did everything they could to fight back in the game. Freechild had some of his usual spectacular plays, but he wasn't enough alone to carry the Portland squad to a second straight upset of the day.
Ironside certainly had the most convincing win of any quarterfinal matchup.
Saturday is a new day for Ironside. This is a team that has been to semifinals the past six years. It's nothing new to them. But for Boston, that doesn't weigh on their mind.
For Ironside, that next match will be against Ring of Fire, who they have not yet faced this season. Ring has had an up and down tournament, and has the ability to win sloppy games against better competition. If Ironside continues to play efficient and dominant ultimate, though, Boston has a great chance to move to the finals.
Portland Rhino now moves to the Pro Flight qualification bracket. For a team who came in as a Select team, a quarters finish and a shot at the Pro Flight has to be viewed as a great accomplishment. Rhino struggled in pool play, failing to win a single game. It had no effect on their confidence.
Rhino's win over regional rival Sockeye on double game point in the prequarters reverberated around the field complex. They just could not handle the size and athleticism of Boston.
An earlier version of this article had quotes incorrectly attributed to Russell Wallack.