Jimmy Mickle won the trifecta: College Championship, Callahan award, and Club Championship.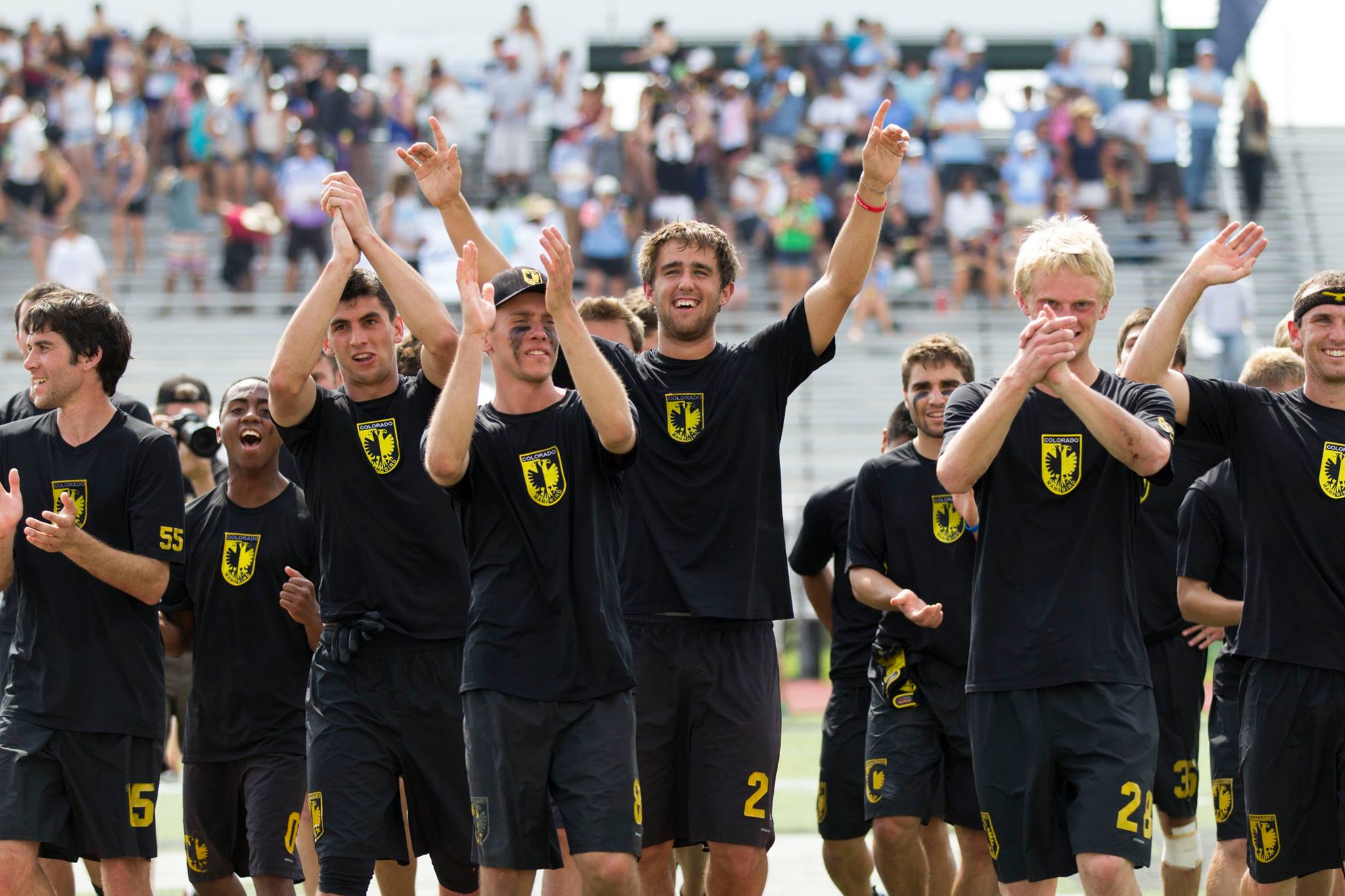 Jimmy Mickle walks away from 2014 with a College Championship with Colorado, a Callahan award, and now a Club Championship with Denver Johnny Bravo. He is the first player ever to accomplish that feat in a calendar year. It's clear that in elite men's ultimate, Mickle, and the state of Colorado, is at the top of the game.
Johnny Bravo's 13-11 win over Boston Ironside in the finals of Nationals this weekend capped off an amazing year for the Centennial State. This was Johnny Bravo's — and Colorado's — first ever men's championship. How did a state that didn't hold any men's championships since 2004 return to national prominence?
According to Bravo head coach Bob Krier, unity.
"One of the things that we decided early on was the we need to make it feel unified," Krier said. "There was a lot of rivalry with our second tier team, Inception, where they were like the little brother you pick on. And when we used to scrimmage against Mamabird, we would be aggressive to try to get them ready for Nationals. We would be dicks to them. We lost a generation of players not wanting to play Bravo because of that."
Now, Krier and Bravo do everything they can to bring more community to all the ultimate programs in Colorado.
Instead of having separate tryouts and practices, Bravo invites players from all teams, both college and club, to dual practices. Players are invited to their voluntary workouts in the spring, and many players from Mamabird practice with Bravo throughout the summer on the practice squad.
"It feels like one big family," Krier said. "I feel like we brought this home to Colorado as a state."
At the center of all of that is Mickle.
"Everyone that comes into contact with Jimmy loves him," Krier said. "You can't help but enjoy being around him."
Krier has coached Mickle since he was a youth player in the state. He coached him at Colorado in 2008 and has been his head coach at Bravo ever since.
"Jimmy has always been the guy that will do whatever it takes," Krier added. "On the field, he will be the guy that works as hard as he can. Everybody in Colorado loves him."
Mickle is very active in the youth ultimate program in Colorado through the YCC team. He has coached in the past and at his time in college, Mickle was always a natural leader of his younger teammates.
What separates Mickle from the pack, though, is the effect he has on his teammates. "He more than anybody else, more than me or other captain or coach, sets the tone for 'Bird and for this team because he smiles," said Bravo captain Ryan Farrell. "We take that from him."
When you ask any of his teammates or coaches about Mickle, the overwhelming response alludes to his great attitude. Words like "infectious," "inspiring," and "the best" are everywhere.
"There's not a better guy in the game," Farrell said. "There's not a better superstar personality. He figured out how to maximize his talents. He carries a ton of weight, but doesn't try to do everything. He's all you could ever ask for in your best player."
When asked about what all of this means to him, though, Mickle takes it in stride.
"It means I'm part of a couple really good programs, I think," Mickle laughs. "There are a couple guys on both teams, so it was fun to go through both seasons with all those guys, both college and club. They were both very special, but unique in their own way."
Mickle is one of many players who came up through the Colorado pipeline to win this year. Other players to walk away with two titles are Hidde Snieder, Stanley Peterson,  Tim Morrissy and Dennison Bechis. A number of others are former CU players who have stayed in the area. Even a number of Colorado State and Colorado College players now play for Johnny Bravo, as Farrell notes.
Where there used to be discord and animosity now exists a strong bond between programs, with Jimmy Mickle leading the way. The results speak for themselves.
"It's been a long coming thing with a lot of people giving back," Mickle said. "A lot of Bravo guys were coaching high school and Bob was out there. When people give back it ends up feeding up through the system and makes the whole state successful."
Colorado's ultimate community certainly loves to show their support for their teams. Rarely do you find a club or college team from Colorado playing at a major tournament without a large number of fans cheering their every move. That's a luxury you can only have when there exists a positive atmosphere around the teams.
The state's latest championship should do nothing but increase the support for ultimate in that community.
"It's tight knit," Krier said. "There's a lot of love. It's a family and we feel like we're a big part of bringing that together."