Ranking the most treacherous pools in Men's Club history.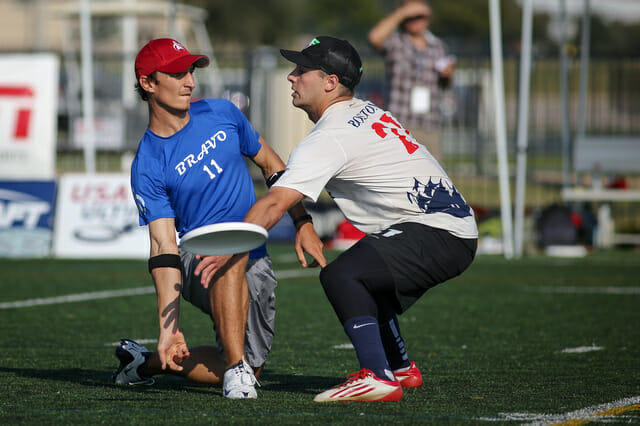 Before meeting in the 2014 National Championship final, Boston Ironside and Denver Johnny Bravo began the tournament  as the one and two seeds, respectively, in pool D.  They would finish the Championships also ranked first and second, albeit in the overall standings. Atlanta Chain Lightning was seeded third in pool D and made quarterfinals before beating Doublewide in placement games to finish tied for seventh. Furious George came in seeded fourth in the pool and sixteenth overall, but finished thirteenth.
Impressive, no?
Was pool D of 2014 the toughest pool in Championship history?  Believe it or not, there have been tougher. This season was also not the first time the two finals teams shared an initial pool. Here's a look at the 10 toughest pools from the last 10 years of Men's Club Championships. Numbers are based on the final placement of teams, giving placement plus .5 for teams that finished tied for a position.  For example, a team finishing tied for 7th would be given 7.5 points. 
Clearly, seeding and formatting changes during the last decade influence the numbers. Prior to 2013, no Pool could place more than three teams in quarterfinals with the Power Pool format.  With all sixteen teams eligible for elimination play under the current format, it is now possible. Changes in placement games also affect final placement numbers, but take the data for what it is. 
Without further ado, the top ten pools of the last ten years:
#10 (T): Pool C 2005 (7.5 Avg. Finish)
The Condors were seeded sixth but failed to make even prequarters.  They would recover in consolation play and finish ninth.  Fourteenth seeded Metal (aka Twisted Metal) did make it to the prequarters game but fell to Pike and finished eleventh.  Doublewide came in as the eleventh seed but beat Truck Stop in prequarters and finished eighth.  Sockeye easily won the pool and made it all the way to finals before losing to Furious George to finish second.  Sockeye beat DoG in the legendary Boston team's final semis appearance ever. 
#10 (T): Pool B 2008 (7.5)
PoNY was the fifteenth seed and broke slightly to finish fourteenth.  Sub Zero came in seeded seventh and actually slipped to finish ninth after losing their prequarters matchup with GOAT.  It was tenth seeded Chain Lightning and second seeded Bravo that provided the quality results from this pool. Bravo rode an incredible three day roller coaster, winning the pool, then finishing last in power pools which dropped them into a prequarters matchup with Doublewide. They won, and went on to upset top seed Sockeye 15-14 in quarters.  They would fall to eventual champion Jam in semis.  Chain also made a run to the top four, beating GOAT in quarters before losing to Ironside in semis. 
#8: Pool D 2007 (7.375)
This is the only pool that makes the list without a semifinalist.  Furious George came in seeded fourth overall but lost all three games in what obviously turned out to be a talented pool.  They would go on to win all their placement games for a ninth place finish.  Fifth seeded Sub Zero made it as far as quarters but ran into a talented Jam team and finished T-7.  Chain Lightning was seeded thirteenth but actually won the pool and made quarters where they lost to GOAT 15-14.  Lastly Truck Stop was seeded twelfth but made a run from the lower brackets to prequarters where they beat Condors.  They lost to Sockeye in quarters, but won a placement game to finish T-5, a seven spot improvement. 
#7 (T): Pool B 2006 (7.125)
Fifteenth seeded Truck Stop won one game on the weekend, just enough to improve to fourteenth in the final standings.  Sub Zero was seeded seventh but finished tenth after being upset in pool play and Friday's lower pool play.  Chain Lightning made a deep run as the tenth seed, beating Revolver 16-14 in quarters before falling to Furious George in semis.  Pool B top seed Sockeye would avenge Chain's loss, beating Furious in the finals 15-13 to win the championship. 
#7 (T): Pool C 2014 (7.125)
Like in 2008, 2014 had all four semifinalists come from only two pools.  Third overall seed Sockeye probably would have been the safest choice for a deep run, but their prequarters loss to Rhino knocked the fish down to a T-9 finish.  Fifteen seed Temper had an excellent Thursday and went on to finish twelfth.  GOAT stormed through Saturday's elimination play by beating Sub Zero followed by a double game point victory over defending champs Revolver.  Ring of Fire beat pool B winner Machine, then Chain Lightning on their way to semis.
#6: Pool C 2008 (7)
Pool C from 2008 was all about the haves and the have-nots.  The Condors and the Northeast's Bohdi came in seeded eleventh and fourteenth.  Neither team challenged for elimination play and they would finish with Bohdi ranked twelfth and the Condors thirteenth.   Third seed Ironside won pool C over sixth seeded Jam, but it wouldn't be the last time the teams played on the weekend.  Boston beat Ring and Chain while Jam took down Revolver and Bravo to meet right back in the finals.  Jam avenged the pool play loss and won their only championship 15-11 over Ironside. 
#5: Pool B 2009 (6.75)
Columbus Madcow entered and finished the championships seeded thirteenth.  The rest of the pool would find themselves playing meaningful games on Saturday.  Tenth seeded Ring of Fire started hot with a pool play upset of seventh seeded Jam.  Ring beat a Bravo team just two seasons removed from a final appearance in power pools to take the bye straight into quarters.  Ironside ended North Carolina's run there.  Defending champs Jam were forced to battle through a prequarters game against Truckstop to earn their spot in the top eight.  They would meet and fall to pool B's top finisher Chain Lightning in quarters.  Chain went on to win the championship, the third time in four years the second overall seed had done so. 
#4: Pool D 2011 (6.5)
Fifth seeded Doublewide and fourth seeded Chain Lightning would slightly improve on their initial rankings as both made semifinals.  Doublewide took down GOAT in quarters before falling to Revolver in semis.  Chain took down a hot Ring team in quarters before playing the game of the tournament, losing 17-16 to Ironside in a classic. Madison Club came in seeded twelfth, but took down Machine in prequarters to put three teams from pool D into the top eight.  They would finish seventh.  Oakland, playing in their first Club Championships, notched a few wins and finished twelfth after being seeded thirteenth. 
#3: Pool C 2010 (6.375)
Madison came in seeded fourteenth, but hung tough throughout the weekend and played well in consolation play to finish eleventh.  Ring of Fire, the eleven seed, got hot in Friday's lower pools and took out Furious in prequarters to secure a top eight finish.  Pool C's top seeds Doublewide and Sockeye both battled their way into semifinals besting Southpaw and Chain Lightning respectively.  Doublewide fell to Revolver in semis 15-12, while Sockeye lost to Ironside by the same score. 
#2: Pool D 2014 (5.875)
Ironside and Bravo both make finals from the same pool for only the second time in the last ten seasons.  Chain Lightning makes quarters and comes within two points of putting three teams from pool D in semis. Furious breaks seed after coming in ranked last, but it was the top of the Pool that lifts this group to second best. 
#1: Pool B 2012 (4.87)
Madison Club impressively rose from the fifteenth seed to finish ninth, but the rest of the pool fared even better.  Second overall seed Revolver held seed after falling to Doublewide in the finals.  Machine and Ring of Fire both significantly overachieved.  Machine rose from seventh seed to finish fifth after a prequarters upset of a hot Chain Lightning team.  Ring entered the tournament seeded tenth,  but took second in the pool after upsetting Machine.  They beat Johnny Bravo in power pools for a bye straight into quarters where they met, and upset, Sockeye. Defending champs and poolmates Revolver would be too much for Ring in semifinals, but their run from tenth seed to T-3 was enough to cement 2012's pool B as the strongest ever. 
***
Interesting notes: Not a single Pool A from the last 10 years made the top pool list.  Pool A produced three champions and three runners up in the last ten Championships, but was consistently weighed down by poor results from lower seeded teams.
Pool B of 2014 is statistically the worst pool of all time. With an average placement finish of 10.875, disappointing results from Machine and a last place finish by Sub Zero combine to lower the Pool into ignominy. 
Other Championships notes: 2014 is the first season since the start of the mixed division in 1998 that a team based in the Pacific Time Zone failed to win a championship in at least one of the three divisions.  Teams based in PST swept the Open, Women's and Mixed titles in 2003-2007, and 2010-2011. 
With Bravo's title, Ironside ('08, '10, '11, '14)  and Ring of Fire (2002) now remain the only programs since 1995 to play in a finals game without having won or subsequently winning a championship. 
As noted in the ESPN3 broadcast, Jimmy Mickle became the first Men's Division player to win the Callahan, a College Championship, and the Club Championship in the same calendar year.  Mickle and teammate Josh Ackley became the 6th and 7th players to join the exclusive club of winning all three in a career, joining Josh Ziperstein, Tim Gehrat, Fortunate Mueller, Alex Nord, and Justin Safdie.