With Nationals over and the winners crowned, it is time to take a moment to recognize the top performers in the Women's division this season. The Ultiworld staff has watched and researched the players that were making a difference for their squads this season. While the talent of the division reaches far beyond two lists of seven, these players put together what we believe to be the best seasons in the women's game this year.
Players were selected based on both their regular season and postseason performances.
Emily Baecher (Boston Brute Squad)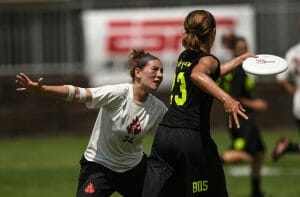 The leader on the division's regular season winner, Baecher's talents shined in a system to utilized her unique skills. Her offensive game propelled the Boston D-line, a hub handler capable of finding great field position and setting up her teammates. The backhand became a dangerous tool for Baecher, whose sizable hucks could let her speedster cutters open up the field, or whose offhand high release was a common goal line break throw that became something of a signature.
On top of her offensive capabilities, Baecher proved to be a premium defender. She often took on some of the opponent's best matchups and excelled defending dumps, able to use her supreme footwork and game IQ to deny opportunities to opposing handlers. While "EBae" could make a big play, it was her rock solid consistency that made her one of the division's top performers this season. It was no wonder Riot decided to bring her along to claim Gold in Italy.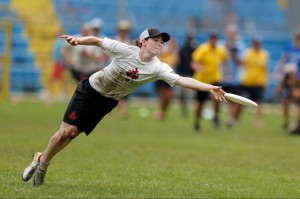 Sarah "Surge" Griffith (Seattle Riot)
Surge is a singular talent with virtually unmatched productivity. One of the game's feature athletes is a total package. Her defensive prowess has been notably documented; she's not only capable of neutralizing elite offenders, she's able to do it while continuing to play stellar team defense. She's an active mark and can be devastating in all zones.
And the terrifying thing is that she keeps getting better. Her ability on O seems to grow and grow as she develops as a break thrower and hucker. Her athleticism and motor are still the hallmarks of her game, the same attributes that landed her as a 1st team selection last season. Even with her late season being hampered by injuries, it is hard to argue Surge's impact for the World Champions. As everything rounds out, it's hard to imagine her as anything but one of the division's superstars.
Anna Nazarov (San Francisco Fury)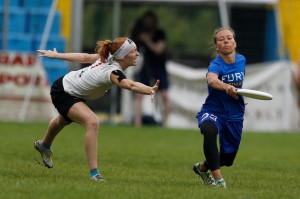 There may not be a more well-rounded player than the Fury stud. Nazarov is an excellent embodiment of the strengths of her San Francisco team: she's an aggressive, yet responsible defender, is a strong thrower with excellent field sense, and is plenty capable of doing work downfield, even in the deep lane. Her high flying layouts are great for the highlight reel, but her smooth breakthrows and snap decision making grease Fury's wheels.
As exceptional as "Maddog" is on offense, she might be even better on defense. While she demands an answer when she's on O, she provides one on defense to whatever questions the opposition poses. She's an expert backfield stopper, able to use explosive movements and intelligent positioning to create turnovers. But Nazarov is a fine defender against fierce cutters too, where her workmanlike attitude combines with her playmaking to disrupt offenses.
Sandy Jorgensen (Washington D.C. Scandal)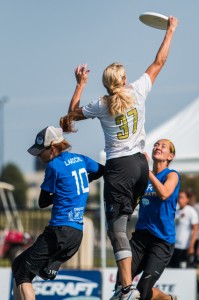 Returning to her second 1st Team selection, it is no surprise that the division's most dominant athlete continues to reign supreme with an unmatched skillset. Jorgensen wrapped up a second Championship for Scandal, scoring two of the team's last three goals, a pair of her 21 at the tournament, ranking her second in the category. Few – if any – can so consistently dominate the field with their speed and imposition.
The difference maker for Jorgensen can be summed up as range. In one sense, it is the incredible defensive range she has: if you saw her incredible recovery D in the semifinals, you know what that means. Her bait strategies hook big fish, making victims of the best throwers and receivers, with skies and run through Ds. Her offensive range allows her to run down discs defenders tap out on. And her vertical range is scary and has left many in her wake. All that to say nothing of her lefty throws and confidence.
Rohre Titcomb (Seattle Riot)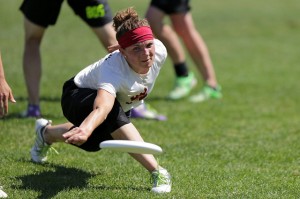 Titcomb made a triumphant return to the field after being plagued with her injury during her last season (and her stint with Team USA, with most of her fellow 1st teamers). If you had yet to find out what the primetime handler could do, she made sure to show off her array of talents this season on her way to a World Championship. Titcomb was the poster child for this year's Riot: great disc movement, disciplined spacing, and merciless break throws.
The Riot captain is one of the game's best leaders, on and off the field. She's commanding from behind the disc, driving the offense to the most valuable field locations. It doesn't hurt that she's armed with monstrous pulls and is a elite defender, making her just as good at leading her team to breaks as she is holds. Her Spirit of the Game combined with her competitive drive make her a role model that inspire the throngs of elite youth players in Seattle, as they do her teammates and peers.
Opi Payne (Washington D.C. Scandal)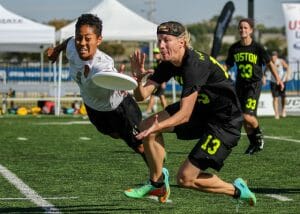 When asked how he planned to deal with Anna Nazarov in the final of Nationals, Scandal Coach Alex Ghesquiere smiled and said "I've got an Opi."
Ghesquiere's confidence in Payne is not unfounded. What team wouldn't benefit from adding a passionate, confident, inspiring defender like her? There's nobody who drops jaws like Payne, taunting physics as she careens around the field like a rocket and takes flight in spectacular fashion. She's the gritty core at the center of the two-time champions.
Last year's Ultiworld All-Club team made the controversial choice of slotting Payne on to the 2nd team, citing her rash decision making and risk taking as detrimental to her and her team's success. Opi curbed a lot of those instincts, playing within her system and using her intensity to power her to play a better team game. With super sized bombs for hucks, blazing upline speed, and a boundless supply of heart, Payne is capable of taking over a game any time she takes the field, regardless of the setting or stage.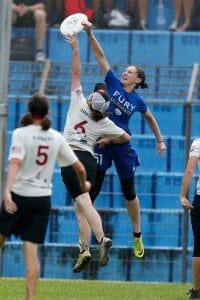 Claire Desmond (San Francisco Fury)
It is official: Claire Desmond has arrived. "Dezzy" hardly came out of nowhere. She was 4th in the Callahan voting in 2012, a college star who was arguably the best performer on the Women's U23 team that took home Gold in Toronto. In some respects, she's hard to miss.
That's in part because she seems to come up with huge plays every game. Second effort layout in the World's final? No problem. How about a big layout goal to kick off her nationals against Showdown? It was one of her 12 goals in Frisco, tying her for 9th. She makes poster perfect bids and skies seem routine. But what sets up her highlight reel plays is just as valuable: smart cutting, brilliant timing, and impressive awareness for a player still growing. For now, she'll just have to settle for being one of the division's premier deep threats, but soon, may be one of its brightest stars.