With Nationals over and the winners crowned, it is time to take a moment to recognize the top performers in the Women's Division this season. The Ultiworld staff has watched and researched the players that were making a difference for their teams this season. While the talent of the division reaches far beyond short lists, these players put together what we believe to be some of the best seasons in the Women's game this year.
Players were selected based on both their regular season and postseason performances.
Hana Kawai (Seattle Riot)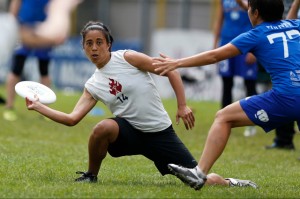 Kawai might not be your typical All-Club selection. The Brown alum doesn't explode in every game the same way some others might. Don't misunderstand: Kawai can make big plays (see 3:18). But what makes her stand out is that she consistently delivers high level play that functions excellently in her team's gameplan.
Titcomb was the poster child in the Riot backfield, but Kawai filled a lot the same strengths from downfield. In their big space offense, her size was effective deep, but more importantly, at forcing defenders to respect it and give her space underneath. Few cutters have the ability to break the mark with multiple angles of attack in the way Kawai does. When she's involved, the disc just keeps moving, and usually, so does she. Kawai's excellent footwork, disc skills, and understanding of the game made her one of this season's top offensive performers all year long.
Claire Chastain (Molly Brown)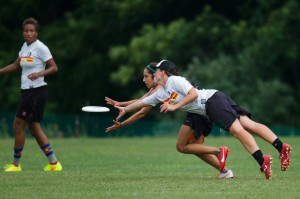 The addition of Chastain to Molly Brown's roster was one of the biggest stories of the offseason. The ensuing months allowed Chastain to demonstrate why. There aren't many 24 year old players can show up on an elite team and become one of the team's leaders. Chastain may have led Molly Brown in touches and was clearly the centerpiece of the offense. Her expansive throwing range gave her offense access to large swaths of field space, whether that be her around backhand break opening up the dead side or her booming hucks to the deep space.
Chastain is still developing, her mental game catching up to her talent. She's a shooter, and as such, is prone to some disappointing turnovers (which kept her from 1st Team honors). The catch is that she's a vicious defender, a pro at eye-popping layout Ds to take back her giveaways. And it doesn't take too many opportunities for the former Callahan winner to find a way to hurt the defense. A great athlete with an impressive blend of power and touch, Chastain is likely to be one of the game's stars for years to come.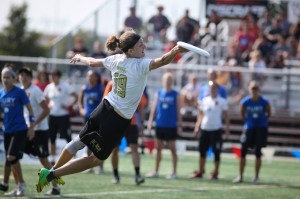 Alicia White (Washington D.C. Scandal)
How's this for going out on top? White's long been one of the biggest names in the Women's division, and at 32, is ready to move to another stage of her life: medical school. It's only fair she learn to heal, because she's been hurting her opponents' chances of winning for years. She may be humble about it, but she's still crazy quick, and her defensive awareness and attentiveness is still elite.
Of course, White's also another versatile threat. Her change of direction can devastate in the cutting lanes, whether she's on offense or defense. And there's the layouts. Capable of key break throws, shut down defense, and exceptional cutting, White's a poised veteran who can run with the game's top athletes and think with the game's top minds. She'll make her exit as a Champion.
Katey Forth (Texas Showdown)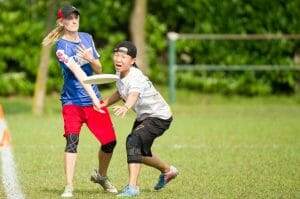 The makeup of Showdown changed a lot this year, but plenty other things didn't change. For one, they still found themselves right in the thick of things late at Nationals. For another, they still had Katey (and twin sister, Bex) Forth churning out yardage for them. Forth's veteran know how and steady presence proved valuable to a young Showdown team finding a new identity.
But it is obviously much more than experience that makes Forth so effective. This is her second straight 2nd Team selection, earned again through her ability to defy the wear and tear of years of service and remain a dangerous cutter and thrower. Whether she was being isolated as an offensive initiator, working in a rotating trio up the field, or navigating a zone from the backfield, Forth delivered time and time again.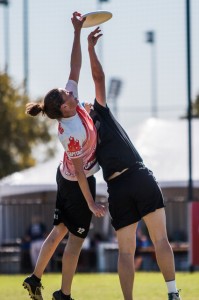 Darcy Drummond (Toronto Capitals)
Capitals surprised some when they returned to the Club Championships, with a huge comeback win against NY Bent in the Northeast Regional final. And once in Frisco, they just barely missed out: two pool play games lost by a combined 3 points, plus a Pro Flight qualifier game lost by another pair. So much of that competitive play is built around Drummond. Caps' heavy hitters of the past were not on the line with Drummond, and she spearheaded a blend of underappreciated veterans and young players.
Drummond was relied upon to do a ton for Toronto. Her Nationals line of 11 goals and 10 assists was one of the best posted. It wasn't always pretty – Caps showed their lack of experience together – but Drummond just always seemed to be there when things looked like they might fall apart. Sometimes it was a grinding reset cut, or a physical couple of seconds of defense in the lane, or a looping lefty break. When Caps needed her, Drummond was there, and it didn't matter if the defense knew.
Laura Bitterman (Boston Brute Squad)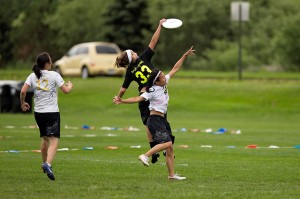 Boston showed off incredible depth this year, and a number of their players were discussed as potential additions. Bitterman's drive and ability were crucial for Brute this season and her talents were put to good use in a way most players just can't fulfill. Fast might be the first thing to comes to mind when thinking of "Bit", but it is her unwavering effort and commitment that really shine.
The Wisconsin product has a strong combination, more than enough to make up what she lacks in vertical presence. When you're the player who draws Opi Payne as your defender, it's fair to say you represent quite an offensive threat. Bitterman led Brute Squad with 10 goals in Frisco, a result of her knack for catching defenders unprepared when she makes her move to score.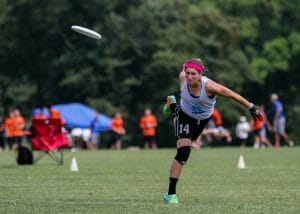 Robyn Wiseman (Madison Heist)
It's strange to think of a player with lots to say and an even louder style of play going under the radar. But, through her career with smaller programs, somehow, Wiseman has remained out of the spotlight. If Wiseman were playing with a semifinals team, she could be one of the most talked about players out there. For the second straight year, she's been selected for the All-Club 2nd team after leading Heist past expectations again.
It's hard not to wonder what Wiseman's role might be with a team that needs her as its central handler less. Wiseman soaks up a ton of touches, takes one the hardest defensive matchups, and is depended on by her Madison teammates. Her hucks are gargantuan, matched by her intensity, physicality, and similarly sized layouts. The Heist captain was especially effective in the wind at Frisco, where her power allowed her to impact the game in ways most other players could not.