CCC is jammed with talent -- whose stock will rise, and whose will fall in this Southeast battle royale?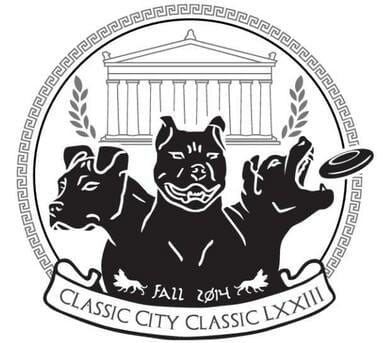 Classic City Classic has long been an important fall tournament for the Southeast Region. But now more than ever, it has started to draw top teams from all along the East Coast to create perhaps the country's most competitive tournament before the Spring.
This year, five of Ultiworld's preseason top 10 college teams are in attendance. There are seven total teams from the top 25. Outside of that elite tier, there are more than a handful of quality teams looking to make a name for themselves with a big win or two in Athens, Georgia.
With beautiful weather forecasted and outstanding facilities available on the University of Georgia campus, we're in for a real treat this weekend.
Tournament Specs
– 24 Teams (Score Reporter)
– 4 Pools of 6 (snake seeding)
– Round Robin Pool Play Saturday; Top 2 Advance
– 8 Team Single Elimination Bracket Play Sunday
– Ultiworld Filming Schedule
Weather Forecast
Saturday: 64°F/41°F ; Wind ~ 4 mph ; 0% Chance of rain
Sunday: 68°F/38°F ; Wind ~ 3 mph ; 0% Chance of rain
Pool A: #1 North Carolina, #14 Georgia, Wisconsin-Milwaukee, Tulane, Ohio State, South Carolina
All that UNC has done in the last two years is win a lot of games. They don't take their time getting into gear in the fall; they aren't out to develop their rookies. They want to win, and win big. And, by and large, they do. UNC didn't lose a game last year until the Stanford Invite (which they went on to win) in March. They were clearly the best team on the field at last year's CCC and they took home a great, come-from-behind win over Florida State to take the title. Expect to see more winning from them this weekend.
Jon Nethercutt is back, and we'll get our first look at the team's new offense in front of him, sans 2014 Callahan nominee Christian Johnson. Last year, a lot of UNC's sets were designed around the playmaking ability of Johnson — how will they integrate new first-look cutters into their offense?
UNC is also chock-full of freshmen and sophomore talent, with the ever-growing pipeline of TYUL talent delivering them a steady stream of instant-impact rookies. Nathan Kwon is already getting some buzz as a 5'2″ phenom (not a typo!). UPDATE: Ben Snell, who has been out since tearing his ACL at Easterns in March, is active this weekend. Snell finished as the 2014 Ultiworld Defensive Player of the Year runner-up.
They'll have their work cut out for them against a Georgia team that bumped up against Nationals last year before watching it slip through their fingers in three straight game-to-go losses. With increasing depth of talent and a lot of experience, this is the year for a resurgent Jojah team, featuring Elliot Erickson in his fifth year, Sam Little as a rising star, and a serious rookie class to rival any team in the country. Sebastian Di Francesco, Nathan Haskell, and Gino Mattace headline a deep incoming crop of players. Di Francesco and Haskell both played on the Team USA U19 team this summer; Mattace transferred into Georgia this year and will be an experienced "rookie."
Georgia looked good at this tournament last year and it was no surprise that they ended up playing well at Regionals. This year, they'll expect to do more than be first out.
The rest of Pool A should be an interesting group to follow. Tulane was one of the big surprises at this tournament last year, but they'll be without Pat Dougherty (PCL tear). Evan Walters will lead the team this weekend, but they likely won't have the depth to get past either of the top two teams. They'll have a tough game against Wisconsin-Milwaukee, a team that has been lurking in the North Central for years and had a quietly very good regular season last year. It's a tough, battle-hardened team.
Ohio State and South Carolina round out the pool. Ohio State is a solid program but hasn't been able to crack into the top end of the Ohio Valley region for a few years now. South Carolina, as the tournament's bottom seed, will be looking for some upsets in pool play.
Pool B: #3 Pittsburgh, #7 Florida State, NC State, Tennessee, South Florida, JMU
The Pitt/FSU game (filmed by Ultiworld) will be one of the weekend's must-watch matchups. With both teams ranked in the top 10 and with realistic semifinals hopes at the 2015 College Championships, the game between these two powerhouses could tell us a lot about where they stand.
Pitt is coming off of a tournament win at the Steel City Showdown, but it was not all smooth sailing for the two-time national champion. They struggled mightily on Saturday before finding more of a groove on Sunday. They'll have little room for error against a potent FSU offense and athletic defense. Pitt struggled a bit at containing Eastern Michigan's handlers Johnny Bansfield and Austin Engel — they'll need to find a good matchup for FSU 2014 Callahan nominee Chris LaRocque or they'll be in for a long game.
Florida State is coming off of a good weekend playing as a split squad at the Kennel Kickoff — this will be our first look at FSU's full squad against top quality competition. With Andrew Roney and LaRocque back this year, they know they've got their best shot; expect a barnburner vs. Pitt.
NC State didn't have a super 2014, but they are one of our teams to keep an eye on this weekend as possibly having a breakout tournament. The bottom of the pool is a notable dropoff compared to some of the other pools; Tennessee is always solid, but haven't been a top level Regionals team. South Florida struggles to get wins at top tournaments. JMU has been quite competitive in the last couple of years, but has lost a lot of top tier talent. Look for NC State to come out on top of the bottom three, but struggle against the big two.
Pool C: #8 Michigan, #10 Florida, Virginia, Alabama, Ohio, Kennesaw State
We're in for another "where do they stand" game in Pool C between Michigan and Florida, two teams with successful 2014 seasons but eyes on a much bigger year. One thing to know: they'll go about it in very different ways. Michigan is the classic "grinder" team that relies on its entire roster to get wins. They grinded their way to an Easterns victory last year before making the quarterfinals at Nationals. Expect more offensive polish this year, but still a gritty, team-first attitude. Sam Greenwood was the big shooter at Steel City (where the team lost to EMU in semifinals); he'll move into a more natural hybrid role with Eli Leonard and many of the other starters in the fold for CCC.
Florida, on the other hand, subscribes to the "let your best players touch the disc as much as possible" mentality. Bobby Ley and James Dahl are the captains and heavy usage guys in the offense. This is the best the team has been (on paper) in a few seasons, and they'll look to Ley — like they did last year at CCC — to make things happen. But the team has more depth than many recognize. Their defense is very solid, with Bradley Seuntjens anchoring, and the team picked up a top quality rookie in Ryan Hiser (2014 Team USA U19 player).
Alabama may be the favorite to take third here, and Southeast watchers have them as a darkhorse team to challenge the heavy hitters of the region come spring. This will be an important weekend for Bama, as they look to solidify their resume for more prestigious tournament invites in the spring. Austin "Draco" Taylor is coming off of a strong summer with Atlanta Chain Lightning, and the team got a lot of club experience with Southern Hospitality and other mid-range teams. How will the team gel early?
Virginia and Ohio look like similar teams this year — both are big state schools, both are regionally competitive but have distant Nationals hopes, and both will feel they have a good shot at third in this pool. Ohio has had outstanding recent success, but after the graduation of Mitch Cihon and Connor Haley just aren't the same team. However, the team did get many players experience on the BroCats club team this summer.
Virginia is coming off of a big double game point win over Virginia Tech in a small regional tournament — they have won their last two tournaments. Nazz Spurio, now a captain, will be one of the players to watch (if he's back from an injury). Can they keep their hot streak going against tougher competition?
Pool D: #18 Central Florida, Dartmouth, Auburn, Georgia Tech, Tennessee-Chattanooga, Michigan State
It's hard to know what to expect from Central Florida. Two years ago, they reached the Nationals Championship game. Last year, they struggled to find a rhythm all season long — despite many strong returners — and bowed out early at Nationals after being the last in at Southeast Regionals.
With Brawley Adams leading the charge this year, perhaps we'll see a bounce back season. The team is still very talented with returners like Jeremy Langdon and 2014 SE Freshman of the Year Michael Fairley. They got off to a very good start at the Kennel Kickoff — if they are going to be relevant this year, we should expect to see a better performance at CCC than they showed last year.
They have a fairly easy pool to cut through — it's deep, but not strong. They will be the most talented team and should be able to win out.
Dartmouth and Auburn both have to feel, though, that they have a shot. Dartmouth loses Spencer Diamond, but has great coaching and some strong returners like Andrew Pillsbury. They just won't have the athleticism that UCF has, however.
Auburn has Ryan Landry back from a torn ACL; he's playing very strong ultimate right now. Blake Galloway has been the standout defender. Auburn did well at last year's CCC and will be looking for a repeat performance. They'll certainly want to make the bracket. We'll be filming their game against UCF.
Georgia Tech is also an interesting team to watch. Though they graduated many of their biggest players, they picked up Nathan White (Revolver) from UC Davis. Could he be enough to build around? Tech has been successful in the past with role players around one superstar (see: Nick Lance, Jay Clark).
Tennessee-Chattanooga may not be a school you've heard much about, but they have some real talent and could be a surprise in this pool. Blake Waldron joins forces with Chris Newsom to form a formidable duo.
Michigan State looks to us like they are underseeded at the bottom of Pool D. Braeden Emrick was the no doubt Great Lakes Freshman of the Year and even got his own Callahan video as a rookie! He's back this year as an even bigger threat and the team will look to improve on an underwhelming 2014 campaign.
Outlook
Expect the semifinalists to come from the top two seeds of each pool. But don't be shocked if we have a couple of surprises in the quarters. It's still early in the season and rankings are in flux. With good weather in the forecast, we should get a good look at teams' man and junk defenses — probably not a lot of zone. Should make for clean, exciting ultimate, especially in the games between the powerhouse programs.