Kansas used a hot start to take down Colorado in the MLC finals.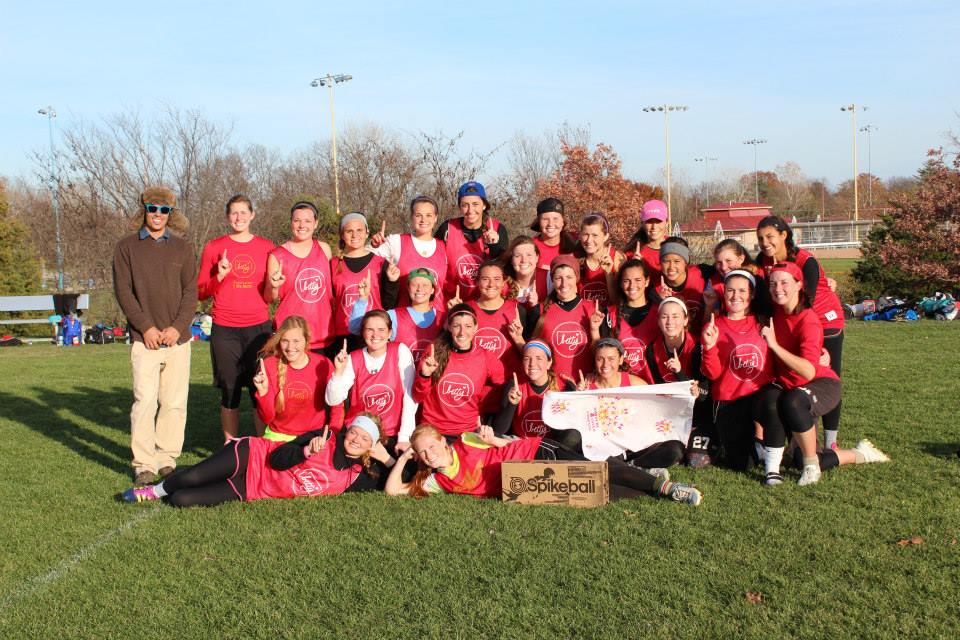 "Betty is back, b!#ches!" hoots a Kansas spectator, gloriously running along the sidelines of Missouri Loves Company women's final.
While neither #1 Colorado Kali nor #2 Kansas Betty entered the finals without a few battle wounds, Betty's dominant offensive performance en route to a 12-7 victory proved they may not be a one-hit wonder.
Kansas cranked out two breaks for the first points of the game before Colorado had a chance to exhale. After a long turnover-laden point, Kali got on the board, but Kansas wasn't even close to done, sealing their O-point with help from Clare Frantz' high release looks. Colorado seemed stunned, playing over-cautious and over-confident at the same time. Small miscues and slight overlooks were converted by Betty, who played with better efficiency than they had all weekend.
Confident, fast-moving handler movement between Jenni Corcoran, Caitlin Fitzgerald, and Clare Frantz earned Betty two more breaks: 5-1. Both turns came from Colorado break throws failing to connect, and Kansas scored fast. Downfield Kailee Karr and Kelsey Akin were prominent and reliable targets.
The Betty players were goofy with disbelief as Kali tried to rally. Betty pulled again and Kali turned it again, but tighter coverage from Colorado forced the first throw from Betty that didn't seem planned. Kali bit down on that point, refusing to let go despite several turns, until they had earned their second point, 2-5.
Kali would score again quickly before the half was over, earning them their third and final point in the first half. Betty cruised into halftime with a rookie assist ending their strong first half, 7-3.
The point differential didn't reflect incredible defensive efforts on Betty's part — although their poach defense was solid and smart — but instead revealed a Kali not fully formed yet, playing a core without chemistry. It was clear that Corcoran, Fitzgerald, and Frantz knew where to find each other more often than Karla Rosario, Kirstin Johnson, Paige Applegate, and Megan Cousins did for Colorado.
But going down by a four point margin had to hurt, and Betty increased the lead quickly out of half to 8-3. Throughout the second half it was clear Betty was matching up well: Corcoran marked Cousins, Fitzgerald marked Rosario, and they always had veterans on Johnson and Applegate. The Colorado women were still huge parts of the Colorado offense, but they weren't dangerous enough to impose their own mark on the game.
Kansas' pace dimmed slightly in the second half, giving Colorado a chance to breathe and gather their cards. Betty still got a break early in the second half, but points were longer, and as Colorado found their feet, the keel of the game shifted. Betty and Kali began trading points, but the margin was far too deep. Colorado opened up their lines slightly in the second half, with core players like Katherine Heil and Kelsey Bennett still churning in the midfield.
The last point looked like what every other point of the final should have been: both teams fought bitterly for each pass, and Kali showed a focused appreciation for possession that they'd been missing before. The extra count Kali handlers took gave their cutters needed beats to find their space. The game ended on a beautiful grab from Cousins, and both teams cheered wildly: Colorado celebrated their final point as emblematic of never giving up, while Kansas cheered for their strong victory.
Now, for your grain of salt: while this game meant a lot to Kansas and for Kansas, it probably doesn't spell any long term trouble for Kali or for the South Central region. It's early November, and MLC was still a tryout tournament for Colorado: it's hard to know which of the rookies seen on the field this weekend will be seen this Spring. Dori Franklin and Nhi Nguyen were also noticeably absent. Kali is a powerful program, and they will put together better looking games than this one.
Betty, on the other hand, proved they can still perform after losing talent like handler Christina Baker. Their game still shines most when handlers have the disc, but their reliability and intelligence downfield is more apparent already this season. Kansas has one year of College Championships experience under their belt, and their 12-7 win at MLC shows that they have no intention of letting it go to waste.
Betty is back.