Boston Ironside's failure to win a title isn't due to a mentality issue; it's a structural one.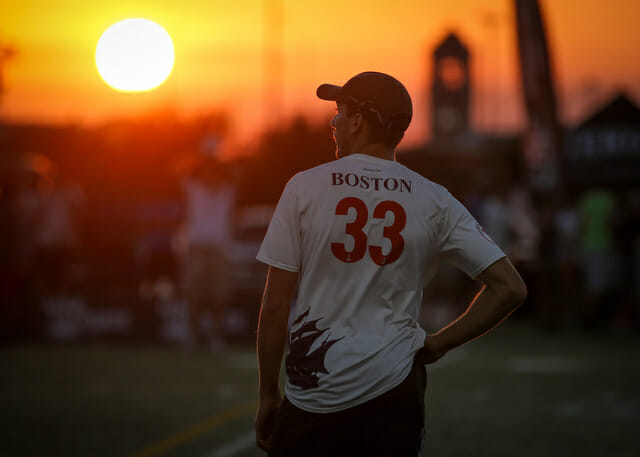 On paper, 2014's Boston Ironside had everything a brainstorming session on building the ideal championship team might yield: veteran leadership (Danny Clark, Josh "Cricket" Markette); athletic youth willing to play a role and throw their body around (Jack Hatchett, Jeff Babbitt); championship experience (Wisconsin Hodag college championship members Brandon Malecek, Matt Rebholz, and Jim Foster; Mark Sherwood and Markette as club champions with Revolver and Chain, respectively); continuity in team makeup and strategy; a world-class stud known for taking over games at big moments (George Stubbs); and a long-tenured, well-regarded head coach (Josh McCarthy)1. The team has also enjoyed a talent pool that is constantly fed by a metropolitan area that attracts plenty of young professionals and is surrounded by several universities and high schools that house serious Ultimate teams.
And yet, since it shed the name Death or Glory (DoG) and incorporated Cambridge's Twisted Metal to take Boston Ultimate in a new, unified direction, the team has dealt with a constant question in ultimate media and among fans: 'Why can't Ironside break through and win the whole thing?'
Every year, the question (and the haters) get louder. It shouldn't be unexpected, considering Boston's history at Nationals and the World Club Championships since becoming "Ironside" in 20082.
2008 Club Nationals: 2nd
2009 Club Nationals: Semifinals
2010 World Club Championships: 5th
2010 Club Nationals: 2nd
2011 Club Nationals: 2nd
2012 Club Nationals: Semifinals
2013 Club Nationals: 3rd
2014 World Club Championships: 9th
2014 Club Nationals: 2nd
It's understandable for fans and pundits to go all-in on the idea that Boston has some mental weakness that has kept them from getting over the championship hump3. As humans, we like having narratives to package complicated and multifaceted events into clean and compelling stories; having narratives makes sports fun!
In reality, though, these stories are frequently overblown and typically don't have much to teach us about what's actually happening – a subject eloquently covered here. The argument that teams and individuals who don't win championships lack some fundamental quality extends well beyond the NBA, but it would be foolish to try to explain all of Ironside's history that way.
Boston's Basics
Ironside is well-known for its regimented standard vertical stack using inactive cutters in the middle of the field to create lanes on either side of the field. Although Boston's O line will sometimes run plays out of other formations – typically a side or horizontal stack, especially when they run into zone and junk4 – their default system is a classic vert.
As Ultiworld broke down in August, Ironside has started throwing in a cool new wrinkle,5 using a six-person stack with no dump available to the thrower. This offense works because space on either side of the field means 180 degrees of downfield throwing space, limiting the necessity of traditional throws to an open backfield.
Ironside's plays out of a vert stack are generally very clean sequences designed to make the first available throw an under cut that gains 25-35 yards; those first available deep cutters' primary purpose is to open up wide swaths of real estate for a primary cutter to work in. When it works, the in-cut is able to catch the disc somewhere around half field and now he's got a big cutter isolated one-on-one downfield.
https://gfycat.com/CrispShinyIndianrockpython
Defense
Nothing really jaw-dropping here, but it would be a mistake to overlook the how much Boston's defense contributed to their success as a team in 2014. On the whole, Boston successfully employed what sound like cliché tactics: tight downfield defense, maintaining the force, and intelligent risks.
In big games we reviewed, Boston did not come down in junk or zone defenses. Where Boston did manage to limit opponents' yards gained per touch, they were repeatedly rewarded by throwing and catching errors that inevitably come up as offenses need more completions to score. Sagging, zone-y looks also forced lateral throws that opened up opportunities for blocks in the lane by handler defenders. Young defensive handler Alex Simmons showed out in a big way as he created multiple blocks this way in big moments.
https://gfycat.com/MinorHappygoluckyDeinonychus
Once they got the turn, Boston really benefitted from George Stubbs switching over to defense, making use of his speed and throwing ability on many of their conversions.
Boston carried these and other formidable strengths into their regular season, finishing up with an impressive 16-7 overall record. What's more is that, even in their losses, Boston looked like the better team at several critical moments. Still, Ironside's biggest tournaments ended with that brutal, nagging, "can't win the big one" narrative. Why?
How the Games Went
Club Worlds v. Buzz Bullets

: Boston looked totally in control early, cruising to a 9-6 lead by creating blocks, capitalizing on turnovers, and methodically beating Buzz's junk defense using over-the-top throws. With an 14-11 lead, Boston committed several uncharacteristic turnovers and Japan took advantage. Finally, on double game point, Boston turfed a swing, but Malecek came up with a huge block, only to see it called back on a foul call; Ironside fell in heartbreaking fashion.
Pro Flight Finale v. Machine

: Ironside started slow against Chicago Machine, throwing bad huck turnovers on several of the game's early points. Machine's AJ Nelson dominated the game, scoring several goals but, even with the slow start, Boston was still in the game as late as 8-10, only to see Machine put the game away.
National Championship game v. Johnny Bravo

: Boston built a solid lead, going up two breaks early as they made their offensive possessions look easy and converted on two poorly thrown Bravo hucks. After some unfortunate Boston errors, Bravo tied the game at 7-7. With Jimmy Mickle doing everything for Bravo and Boston struggling with a combination of dumb throwing decisions, problems resetting the disc, and bad luck, Bravo took a late two goal lead and never looked back.
What Might Have Gone Wrong
As pointed out earlier, Boston looked strongest in games where it was attacking the margins of the field, using space classically created by the vertical stack. While bad turnovers didn't show up much in throws to these spaces, Ironside turned the disc in all three of the elimination games we profiled when targeting big in-cuts coming down the center of the field.
The problem was especially apparent in plays out of a horizontal stack:
https://gfycat.com/EverlastingFluidIndianhare
In their National Final against Bravo, leading 5-4, Boston's first turn comes pretty late in the game, courtesy of a crowded throw to the middle of the field:
https://gfycat.com/GrandioseSoulfulAfricanfisheagle
While not as conspicuous, a gigantic Walden Nelson block that effectively ended Ironside's chances at the Pro Flight Finale also highlights Ironside's problems directing passes to the middle of the field.

This difficulty forced Boston into lower percentage throws as they were couldn't find their preferred offense. It also likely led to the less obvious problem of throwers looking off crowded options and waiting for something better, often a dump as the stall count rose. Either way, Boston's offense wasn't nearly as frighteningly precise once it was funneled away from sideline-oriented isolations.
There isn't an easy answer for why Boston seemed more turnover prone when throwing to the middle of the field, but a few of explanations come to mind. It could be that opponents who have played against Ironside several times a year for almost a decade know that their best offense is created by tearing through huge chunks of yardage on either the left third or right third of the field. To counteract that success, downfield defenders may have adjusted to take an extra step to the force side and turn cutters inward, driving them into other cutters' lanes.
On Ironside's end, it's possible that a year-in, year-out commitment to drilling the vertical stack may have worked against them, as cutters struggled to fight their instinct to "clear" to the center of the field, even as the situation dictated that clearing to the sides may have been more beneficial. As a result, these throws found themselves in the middle of three cutters, none of whom thought they were responsible for reaching out and catching the disc.
Regardless of what brought this malfunction on, it had serious consequences for Boston's O that showed up as both turnovers as well as timing problems that limited opportunities for the scripted, three-pass goals that elite offenses feast on.
Once the downfield looks became more bogged down in tight games, Boston's O desperately needed clean and easy resets to generate new chances downfield. This is where the wheels fell off and the water got really choppy.
In several critical moments, Ironside throwers pinned to the sideline turned to dump the disc and only saw this:

Instead of a clearly ordered sequence of dump cutters, Ironside repeatedly sent three or four players rushing blindly to the disc. Good throwers will naturally shy away from tossing a disc into a crowd, so two to three seconds of stall were lost waiting for the mess to clean itself up. Most of the time, though, either (a) everyone left at once and no new options showed up to bail the thrower out or (b) everyone decided to stick around and juke in a five yard area. Not exactly ideal options.
Boston's reset problem showed up again and again, and while they occasionally managed to squeeze a nifty throw into a tight space to reset the stall count, too often the result was a costly turnover. Against Machine, solid dump defense and swarming dump cutters forced this Ironside punt (and exceptional effort by Will Neff).
https://gfycat.com/SparklingDecentAsiandamselfly
Against the Buzz Bullets, Neff throws the turnover. With the stall count rising and surrounded by an ugly mix of handlers and cutters in a ten yard box, Neff attempts to skip the swing, throwing a lateral crossfield hammer. The throw is high risk/low reward, and Boston pays for it at a huge moment in a huge game:
https://gfycat.com/LoathsomeCloseEgret
Down the stretch of the biggest game of Ironside's season, Bravo's ability to dump the disc and complete a swing pass may have accounted for the difference in an extremely tight contest. Compare Bravo's willingness to lose yards and keep the play alive:
https://gfycat.com/BriefKindIndianspinyloach
With Ironside's difficulty finding an open handler:
https://gfycat.com/PaleBowedCutworm
Interestingly, Boston's use of the six-cutter look may have contributed to its problems finding resets, as no additional help came when the Boston's first option to reset the stall count was shut down.
https://gfycat.com/HalfAlarmedIsabellinewheatear
Even with great throwers, defenses at this level require teams to have an easier reset valve that can take advantage of available backfield space. Even if this means throwing for a fifteen yard loss, teams will take that over a turnover. In the Bravo game, Boston ran into trouble as they found their first dump option covered up – and seemingly unwilling to run too far backwards – and no readily available secondary throw.
It should not be a surprise that the finals of Nationals produced situations where both teams' offenses sputtered as cutters were shut down. During a few key moments, though, Bravo confidently revived possessions and reversed the field, generating better looks from new angles. Just a few incidents of Boston failing to match Bravo's success in completing this mundane task had major implications given the game's razor-thin margin for error.
On defense during their 2014 championship campaign, Boston generally maintained a tight man defense that forced other teams to make difficult throws and work hard for goals. Using virtually no junk or zone looks6, the team relied on a tremendous amount of discipline, which 2014's Ironside had in spades.
In Boston's losses – especially the U.S. games – opponents had one weapon that gives even the most well-drilled, fundamentally sound defense problems: the biggest, fastest athletes on the field.
In Ironside's worst loss of the regular season at the Finals of the Pro Flight Finale, Machine scored several goals on hucks to their stable of big deep threats taking advantage of smaller defenders, as Kevin Kelly does here:

With plenty of big throwers available to put bombs to space, Chicago didn't hesitate to loft it into a matchup with a 6'3-plus cutter had up to six inches of height on his defender. When Boston focused on containing those deep shots, Machine took advantage by looking for big gainers as deep threats like AJ Nelson came under with considerable leads:

During the finals of Nationals, Boston a particularly hard time containing Jimmy Mickle. This was true not only in the air, where Mickle made several characteristic big grabs in the end zone, including one key goal over George Stubbs, but also on the ground: when Ironside was committed to stopping his deep opportunities, Mickle used his speed to take create tons of space on big unders.

This separation was also handy in allowing Mickle to act as a release valve in cases when Bravo's handlers were unable to secure resets.

The successes of Mickle demonstrate the difficulty Boston was faced with throughout the finals: use a bigger, less experienced defender to contain potential hucks to Mickle, or use Stubbs to guarantee more difficult throws and give up a serious height advantage on deep throws:

Bravo also took advantage of its size advantage in a less-expected way, with Brodie Smith playing a key role in closing the door on Ironside's national championship hopes. While injuries mean he's no longer the athlete he once was, Smith is still a very big body, and he used it well to score two goals late in the final, assuring that two defenders with decent position couldn't get a block. The Brodie problem was indicative of the overarching struggle Boston had with size.

Although Boston might have had the size to match up with one or two of the biggest members of Bravo, by the time they reached the third or fourth biggest guy – Kurt Gibson at a healthy 6'2'', for example – Boston players were giving up significant size to their mark. Combine this with simply wanting smart matchups to deal with position, throwing skill, etc., and Ironside had difficulty finding a defender anywhere near Smith's 6'5'' frame.7
***
In the pre-quarters of the World Club Championships, the finals of the Pro Flight Finale, and the finals of Club Nationals, Ironside's opponents each did what pundits and fans expected they would. The Buzz Bullets used their speed and pinpoint break hucks to score goals and their junk defense to slow Boston down. Machine made big defensive plays and dominated downfield matchups using their big athletes. Johnny Bravo made good use of its star power and capitalized on the athleticism of younger local athletes.
Still, Boston didn't seem overwhelmed on paper and looked to have a good chance to win late in each game. The video suggests that Ironside's eventual losses in each of these games can be explained in part by a pattern of breakdowns associated with cutter location, poor reset structure, and difficulty keeping their biggest opponents out of the end zone.
All told, Boston's recent history deserves a tremendous amount of respect. They have consistently produced one of the top three teams in the in the Men's Division for roughly a decade immediately following the dissolution of one the most dominant dynasties the sport has ever seen. This year was another testament to that consistent greatness: a strong regular season, ninth place at the World Ultimate Club Championships, and a second place finish at Nationals.
Historically, it seems that Boston ran into a Revolver juggernaut in 2011 and 2012 and had a rough semifinal against a great Sockeye team in 2013. In 2014, Boston drew a bad Buzz Bullets matchup at Worlds8, saw a hot Machine at the Pro Flight Finale9, and caught Johnny Bravo went they finally went Voltron in October. We can leave other years to wild and enjoyable conjecture.
---