Jimmy Mickle is taking his talents to the AUDL.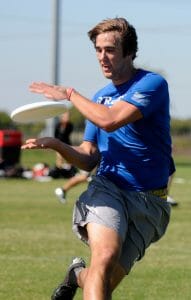 Jimmy Mickle, the 2014 Callahan award winner and College and Club champion, will join the AUDL for the 2015 season, league sources tell Ultiworld, confirming widespread speculation about his arrival to the semi-pro game.
Mickle will become the latest major signing for the AUDL, which has re-signed Beau Kittredge and is expected to land Kurt Gibson and Brodie Smith again this year.
As of this writing, Mickle has not yet firmly committed to a team, but sources say that he is "very likely" to join one of the the league's expansion teams. The league has expanded a great deal this offseason: Los Angeles, San Diego, Pittsburgh, Raleigh, Charlotte, Atlanta, Nashville, Jacksonville, and Ottawa will all host teams in 2015. One other team is in the mix to sign Mickle, sources say.
There are numerous, clear signals that he is set to join the league, including this Facebook post from the AUDL and this tweet from Mickle:
Evan Lepler is the lead play-by-play broadcaster for the AUDL.
Mickle, who has not returned a request for comment, is expected to sign with a team this month. It is unclear whether he plans to relocate from Colorado; he is expected to return to Denver Johnny Bravo in the 2015 club season.