Virginia took down Ohio State, a continuation of their dominant showing at Queen City Tune Up.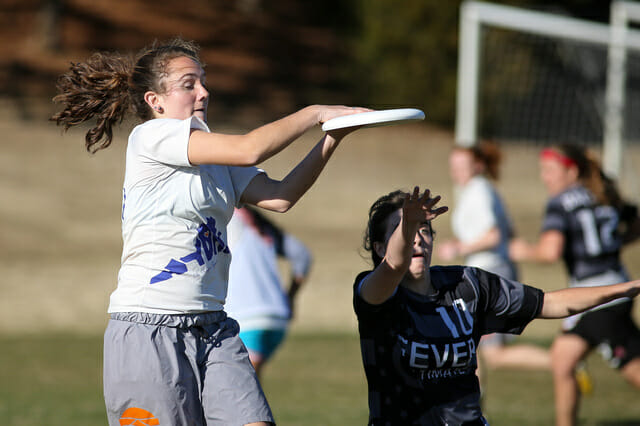 CHARLOTTE — Virginia Hydra entered the weekend as the top seed, the highest ranked, and overall favorite to win Queen City Tune Up. While their victory wasn't a surprise, the way UVA did it was perhaps even more dominant than anticipated; Hydra's average margin of victory was more than nine points. They punctuated their weekend with a thorough dismantling of Ohio State, to the tune of 15-5, in the final.
The wind proved to be the greatest adversary of most of the teams in Charlotte, but not for Virginia. Their depth of skill was clear throughout Sunday's gusty games, when they appeared to be the most adaptable group. Even their cutters seemed comfortable throwing upfield, a rarity on the day. Because of their ability to convert offensive opportunities, Hydra consistently often avoided the drawn out points that sapped other teams' energy. The only team to reach 15 on Sunday? Virginia, three times.
Virginia was the fresher team when they took down Ohio State in the final. Despite playing an entire game more than OSU – and playing a semi against a team coming fresh off a bye – Virginia had more legs, more focus, and more energy than Fever. Even though OSU proved capable of powering through the wind and Virginia's zone, championed by the play of Stevie Miller and Katie Backus, they couldn't hold on. A 4-3 Virginia lead ballooned into a 15-5 blowout, an 11-2 run to close out the tournament.
Both depth and starpower were on display for Hydra. Nine players scored and six recorded assists. Alika Johnston led the game with five assists, while Sarah Hansen was a force, recording four assists and three goals, a fitting end to a huge weekend from Hansen. Emily Leivy added a pair of goals and assists, as well.
Considered one of the true national title contenders entering the weekend, Virginia did nothing but confirm their elite status. They logged a 7-1 record, with wins over highly convincing Ohio State, Michigan, Georgia, and Northeastern. Their lone loss came against Florida State in pool play. Outside of that game, they were clearly and consistently the strongest team at Queen City Tune Up, only supported by their tournament win.