Michigan High Five is collecting talent from across Ohio and Indiana to form a new super-team.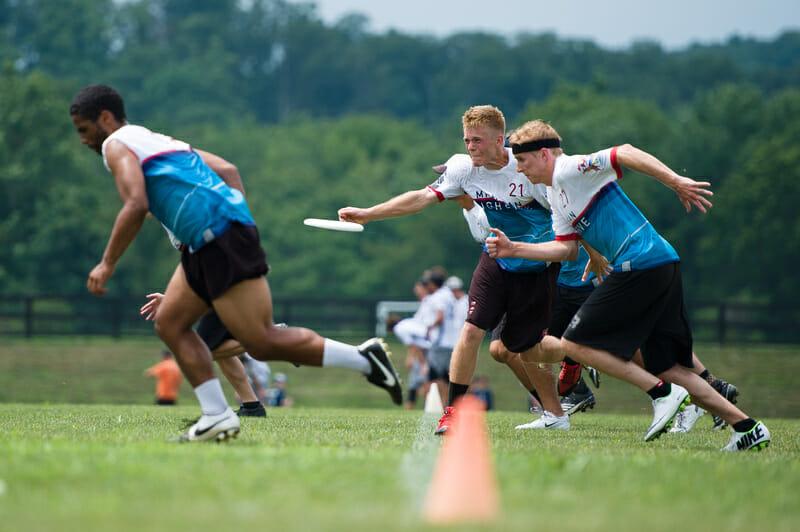 In 2014, Johnny Bansfield and James Highsmith were the heart and soul of the Eastern Michigan Fighting Hellfish and were the top two reasons the squad made Nationals.
The news that they were voluntarily opting out of their final college spring season (despite having eligibility) therefore came as a major surprise and left many scratching their heads.
The decision was not one taken lightly and will not be without impact on the Michigan and Ohio Valley scene.
In this exclusive, Highsmith announces that he and Bansfield are not only taking over leadership for High Five in 2015, but also effectively merging the Michigan team with many of the top players in the Ohio area.
Veterans of Madcow like Phil Cherosky, Nate Botti, Kevin Baumann, and, more recently, Bro Cats such as Connor Haley and Mitch Cihon, as well as Alleycats star Cameron Brock and several other players from the Great Lakes region have made commitments to tryout and join a new squad.
This team will still be called High Five, but the club merger continues a trend of aggregated star power and should make the new looking team a serious contender.
Leaving EMU
The choice, said Highsmith, was a tough one.
"We went back and forth on the decision for months, and had been thinking about it since the end of Nationals 2014," he said.
Bansfield and Highsmith, the leaders of EMU and two of the best college players in the Midwest and the country, were announcing an effective end to their collegiate careers.
That's a shocking decision for obvious reasons; EMU, with the same two talented players on the field, had another shot to make Nationals. But it was that reliance on them that was one of the key reasons for the opt out.
After nearly seven straight years of college and club seasons leading to nearly year round ultimate, both players were nearing complete exhaustion. "For EMU we were having to play every single point of quite literally the entire season," said Highsmith. "It really is just time for a break."
But another important impetus came from the club circuit. Both players had been voted in as captains for Michigan's top club team, High Five, and had a new plan to elevate the abilities of that squad.
The New High Five
"It all was kind of spontaneous," recalls Highsmith. "After losing to Machine in a pretty intense game-to-go at Regionals, and recapping our 2014 season as a whole, we realized something needed to change."
It began with some Facebook messages and emails to other guys in the section. The original hope was just to set up a contact list, but Highsmith pushed forward, proposing the idea to many of joining with some of the top area players for the 2015 season.
"The whole thing seemed like a long-shot," Highsmith went on, "but after emailing back and forth with some of the guys, we decided to at least meet up and talk things over in person."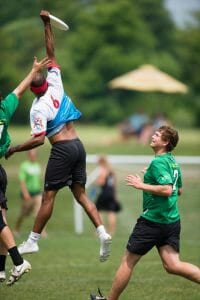 A few months later the four High Five captains — Highsmith, Bansfield, Mike Jahn and Mike Dagher-Margosian — took a trip down to Columbus to meet with some of the elite talent of Indianapolis, Kentucky, and Ohio.
The group presented their plan, eager to hear feedback and hang out as a group. No decision was made at that point, but by January, Highsmith had gained commitments from some of the top talent of the area.
Phil Cherosky, who captained Madcow in 2014, will make the shift, joined by others of the Ohio elite such as Nate Botti and Kevin Baumann.
Cameron Brock — Indianapolis Alley Cats star and AUDL All Division player — is also going to try out for High Five this season, and will likely open up further player connections in Indiana.
Former Nexgen Tour member Mitch Cihon added his name to the list, after playing Bro Cats last season, alongside Connor Haley. Bro Cats saw a division of talent in the Ohio area, and the team out of Athens was quite competitive in the Region in 2014. Now, the Ohio and Michigan areas are trending the other way, consolidating power, and looking to rival Machine for Great Lakes dominance.
Highsmith said the group is excited, ready to not just compete with the elite teams as Madcow and High Five have done over the last five years, but to beat them, to rise to the top of the elite.
"Every person involved has mentioned having an excitement for the intensity and competitive nature that our tryouts and practices will have as a result of the talent level," explains Highsmith. "With that said, we're all aware of how difficult the task ahead of us is. This isn't a one year project for us; we want to become a club mainstay."
Committed to the long haul, Highsmith is ready to move forward.
Implications
"It's a true merger in the sense that players from across the sections, though mostly Ohio, will be trying out for High Five this year," said Highsmith. "Madcow will still be around, but for elite level ultimate, High Five seems to be the best option in the area."
The implication is clear then: High Five will be even more solidified as the team to beat in the eastern section of the Great Lakes.
2014 was in many ways a transitional year, with Madcow rebuilding, only returning 10 from the previous year's roster, and many of their former core dispersing, some to help form the Bro Cats in Athens. Now, in 2015, Madcow as a team may be almost totally unrecognizable from previous years. But, at the expense of that team, another squad by another name, with many Madcow players forming a new core, may be able to get back to Nationals.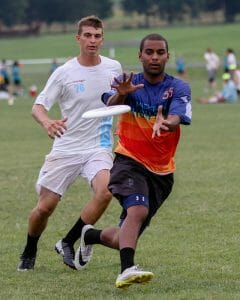 It's hard to picture what such a squad might look like. With the four current captains, strategy is likely to take a bend towards High Five, but expect to see a lot of borrowing of what worked for Madcow as well, especially with the Ohio team's former leaders and strategists coming into the fold; it is likely that on the defensive side, especially, High Five will become more diverse and complex.
Both High Five and Madcow were teams unafraid to use their athletes in their hucking game and such a merger, especially early on, could only reinforce this reliance on star power and defense. With new teams, often the simplest and best way to score is simply to huck, and if all else fails, trust your man defense to get you the ball back.
Fundamentally, however, such a strategy has its weak points, especially if this new High Five truly wants to consider itself the best among the best. They'll need fundamentally sound schemes and well-rehearsed chemistry to avoid giving other teams turns and shots for breaks; the pressure will then be on the leadership to incorporate these personalities well enough to gel them into one cohesive force.
Practice time can be a struggle often enough, but it'll be even harder with so many people coming from areas outside Michigan. As a result, Highsmith and the others are willing to adapt.
"We're changing up our practice schedules, locations, our leadership model, and, with the infusion of talent, likely the type of sets we run.," he explains, adding practices will be fewer, but longer, to create high-quality time when everyone can get together. New locations will be announced and an advanced schedule in hopes of avoiding people missing time.
Overall, the leaders are already putting in the prep work to lay the foundation for this team's success.
The High Five Plan
The new plan for High Five follows in the footsteps of other teams like Denver Johnny Bravo (who collected immense talent in 2014 that boosted their championship run) and Chicago Machine (who added several Madison players last year).
However, the shift towards High Five will likely have more of an impact on the East Plains section than other mergers have had in other places.
The talent in the east plains has always been apparent, but it has also been fairly evenly dispersed among small ultimate communities. As a result, it has been far more difficult for teams to gain traction, even in comparison to a smaller city, but more vibrant community like Madison.
"It's funny," Highsmith said. "In our eyes we see High Five as an elite team, but judging by the Ultiworld comments, Reddit stuff and Twitter, people outside of the area don't really see things that way."
Highsmith says this is fuel to the fire. In the past, he explains, teams at his level in their section were somewhat content to compete, yet fall to the bigger or more established squads. The teams, in many ways, just lacked the ability to really cohesively pull the talent together that bigger cities could.
The merger will change that. This kind of move leaves any doubt about commitment behind, and people need look no further than Bansfield and Highsmith themselves, who are so committed to the team they are sacrificing their final college season to prepare.
"We came up with a plan to nurse our injuries and rest, physically and mentally, for a few months," he adds. "This provided us with a good chunk of time to concentrate on the background essentials of captaining a club team, especially in an offseason where so much change was going to be happening."
Some might say that the two should have played for EMU as well as the new team, but Highsmith says the rest and prep are already working, shown by the big off-season moves High Five is preparing for and their own physical readiness.
"Now we're at a point where we're ready to start lifting and running for the upcoming club season," he said. "I can't speak specifically for Johnny, but I feel healthier than I've felt since my first year playing for Overhaul."
It was a tough choice, but Highsmith believes that this will be a drastic shift in the club and college world for the section; the leaders are truly thinking long-term, ready to establish High Five as a contender down the road.
"For me personally," he says, "I'm not missing my last season of college ultimate for a one-year ultimate team. This is a commitment to elevating the elite ultimate community in the East Plains section."
These guys know the change won't happen overnight, but truly see High Five as a consistent powerhouse in the future.
As for Eastern Michigan, Highsmith is confident they can continue to win big games with the talented group and the system that carried them to Nationals in 2014.
"I wouldn't trade the experiences and time I had with Eastern ultimate for the world," he said. "The memories created and lifelong friendships are something we'll both have for the rest of our lives."