Another year, another great freshmen class for Carleton.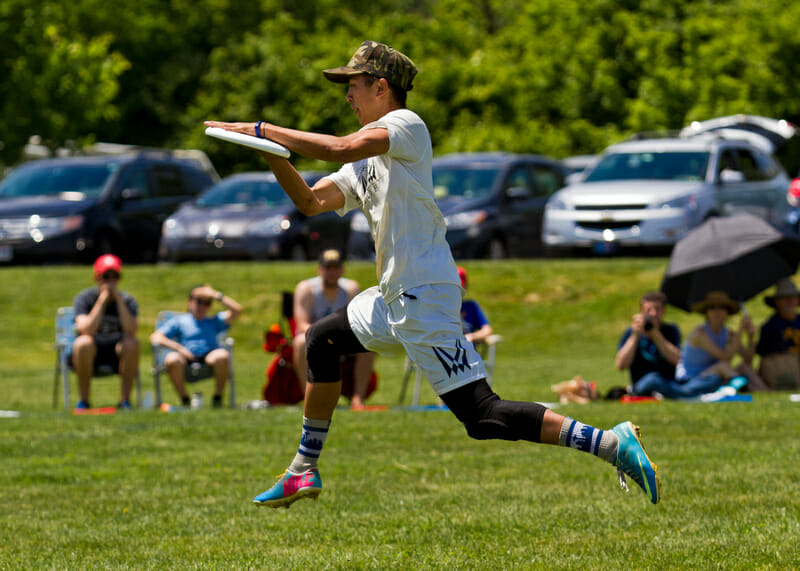 Carleton's 2014 season will be one sadly marked by tragedy, rather than the team's roller-coaster ride through the spring competitive tournaments, an ultimately victorious battle with Minnesota in the game-to-go at Regionals, and a surprisingly successful run to prequarters at Nationals.
Now the team is able to start focusing on winning again in 2015.
In many ways, the old CUT is gone forever, for a team as close as Carleton is going to be changed by such a tragedy.
But in other ways, this season will be no different, for now the country turns their attention to Northfield, Minnesota again as Carleton adds one of the best freshmen classes in recent memory. Could the team be a finals contender and again achieve the greatest triumph in the college sport?
The Roster
"CUT generally has a roster that is younger and more talented than most of the quarters-level teams at Nationals," said CUT coach Philip Bowen. "It comes with the territory of being at a four-year school with no grad program and getting recruits from the powerhouse youth programs who are probably going to make the team their first year at Carleton. This year is no different."
CUT is a deep army of skilled players every year. Carleton is a destination program more than any other with deep roots in Seattle, Atlanta, and other youth hotbeds. No other school can claim so many players who have high-quality ultimate experience before college.
However, as Bowen mentions, CUT lacks any type of graduate programs, cutting off potential 5th year players and transfers from other schools. This balance means that, just as in previous years, Carleton must swiftly take their new talent and turn it into a tool that feeds the program and creates success within the system.
"There is a challenge in adding new players from different systems to the existing CUT framework," Bowen said.  "A lot of these guys have been successful at a very high level and now they are being asked to do new things and from a much lower position on the depth chart."
2014 was supposed to be the rebuilding year, with Justin Norden, Nick Stuart, and Simon Montague gone, but the team had the talent and mental strength to make pre-quarters; experience and accomplishment only accompany this roster forward.
Ben Caffrey and Galen Ryan are key departures from the 2014 squad, but they'll reload with a wealth of young ability, many of whom should make an immediate impact: the recruiting class from last season that is already transitioning into leadership roles in 2015. This year's freshmen class is the best in the country.
The young names are familiar for those who follow the pre-college scene as they'll be spotted on U-19 National and Worlds teams from the past few years. Sol Yanuck out of Durham has an impressive pedigree and joins junior Worlds teammate Alex Olson of Seattle, perhaps the two best high school handlers last year, in heading to Carleton.
"Sol Yanuck and Alex Olson are coming off a summer in Italy and have been looking good in our system," said Russell Hanson. "But look out for freshmen Henry Fisher from North Carolina who has been very impressive with his disk composure and cutting abilities."
Eric Taylor of Cincinnati YCC should also add punch.
The returning players also have names that deserve respect, as the group features a core of rising stars who are already making waves in the club circuit. Justin Lim and John Raynolds are both CUT captains and Seattle Sockeye players; Raynolds missed 2014 Nationals with an injury and could well have made the difference in Oregon game last season to take the pool. Lim will be the lynchpin center handler that holds the offense together like glue.
Alex Trautman is the third captain and also a member of Minneapolis Sub Zero. Add Russell Hanson, Natan Lee-Engel, Sef Van Kan, and Jesse Bolton, the team's most dominant defender, and it's easy to see that the Carleton squad is tough and deep.
What the Fall Season Showed
For CUT, as always, the autumn months are about that process of putting together the team and improving it as often as they can.
"We don't really care how we do in the early tournaments," said Hanson. "We want to see our rookies improve their frisbee skills and get comfortable running our system."
Those nine newcomers already look very solid however and have shown to be able to influence the flow of games.
Carleton looked good throughout their fall schedule, but outside focus was especially placed on Missouri Loves Company, where most of the top teams from around the Midwest had brought squads that would look similar to what they would show in spring.
There, CUT went 3-1 in pool play, losing only to group A champ (and defending National champ) Colorado, who then went on to win the entire tournament; the next day Carleton lost in the first round bracket to a tenacious Iowa squad.
To Bowen, once again, the results were no different; his group had talent, but had lots to improve if they were to win the always deep North Central region.
"MLC is always a good test, and by test I mean an accurate measurement of where you stand at a given point," says Bowen. "And most years, MLC tells us that we are young, talented, inconsistent, have a lot of potential, a sort of mediumish IQ, a ton of heart and positivity and love for each other, and lots to improve on going into the winter months."
Early Spring
Thus far, CUT stands at 6-4 after dealing with the free for all that is Florida Warm Up.
For many teams, that particular tournament is a snake pit, with some squads resembling poker players hoping to roll the dice in the crap game of bid acquisition. CUT is one of the few teams in the country that can say the wins don't matter at that kind of tournament without outsiders rolling their eyes. It's simply true- it is perfect for the tiny college, a chance to practice, improve, and do it all in the warmth of the outdoors.
Things started out ugly, however, as the team was walloped by Florida State, and it seemed only to shine a light on their deficiencies. Still, maybe that was useful too; the more the weekend went on, the more it became obvious that FSU was a legitimate contender and that Carleton was getting better.
CUT blew a late lead against UCF, but overall took care of business early in the tournament, looking more confident with each passing game. Then came two big games that should be closely examined as the most poignant benchmark of this team's success in the early season.
First, Carleton went on a 4-0 run to take half 7-4 on a previously unbeaten Florida, leading to a nice win that led them into the bracket. Next, CUT got some revenge against Central Florida, pulling out a tight 11-10 victory on Sunday. A rematch against Florida State was again one-sided in favor of FSU in the semi-finals, but overall Bowen and company must have flown back home happy.
The team finished in 4th place, and their depth was really what carried them through the close wins against Florida and UCF.
Carleton has moved up to number nine in the Ultiworld Power Rankings and don't be surprised to see them continue to climb; Stanford Invite is next on their plate.
The Skills
With the depth Carleton has, there will be many ways this team can win.
The virtue of such a program is that success breeds success; the system that CUT has run in the last ten years has been proven to work. The plays, sets, and overall fundamentals, on both sides of the disc, will seem frighteningly familiar to foes: there will just be different faces behind them.
Bowen is in his sixth season as Carleton's coach (prior to that he coached Carleton's women's team for four years) and his expertise and working knowledge of the game has a profound impact. He was named Ultiworld Coach of the Year in 2014.
Bowen provides a consistency that is nearly unrivaled across the country. He played on CUT in a national championship (a loss in finals to UCSB). Teams under his direction have the semi-finals five times, the finals three times, and brought home a national championship in 2011.
The team's veterans will lead CUT on the field. Offensively, it will be Justin Lim and Nick Petru who will be the heavy workers. You'll see them behind the disc; expect them to attack the break side as often as they can. They'll have good targets down field in numbers.
Specifically, Hanson cited two, saying, "Sef Van Kan and Natan Lee-Engel as cutters will be able to stretch the field with deep and under cuts using both their quickness and sprint speed."
Van Kan is underrated and often gets overlooked by foes who might spend more attention worrying about stopping John Raynolds. He can take advantage of that by winning match ups with weaker defenders.
On the defensive side, Trautman and Bolton really shine.
"Their ability to defend the huck and attack defenders off a turn is among the best in the country," Hanson said.
The new faces still have an uncertain role in the scheme of things, but expect them to have an influence. Yanuck and Olson have already had extended run on the offensive line; Fisher will likely buoy the defensive line, especially when CUT gets turns.
Outlook
Carleton CUT's goal is always the same: win the North Central region.
It is always a high goal as well, in a region that features teams like rival Wisconsin (who will again be their top competition this year) and other threats like Minnesota, Luther, and Iowa.
Beyond that, Bowen continues to focus on the internal workings of crafting the system.
"They're always the same process goals," he said, "probably not much different than what Tiina Booth's ninth grade campers are working on. It doesn't make sense for us to set results-based goals in the winter when we're such a young team. At tournaments we're trying to get everyone some quality playing time so they feel invested in the team and we need all the legs we can get when we're training hard and feeling a little worn down."
No one in the leadership is much worried about the regular season, and Hanson says he expects them to start off slow once again.
For most, the North Central is a bid battle, an attempt to get as many tickets as possible to Nationals, even knowing that with multiple opportunities no team is safe from upset.
But this is Carleton, and the consistency behind the program gives them a calm confidence that other teams surely envy. It's not that they are above such things as worrying about making the tournament; it's just that they have such a proven record.
CUT first qualified for Nationals in 1990 and has made it every year since (with the exception of 2006 when they lost to Wisconsin in a one bid season).
People understandably doubted their ability to make Nationals last season, but they may have surprised even themselves with their ability to overcome so much in such a short time.
"I can't come up with anything to say about winning that game to go at Regionals without sounding cliché," said Bowen. "I think at that moment we had fully accomplished our goals for the season. It's not that we showed up to Nationals just happy to be there, but we were playing with house money. We could have gone 0-fer and everyone would have still been impressed with what we accomplished. So it felt pretty good to be a couple points away from winning a really tough pool."
But Bowen realizes that while last season's National tournament may have been mostly without pressure, the same is not necessarily true this year.
CUT is still a young team, still growing, still forming a new identity in the wake of the changes that have shaped them. But they are also a very good team in 2015; success will be expected.
Can they pull together to play at the highest level in the high-pressure situation, the single games where depth matters less? And can the young team maintain their best game even when the going gets rough? Surely the odds are in their favor, for you'll be hard pressed to find a group who has been through more together.
This season is no different: CUT will be at Nationals, maintaining and propelling a program that is at the very top of the sport.