The Wisconsin Hodags are a bedrock program and a picture of consistency. But can they get back into the national contender conversation?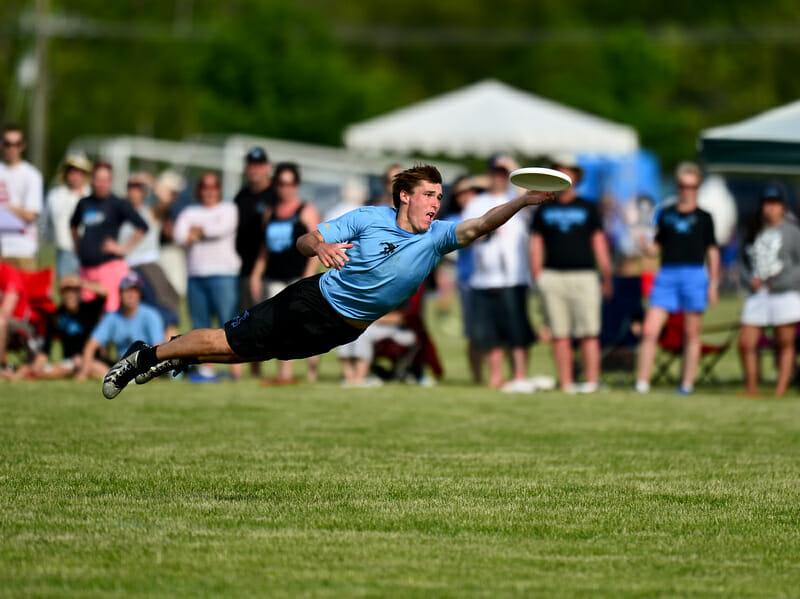 Quick, name some of the top teams in the college men's division. Almost invariably the Wisconsin Hodags made it onto your list.
Now, name five guys playing on Wisconsin this season. Not so easy was it? That is how it goes for Wisconsin, a team perpetually in contention that rarely grabs headlines. A program that almost seems like a prepackaged product after season upon season of excellence.
Perhaps part of the reason that Wisconsin's team doesn't drum up the notoriety of other programs is the Hodags' remarkable consistency. It isn't that the team has identical results every year, but perhaps more than any other program they always seem to meet our expectations. So far this decade they have been seeded on average 6th at Nationals and returned an average finish of 5.8th place, an eerie consistency.
Besides results, the other significant element related to our expectation of Wisconsin is what their on field product will look like. When we think of the Hodags, we think of a nightmare in powder blue. Intense physical defense, confidence in their fitness and athleticism, and dedication to a philosophy about the game that has loomed over the division for years. By and large, this visage and the correlating results have been a constant in the ever changing college landscape. Comprehending how Wisconsin has managed this consistency and how they balance idealism with innovation is important to understanding the Hodag's chances in the upcoming season.
It's Never "The Year"
It takes a lot to win a national championship, and over the course of a season many things happen that are outside of a team's ability to control. Sometimes you get lucky and the opposing team's star player tears his ACL before Nationals. Sometimes you get unlucky and a blizzard grounds your flight, denying the team valuable experience at a February tournament. Sometimes Eli Kerns lights himself on fire and singlehandedly ends your season in pre-quarters. The best way to weather these ups and downs is to always be competitive, to always have a seat at the table of contenders so that when the breaks do go your way you are ready to capitalize. Wisconsin has engineered a product that does just that.
Sacrificing immediate success for stability down the road is not an uncommon practice among elite programs. Every year several good teams will sacrifice early season results for improved squad depth and cohesion in May. Wisconsin takes this approach to the next level, never loading up on the absolute potential success of one season so as to ensure the stability of the program year in and year out.
Wisconsin doesn't put all of their chips in the pot at once. They develop players steadily over their time so that they peak by senior year, and then next year another class will be ready to step in and lead. "We have had and maintain a pretty varied group of students from freshman to graduate school, and so we are never really in a position where we get to keep everyone from the year prior or need to completely overload from where we are before," Hodag coach Hector Valdivia explained. Results change from year to year with the ebb and flow of luck, talent, and circumstance, but Wisconsin has built a program that is always in contention, that always has a chance.
This is somewhat reminiscent of the New England Patriots' run in the NFL over the last decade. For years Bill Belichick took flack for refusing to trade up in drafts, sign big ticket free agents, or generally "go for it" in any given year. He recognized that sometimes the Helmet Catch happens and sometimes Malcolm Butler jumps a route, but by ensuring year in and year out competitiveness he would give himself the best chance to win. By playing smart, developing talent, and keeping the machine running smoothly the Patriots were able to put themselves in a position to win year after year until they finally did. Wisconsin is hoping for a similar outcome.
This kind of long term perspective takes serious buy in from the players. The success of Wisconsin doesn't just come from working hard and playing smart, the Hodags start with a team first culture that permeates the organization. Players are willing to subsume their own growth into what is best for the health of the program.
This is a tricky issue to navigate for some teams when everyone wants to become the guy throwing full field hucks or taking the top matchup on defense. "We develop as a team together, and so most of us don't really have issues with trying to develop ourselves as individual players," said junior captain Avery Johnson. "I define success as doing what I'm supposed to do, or playing within my ability. If that's only throwing the unders, then it's only throwing the unders." Johnson is a very talented thrower and definitely capable of unlocking defenses with his hucks, but he and the rest of the Hodags know that they have roles to fill and those roles need to come first if the team is going to have success.
Embracing The Stereotype
What exactly is this consistent product that Wisconsin puts on the field? It all starts with man defense. Really, really intense defense. This is the backbone of the team's identity and it was born out of an important reality: it is really cold in Wisconsin in the winter. "We don't have the luxury to go outside in February," Valdivia pointed out. "We have to be a physical defensive team because we are going to have to rely on the work that we put in during the winter months for our success."
It isn't just the North Central winters that have sustained the Wisconsin brand of ultimate. As Johnson explains, the current team makes a conscious effort to emulate the program's legacy. "We look to those old teams of yesteryear, and their physical style, and their outrageous style that gets stereotyped on Wisconsin," he said, "and we use that as a prototype for what we want to be." Stereotype is probably a good word to describe public opinion of the Hodags and their program, but Johnson and the rest of the team don't mind. "We do kind of enhance those stereotypes; they came with success," said Johnson.
It is difficult to talk about Wisconsin's identity without acknowledging North Central foe Carleton. The Hodags and CUT share the sport's greatest rivalry; because of that, we have the tendency to only define them in opposition to each other. This can be a reductive way of thinking, that if Wisconsin in one thing Carleton must be the opposite thing and vice-versa, but there is some truth to it because of how the players choose to embody their history.
Balancing Act
Crucial to the Hodag's potential success this season is how their tactics and on field product changes while maintaining the program's identity. Coach Valdivia discussed the need for tactical innovation to keep pace with other elite programs while still using the team's identity as a platform to get there.
Valdivia hopes to complement the team's defensive bedrock with new poaching techniques and zone looks that will have opposing offenses equal parts confused and overpowered. When you play man defense as well as the Hodags it may seem counterintuitive to throw zone or poach looks, but when teams have to game plan against exceptional man to man, having softer schemes in your pocket can buy you an extra break or two in close games.
On the offensive side of the disc, the changing ultimate landscape could have more of a pronounced effect. In the traditional dichotomy of things, it is Carleton that lands the experienced rookies and Wisconsin that breeds athletes into ultimate players. However, the steady rise in participation among youth across the country has given Wisconsin access to players who possess significant disc skills from their first day on campus, or as Johnson referred to them: "players like what Carleton gets."
Wisconsin only has four underclassmen on the A team roster, but three of them are handlers. That signifies the faith Valdivia has in his young players to confidently move the disc. Combined with the rock steady veteran duo of Avery Johnson and Danny Stuligross, the Hodags will hope to have disc skills and cerebral offensive capabilities that belie any notion that Wisconsin only has athletes.
Still, the roster is dominated by veteran cutters and there likely won't be any radical change to the offensive formula for the Hodags. Stalwarts like Craig Cox, Sterling Knoche, and their breakout player from 2014 Nationals Ross Barker will be expected to eat up yards and move the disc from downfield positions.
At its best, the Hodag's offense will be able shape the defense so that the deep space is open for their athletic cutters to make plays. Wisconsin will need their handlers to create those opportunities for their cutters with smart disc movement and to be aggressive once a good shot presents itself. The downfield receivers are talented enough that if their handlers can get them looks in good positions they should be able to win their matchups.
Without a doubt the team relies on a certain amount of athletic dynamism to get the job done, but Valdivia made it clear that the tactical and skill level advances in the game have not passed Wisconsin bye, no matter what a stereotype would have you believe.
We Go Again
The idea of Wisconsin has often matched the reality, but so far this year the Hodags have underwhelmed. The season got off to a rough start at Warm Up as they failed to qualify for bracket play and failed to score a big win over a title contender.
Defensively the Hodags showed that their fitness regimen was already paying dividends as they demonstrated harder defense than most teams are capable playing this early in the season. Offensively, however, things were a mess, as the team just wasn't moving the disc like an elite team.
There are of course mitigating circumstances that contextualize their performance. Injuries prevented the Hodag offense from putting the personnel they wanted in the roles they have been envisioning over the winter. Perhaps more importantly, this was the first time all year the Hodags had been able to touch a disc outside without risking frostbite, and it showed. Offensive sets were messy, chemistry was all but absent, and the disc skills were sloppy.
Initial problems like this are built into Valdivia's plan for the season, and don't be surprised if the Hodags are already starting to look better by the time they take the field at Stanford this weekend. The team doesn't settle on roles and several tactical details until late in March, so what we see from the Hodag offense in the series should look dramatically different from what we saw in Tampa. Wisconsin needed to get outside and see what wasn't working so that they can build for the rest of the year.
At Warm Up the Hodag defense was good enough that Wisconsin managed to force close games out of their best opponents despite shoddy offensive output, and came within one point of knocking off Pitt in what was one of the tournament's best games. The defense will be there for Wisconsin at the end of the year, and because of it, Wisconsin will be there too. It is still to be seen if the offense will be good enough to get the team to the next level, but history tells us not to bet against the Hodags reaching their potential when the series comes around.
RELATED: Watch Wisconsin v. Pitt with an Ultiworld Video Subscription
A lot can happen between the first time a team takes the field in February and the last time they step off it in May. Some things will go wrong for Wisconsin and some things will go right, but ultimately the program's track record should make everyone confident in their ability to weather whatever ups and downs the season throws at them. Until Wisconsin stops being "Wisconsin," there is no reason to believe anything else.
Watch Wisconsin take on Oregon at the Stanford Invite on Saturday, March 7th, live on Ultiworld.