Stanford Invite is in the books, and some teams are proving they're here to stay while others are showing potential marred by inconsistency.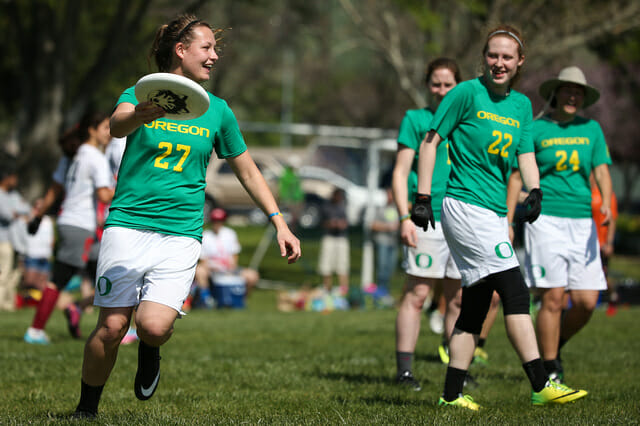 FREMONT, CA — Our travelers are advancing down the road to Milwaukee and some are really hitting stride. The results of Stanford Invite will inform most levels of the national scene, from the title contenders to the potential bid earners on the bubble. With so much relevance, a lot was learned on the fields in Fremont.
The Rematch
Oregon and Stanford's sequel bout of the President's Invite final delivered on all fronts. When Jesse Shofner landed horizontally with 10 fingers wrapped around the rim of the disc, she solidified Oregon's status as the favorite, a role they've grown accustomed to. But during that game, the play of Steph Lim, Michela Meister, Halsey Hoster and company was impressive enough to make them the lead contender.
Oregon breezed through most of Saturday, getting a little bit of a first half push from Colorado, but ultimately survived pool play without coming within spitting distance of defeat. Sunday, however, was loaded with tests for the team – a very close 15-13 win over Carleton in quarters, a 15-13 slugfest against UBC, and the double game point final – and they passed, even if they didn't get smiley face stickers. They'll be better for it, scary as that is, and were all in all the best team from the first pull to the last.
Meanwhile, Stanford did what was asked of them: win their way to the final, show they could run with Fugue. It wasn't always pretty, when Western Washington and UCLA pushed them to the limit, but every tournament they play, they look deeper than the last. New cutting additions, rookie grad student Courtney Gegg and freshman Francesca Olguin were stellar at the Invite. Jennifer Thompson was consistent behind the disc. That's without talking about their stars or Amanda Somvilay, who was dealing with injuries on the weekend.
They'll see each other again at month's end at Northwest Challenge. And maybe again, in May.
UBC Living Up to Expectations
The stat was repeated many times: Since 2008, UBC had lost three or more games every year the Stanford Invite. Well, they broke the streak. The last time they got under that bar, they claimed the national championship.
In their first tournament on the season, the Thunderbirds were highly impressive, on paper and in person. They defeated a strong Washington team that had played a game less and topped a UCLA team that they lost to on double game point the day prior. In fact, their two losses came to #2 Stanford and #4 UCLA by a combined three points. So they weren't that far from doing even more.
British Columbia wasn't flawless. They had UCLA dead to rights with a three goal lead in the late goings of their pool play game before dropping both the ball and into the prequarters. Their throwers were ambitious, attempting difficult breaks and hucks even when other options were available.
But there is absolutely no doubt about their overall ability. A variety of weapons, many of which are still developing, should make them consistent and relentless. New names emerged making plays, like Ellen Au-Yeung, Naomi Morcilla, and Erin Bussin. UBC may not have the best top seven in the country, but they look like they have the best bottom 15. That's a whole different kind of strength.
BLU Burning Bright
Game after game, UCLA continues to erase doubts. They showed real grit in how they navigated four straight double game point games. These games harden teams and bond them together and UCLA's earned their standing near the top of the ladder.
The flip side is that perhaps BLU shouldn't have gotten themselves into such precarious positions to begin with. Their four victories came by a smaller margin than their 15-8 loss to UBC did, their record threatened by UC Davis and Colorado College. There were plenty of points where they looked out of gas during the weekend, a likely side effect of an apparent inability to close.
"Putting ourselves in such tight situations definitely wasn't our plan," said veteran Kristen Pojunis.
Even when the chips seemed stacked against them, however, UCLA showed no give. The comeback against British Columbia was built on trust and tough play, and they fought back even when Victoria looked like they had BLU on the ropes in quarterfinals. Margot Stert and Kristen Pojunis were centerpieces – able to rally even when Han Chen was not at the top of her game – not only in their hard nosed play, but also in their leadership.
"We're not afraid of a challenge," added Pojunis. "…We pretty quickly exceeded our own expectations and I think now there's an 'anything is possible' mentality."
In other words, don't expect UCLA to give up any ground without a fight.
Orbiting Elite: Colorado and Washington
Washington is back in a big way! Element's long list of contributors and defensive mentality will make them a threat to the top teams. This is an incredibly experienced outfit that, when they play with confidence, looks very strong. As they keep figuring each other out and defining roles, they can be expected to tighten up offensively. The return of Sarah Edwards, a difference making star-quality player, will also offer a shot of adrenaline.
What they lack is an elite win. They are 0-3 against the top three teams, losing all of those games by five or more. They also are without the type of terrifying deep threat they've had in the past, forcing them to get more creative. Edwards could be a key piece to give them an explosive element against highly talented teams, but Element can take heart in their 12-11 victory of a prototype Whitman squad. Expect the Northwest Challenge Washington to be gunning for the top squads to prove they belong.
For their part, Colorado seems set behind Washington, also losing to all the top three teams they played, plus twice to Element, but winning the rest of their games. Their Stanford Invite losses looked a lot better than their Pres. Day losses to those elite teams, aside from getting blown out by Stanford. Like many early season teams, they look a little confused about how they want to operate, something that should subside with time.
The bright side was that they had some playmakers really step up. Nhi Nguyen finally looked healthy and was, at times, the team's best player. Consistently able to get open under and continue the disc to high value spaces, Nguyen was a key piece of the Kali offense. Dori Franklin was also excellent behind the disc, maybe raising her game to be the dominant handler Colorado could use against top tier defenses. Megan Cousins has been a bit streaky, but when she's on, can be devastating.
Rest of the Northwest
All three of Western Washington, Victoria, and Whitman looked a lot like teams taking the field for the first time. While not literally true for WWU, they had yet to really play at a highly competitive tournament. Injuries took their toll on both WWU and Whitman, part of why they wound up underperforming; Maddie Gilbert and Claire Revere were among the difference makers who had to sit at times.
It is far too early to count any of the trio out. Whitman's talent level is definitely through the roof, and players like Nina Finley and Claire Revere were not able to put forth their best performances. They'll be in the mix when the dust settles. Victoria still has some really strong pieces – Kate Scarth and Alex Omand are capable of some wild plays – to build around but can have trouble matching up. Western Washington also had some bright spots, like freshmen TQ Wen and Jendy Edgerton, and will be stronger when Gilbert settles in with their core of Abbie Abramovich, Rosemary Widenor, Tiffany Phan, and Jesse Thoreson. But depth will continue to be a challenge for Chaos's still developing program.
Victoria advanced the furthest, landing in quarterfinals, but their 2-5 record matched Western's. Whitman's games were really close and they probably had the best weekend, really giving the best teams they faced a run for their money. But make no mistake that this weekend puts them in a dangerous spot; their best wins were over each other.
Chaotic Weekend For Southwest
Past Stanford and UCLA, it is hard to make heads or tails out of the mixed bag of results that the Southwest's teams have put forward. UC San Diego, Cal, USC, UC Davis, and UC Santa Barbara have all shown flashes, but let's see their records against once another: Cal is 4-1, UCSB is 5-3, UCSD is 4-4, USC is 3-3, and UC Davis is 2-7.
Along the way, there have been varied successes and failures. Losses to Cal Poly SLO and San Diego State are countered by wins over Whitman and Western Washington. The early read is that Cal and UC Santa Barbara are at the head of the class, but with such uneven performances, it is tough to make any sort of call on that.
The key for them is how they line up come bidwatch. And currently, they range from 25th (Cal) to 36th (UCSB), a range of less than 100 points. Santa Barbara still travels to the Northwest Challenge, where they will be in dire need of wins to make a move and be facing consistent stiff competition. The rest of the squads will be heading to Centex, throughout Tier 1 and Tier 2.
Close Calls for Carleton
There was very little separation to be had in Carleton's games this weekend. Four games – wins and losses – decided by an average of two points somewhat defined their weekend. 4-3 with a +4 differential is a solid weekend against this type of competition, but is it much more than that? Maybe it all could have been so different, but a hard fought loss to Oregon in quarters was followed by another tough loss to Washington in consolation, both of which were preceded by a double game point win over UC Davis that Syzygy scratched and clawed for.
On the whole, the North Central frontrunner acquitted themselves nicely. They demonstrated some additional depth, getting big contributions from sophomore Claire Thallon all over the field and from junior Megan Chavez's continuous trips to the endzone. Those were strong additions to the usual all around production of Emily Buckner and backfield play of Katie Ciaglo and Lucia Childs-Walker. The team's development bodes well for their future, especially being able to contend with the top squads.