Texas A&M, with two fifth year stars and an athletic rookie class, is ready for a deep run in 2015.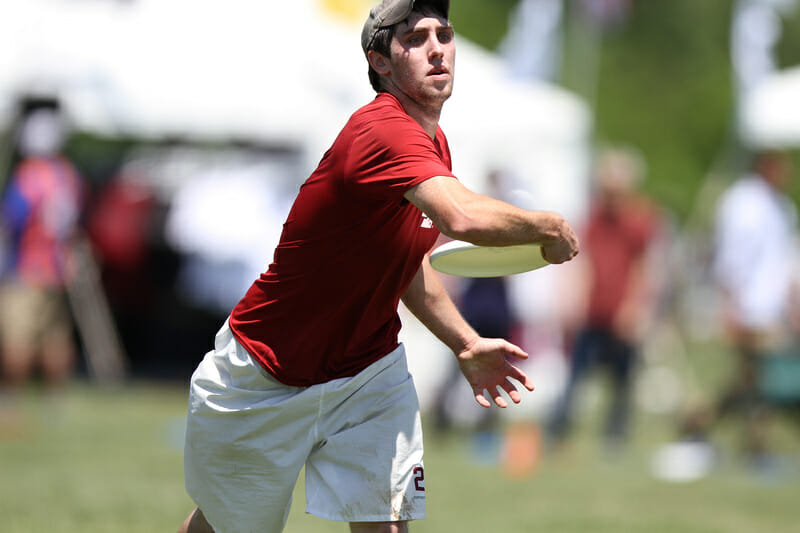 In 2013, Texas A&M Dozen's problem was regularly fielding a team. While the players that they could bring had a skill set that could compete with the nation's top college talent, playing with short lines in long tournaments resulted in drained legs for bracket play on Sunday.
"Ultimate isn't of the highest priority at Texas A&M," head coach Jose Cespedes admitted at the time.
Despite the small roster, Dozen finished 22nd in the nation, and 3rd in their region, missing Nationals after losing to Colorado Mamabird in the game-to-go.
In 2014, Dozen solved its roster problem. While it still relied heavily on captains Matt Bennett and Dalton Smith, the supporting cast around those stalwarts was much stronger — and far deeper. Strong showings during regular season tournaments put A&M in a position to shine at Regionals, but the team lost a stunner to Colorado College in the quarterfinals to drop into the loser's bracket. Unfazed, Dozen gritted out wins over Baylor, 6th ranked Missouri, and 4th ranked Arkansas before getting an authoritative 15-10 revenge victory over Colorado College to secure their place in the College Championships.
But it all happened at a price. Dalton Smith suffered a hamstring injury that would hold him out of the National Tournament. Texas A&M, seeded 7th, went 1-3 in pool play to drop into the placement brackets, where they lost 15-5 to UMass to tie for 17th.
Refreshed for the 2015 season, Dozen is making a claim for the Championships, again, and has already backed it up with a solid performance at the Florida Warm Up.
Positives
First and foremost, A&M has both Smith and Bennett returning this season. Smith has proven himself reliable in almost every way: he cuts, he handles, plays effective offense and staunch defense, and patrols the back of Dozen's occasional zone. His experience on Doublewide has matured his game: Smith is a great player because of how few mistakes he makes. Bennett is the exact opposite. A gunslinger with the disc and one of the most talented throwers in the country, Bennett is renowned for his scoober hucks and for racking up 11 assists in a pool game against Dartmouth at the 2014 National Tournament. Together, these different styles can pose a problem for defenses.
Further, Dozen's rookie class has been described by Bennett as "easily the most athletic rookie class" he has seen in his five years on the team. It is not only athletic, it is tall. Adding height to a team that often put 5'10" Smith in the back of its zone is huge. Adding it to a team that has Texas — known for its towering height — in its region is necessary. The added athleticism will surely help Dozen's season goal of tightening up its man defense, as well. "[Our rookie class has] adopted this faceless army mentality so that once the breaks start, fresh legs keep coming. It's been a lot of fun to see," coach Cespedes said.
The Texas A&M rookie class is also large, coming in at more than a dozen players. The sheer size of the new class turns the team's roster size – a real weakness in 2013 – into a major asset going into this season. "It is awesome have 28 guys on our team that are ready to go out there and give it their all," Bennett said. "Our depth is huge this year and no doubt it will be the reason we win close games at the end of tournaments as the year goes on."
Finally, many of last year's role players have improved their skills and are beginning to play at the next level. Ben Lewis, a regular contributor to the defensive line in the past, has been seeing more time on the offensive side of the disc, and is becoming a force downfield this year. Meanwhile, Kevin Land has gone the other way, transitioning to the defense, where he'll use his offensive skills as a cutter to convert on break points.
Question Marks
While the influx of rookies and development of role players into big contributors has given Dozen more depth, Texas A&M still relies heavily on Smith and Bennett to notch points. It was noted on Ultiworld that Bennett was seeing a lot of time of the defensive line during Florida Warm Up. "Last year our break conversion rate was very low," said Cespedes. "Matt gives us a chance to score every time we get a turn."
However, the fact that the Florida Warm Up is an early tournament, and that Bennett regularly appeared on crucial offensive points in tighter games, leaves open the possibility that Texas A&M is still over reliant on Bennett to provide offense and still needs to learn how to score without him for future tournaments. Centex this weekend should offer some insight into how that process is coming along.
If a team had to rely on two of its players, Dozen couldn't be much better off. That said, the lessons learned at last year's Regionals and Nationals loom in the background: Texas A&M is always one injury away from a disappointing performance. The team needs to learn how to consistently perform without their studs on the field against top competition. It suddenly becomes important that Texas A&M will only be attending two major tournaments before the Series: Florida Warm Up and Centex.
Season Outlook
With only two tournaments against top teams this season, Texas A&M will likely enter the Series as a relative unknown. Their performance at Warm Up was solid – they beat the teams they were expected to beat, like Penn State and Illinois, and lost to the teams they were expected to lose to, like Pittsburgh and Florida. However, they also won games that seemed evenly matched in the consolation bracket, beating Texas and Wisconsin handily, by scores of 15-10 and 15-11.
During Warm Up, Smith was handling on offense, while Matt Bennett saw most of his playing time on defense, where he has established himself as a solid defender with good poaching abilities. Dozen ran almost exclusively man defense throughout the tournament, something that both Bennett and coach Cespedes described as being something the team would focus on throughout the season.
With such a large and athletic group of newcomers, this strategy is likely to find some success. On offense, Texas A&M relied on a vertical stack for the most part, though Bennett has stated that there is an interest in dabbling with other looks, like horizontal and side stacks as the season progresses.
Likely Ceiling
Nationals semifinals. If the rookies gel, the offense becomes at least serviceable, and the man defense gets tighter as the season progresses, this team will have a real shot at winning the South Central and scoring some big upsets at Nationals. The threat of Bennett's hucks after the turn is huge, and opposing teams will have to specifically game plan for his skill set.
Likely Floor
Injuries or inconsistency could result in the team bowing out during pool play at Nationals, much like last year.