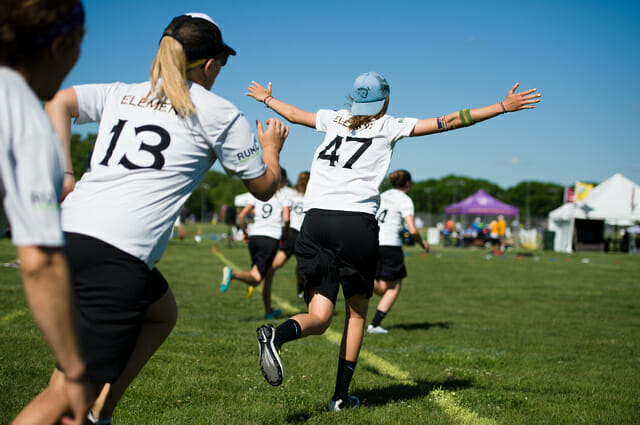 By the time April arrived, the 2014 Washington Element season was beginning to feel like a slow-motion train wreck. What had started as a season of excitement and high expectations had moved past the standard "every season has rough spots" phase and into the "it might be time for us to rethink why we are playing" phase with no real end in sight. I know I wasn't alone in contemplating if it was time for me to leave the team or the sport as a whole. Every conversation about the team I had seemed to be about "plateaus" and "the funk."
On paper we were title contenders. We had a very strong returning core of 3rd, 4th and 5th year players including three members of the previous summer's US U23 gold-medal-winning women's team, a bunch of B-team players and second year players who had developed significantly over the previous season's quarterfinal finish, an experienced grad student, a group of athletic and enthusiastic rookies, and our secret weapon—a D1 soccer player with previous ultimate experience.
But, as they say, the game isn't played on paper. We looked great at practices, and we executed well when we played almost everybody including most "top 10" teams, but the story that we were writing about ourselves couldn't account for the way we played in our biggest games: a 15-4 loss to Oregon in semis of Presidents' Day was "early season" and a 13-4 loss to Oregon at Stanford was "we had some key injuries." When we were embarrassed 15-2 by Ohio State at the NW Challenge, there were no excuses left in the bucket. In our postgame circle we all struggled to understand how we had gotten so far off track.
I had no frame of reference for what we were dealing with. All of the mental game tools that I'd sworn by in previous seasons of coaching felt rote and ineffective. We were leaving our talent, our systems, and our confidence in ourselves and each other on the sideline when we needed it most. It was hard to fathom being a title contender when we couldn't even put our defense on the field against the teams we would need to beat. Following the NW Challenge, I felt like we were just disappearing in big games.
Practices in early April continued to be a challenge but on April 11, I received a somewhat random g-chat from Pitt men's coach Nick Kaczmarek asking me about a coaching situation. After some back and forth on his topic, I thought I'd run our situation by him. I asked him, "Have you ever had a team that just disappears?"
Nick responded that he had never had a team like that, but he'd had games where his team did. He didn't have an easy answer or a magic bullet for the issue, but he provided a simple and invaluable framework. I thanked him for his advice and he said, "pass it on." So, here, for all of you, is Nick's advice paraphrased:
Often team leaders use words like DISAPPEAR, INTENSITY, and FOCUS, but most people don't know what those words really mean, or perhaps everyone in the group doesn't have a shared understanding of those words. The "Looks like, Sounds Like, Feels Like" (or Y-chart) model1 allows a group to define those essential words, provides for a common understanding and makes them actionable.

Start by identifying a word or phrase that you want to represent the idea (e.g., FOCUS). This can be done as a group through discussion or video analysis, or if you already have a word, you can use that.

Now, come up with a list of objective, descriptive actions that show what that word "looks" like. These actions are best if they are easy to identify visually either in person or on video.

The next step is to come up with some descriptions of what that word "sounds" like. When you are performing that word, what are the types of words and phrases you are likely to hear? What other sounds might you hear if you are performing that word? (Note: "sounds like" may not be applicable to all words.)

Finally, have the team identify what it "feels like" to be executing that word. It can be helpful to go back to the video for this. For example, if your word is RESILIENT, watch tape of a team jogging back to the line after getting broken with heads up ("looks like" actions) and ask the team "what does that feel like?"

Once the meeting is over, keep reinforcing the word and its definition throughout the season. Watch video to identify when you "see" and "hear" yourself executing it. As a coach or captain, when you see your team executing that word, ask them how it feels. Check in with your team before play to see how they feel to identify if the team is ready to execute the word.

Through this process your team can (1) develop shared definitions and understanding for representative language, (2) create an objective template for you to assess achievement of team goals, and (3) create a framework for triggering the behavior that your team wants to display.

The focus on a few specific actions and the feeling those actions create (or which help facilitate those actions) is simple to execute, but perhaps most importantly, it is not language or thinking heavy and so is easy to process and execute in environments where performance under pressure is required.
Two days after our conversation, I brought this framework to a team video session. We started with the word DISAPPEAR and together determined its antonym, BE ASSERTIVE. We collectively developed a list of "Looks Like" and "Feels Like" for both words specifically using the Ohio State video from a week earlier. As we went through the process, it was clear that we were beginning to coalesce around an understanding of what it meant to BE ASSERTIVE and how we could achieve that.2
| Looks Like | Feels Like |
| --- | --- |
| Cutters moving before the disc is checked in (when disc is live) | Lots of open receivers/receivers feel "bigger" and "faster" |
| Quick and clear transitions from regular offense to endzone | I trust everyone |
| Quick transitions from defense to offense and offense to defense | We're all on the same page |
| Moving at 100% | We control the pace of the game |
| Sharp changes of directions | Focused on the current moment |
| Disc awareness while clearing (eyes are up) | Confident |
| Dictating on defense | Strong |
| Communication on transitions | |
| Throwing to open receivers (not looking off receivers) | |
We went in to our conference championships with a different attitude and consistently performed at or near the level we were capable en route to a tournament win. We reviewed more video and this time identified areas where we were ASSERTIVE. At Regionals, we played lights out on the first day, but when we ran into Oregon in the finals in the first round on Sunday, we again fell fall short, losing badly before regrouping to come from behind and take 2nd in the region.
The regional finals loss, however, wasn't due to a lack of ASSERTIVENESS. We identified a lack of PREPARATION as a key issue. So we went back to the whiteboard and did a "Looks Like – Feels Like" with PREPARED.
At Nationals, we clearly had addressed our issues with PREPARATION and were competing on our highest level of the season. In many instances where earlier in the season we had DISAPPEARED, we were ASSERTIVE in our play including coming back from a 4-7 deficit in our 4/5 pool match-up with UC Santa Barbara and down 6-10 against UBC in quarterfinals. Even down late in the semifinals against Ohio State, we never DISAPPEARED.
The way Washington used this framework in 2014 was obviously reactive, but there is no reason to wait until your team finds a flaw to begin this process. For the 2014 US U19 women's team, we took our team's values (POISE, INTEGRITY, GRIT, and SUPPORT) and built those words up for the team using this framework.
While the Y-Chart is not the end-all, be-all of mental game work, it is a robust tool that provides a strong base of communication and language, addresses issues, and supports consistent play. If done correctly, it can support team development by being implemented on an ongoing basis to identify areas of success and where improvement is needed.
---
The Y-chart is a popular framework in the education field.  Nick brought it over to his ultimate coaching after being exposed to the concept in multiple venues each with its own terminology including education, science, and meditation.  There are many useful resources available online and off to learn more including Harvard Project Zero's Visible Thinking and Y-Chart and Additional Activities ↩

This is a sample chart for "Assertive." It is not the actual chart from the meeting and is far less detailed and comprehensive than the actual chart was. ↩