British Columbia conquered the field at the Northwest Challenge, including defeating top ranked Oregon in the de facto final.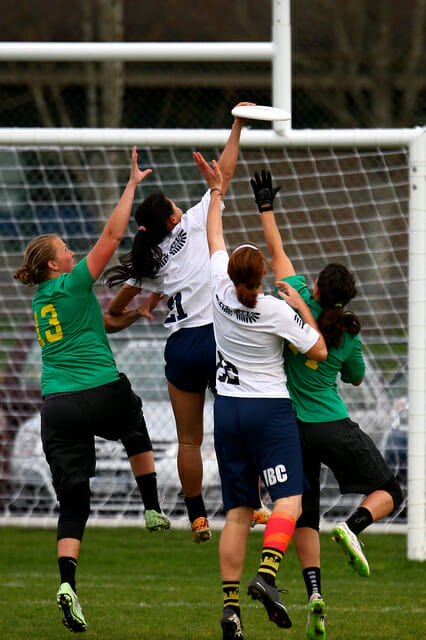 SEATTLE — It isn't just talent that makes a champion. A lot of teams are talented. Most of each team's season is actually spent battling with their talent, hours in practice that aim to convert potential in actual results. Very few teams get to that point where they reach their top rung, squeezing all the juice out that they can. And then only one team gets the title, a smaller sect of even that precious handful that combines talent with execution to achieve success.
Coming into this weekend, we knew the British Columbia Thunderbirds were talented. The only question was: could they deliver?
When UBC closed out their 7-0 undefeated weekend at the regular season's strongest tournament, the question was answered. 15-10 against Virginia. 15-10 against Stanford. Most importantly, 12-9 against #1 ranked Oregon in the unofficial final. Without even hitting 100%, the T-Birds showed they are a threat with all the capability to capture a national championship. After all, the only other team to win the Northwest Challenge — Ohio State in 2014 — also took home the grand prize.
UBC's matchup with Oregon was, in some ways, a battle of the stars. Off the bat, Mira Donaldson and Victoria McCann — last year's second runner up for Rookie of the Year — asserted themselves, finding each other as they had all tournament long. Donaldson curved a backhand from the near sideline to the far to find McCann for an opening hold, 1-0. McCann put up a beautiful huck for UBC's second goal and caught their third in zone offense, her second of four scores.

Oregon's top players were not afraid to battle back. Jesse Shofner scored Fugue's opening goal and Bethany Kaylor added a couple of big layouts in the early going, including one after McCann footblocked her. Shofner, Kaylor, and Hayley Wahlroos all played critical roles for Oregon's offense, and Shofner was particularly impactful with her defensive poaching in Fugue's various D schemes.
Shofner was given a real test, however, by some of the UBC youngsters, spending much of the game being chased around by freshmen Ellen Au-Yeung and Naomi Morcilla. "Morcilla is stupid fast and against someone as unstoppable as Shofner, you need someone who can make up for whatever with speed," said UBC Coach Tasia Balding. Morcilla's speed helped make up for her gap in experience against Shofner, although she struggled to find her way on offense when Shofner intelligently sat in lanes. The duo settled in during the late game: Au-Yeung nabbed a big defensive sky and a great layout catch (which was admittedly followed by a turnover) and Morcilla caught Shofner poaching and rocketing deep for a wide open scoring huck.
Mira Donaldson had a marvelous tournament and she rose to the challenge against Oregon. An offensive superstar, her five assists against Oregon came as no shock. But it was her defensive intensity that surprised, revealing a fiery competitive side in her matchup against Kaylor that she rarely flashes. It culminated in a two handed layout D that set up the game winning red zone possession for the T-Birds. Her performance will cement her spot in the Player of the Year conversation.
Oregon was doomed by their inability to finish red zone possessions, particularly in break opportunities. Credit UBC for creating defensive pressure to challenge Fugue, but there were some gifts given by Oregon that their opponent greedily accepted. It may sound like the same old story, but it wasn't Oregon's ability to get possession, but rather maintain it, that was their challenge in the Northwest. Their frustration was visible in the game's closing act.
"We had some big players play poorly," said Oregon Coach Lou Burruss after the game, "and you're going to lose then."
Excitement aside, neither group has hit their full stride.
"Neither team had their best game that game," said Balding. "The best feeling would be to beat Oregon when both teams are playing their absolute best game. But I think it was a really good stepping stone." Oregon was without some key personnel: goal scorer Olivia Bartruff  — who Burruss called "brutal in the red zone" — chief among them. UBC's ballyhooed rookie class is just defining their roles and clicking into place in the Thunderbird offense. There were some multipossession points and sloppy turnovers sprinkled throughout the game.
But the performance of UBC was enough put the division on notice. They are deep. They are good. They are getting better. And they could be great.