The Northwest Challenge is the a tune up for Nationals loaded with some of the finest squads in the women's division. Find out what went down at the regular season's final major event.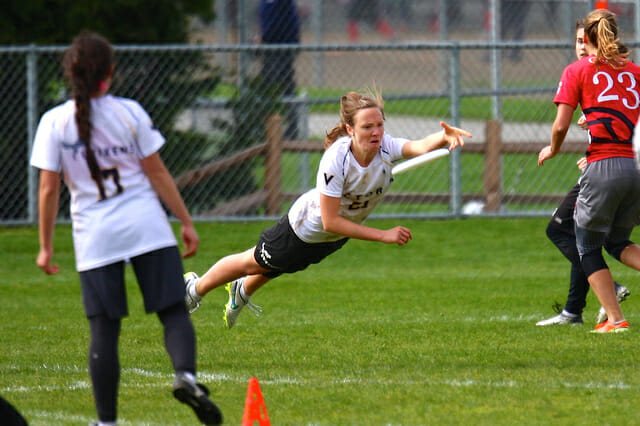 The final major tournament of the regular season was the bang the year wanted to go out on. Right on the heels of Centex, the storylines were thick as the rest of the country's elite butted heads. Well, two countries', as it is only fair to credit the Canadians who took home the tournament's title; UBC went undefeated, the only team to do so.
But that wasn't the only news to come out of Puyallup, WA. Bid situations were finalized. Contenders were established, stars were on display, and weaknesses were revealed. The final course of the regular season left us with plenty to chew on.
British Columbia Claims #1
UBC defeated (previously top ranked) #2 Oregon in the tournament's pseudo-final, but that wasn't all they did on the weekend. None of their other victories in their undefeated streak were under a 3 point margin, with the fallen including Dartmouth, Whitman, Carleton, and Virginia. They were the top team at the tournament, on paper and in person.
It may be beating a dead horse, but they've got the total package. Mira Donaldson was on a rampage, throwing undefendable hucks regularly. Victoria McCann's growth as a complete cutter continues and she looks like she's gotten faster over the past year. Transfer Erin Bussin is blowing up. Their handler corps is the division's deepest — Terynn Chan, Jess Chung, Victoria Lam, Megan Leong, Ellen Au-Yeung — and they've got some defenders in their pockets as well. Person D may be their weakest area, but they showed it is no weakness by applying pressure to top talent all weekend.
Virginia Truly A Hydra
A hydra, according to classical mythology, is a many-headed serpent whose heads keep growing back after they're cut off. This weekend Virginia proved they have the most fitting team name in the country. NW Challenge temporarily removed Hydra's most powerful head, and they grew nine in her place, leaving Seattle stronger than ever.
Their opening performance was a 10-8 upset of Stanford Superfly, a tournament favorite. During the game Alika Johnston acted as a vital reset for their struggling zone offense, even as Superfly set a man and one zone on her.
When Johnston suffered a potential concussion during their next game, the weekend changed. The team had always been deep, a quality often overshadowed by Johnston's star. Now they had a chance to show their depth, and they delivered. Every player stepped up and into bigger roles. From Tess Warner and Amy Wedmore in the backfield to Janie Mockrish, Keila Strick, and Nada Tramonte downfield, Hydra proved to be an incredibly disciplined machine. The temporary loss of Johnston was a setback,  but not a fatal blow.
Virginia went on to lose the rest of their games that weekend besides a 14-7 win over WWU. Not a record to write home about, except their mental control of the game was exceptional. They fought Carleton through 22 long points of man O and D, only losing 10-12. Despite being down 3-8 at half against the formidable Oregon in the final round of the weekend, Hydra insisted on scraping out four more points late in the day.
Preliminary rankings slot Virginia as a likely second seed in the College Championships. Some elite teams have already expressed anxiety at having Hydra in their pool, and they are smart to worry. When Johnston returns, Hydra will be much more dangerous.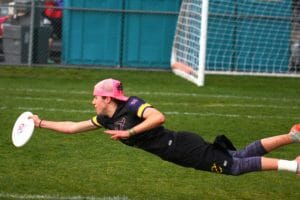 Washington Displaying Strong Trajectory
After Northwest Challenge 2014, there were serious questions about Washington's ability to contend with top teams after they laid some misshapen eggs. Then – poof! – they were back in the semifinals come Memorial Day weekend. After this Northwest Challenge 2015, nobody will be writing them off.
The host team turned in a 5-1 performance, knocking off Stanford, Dartmouth, Victoria, and Virginia and only losing to Oregon 1. Element played – and won – a lot of very close games, some of which weren't really that close until the team opened the lines and stepped off the gas. Emma Kahle, Tess Young, and Lauren Sadler were all fantastic in their specialized roles – Kahle's handling, Young's nose for the endzone, and Sadler's defensive playmaking – and the team's other role players filled in solidly. Potential star Sarah Edwards was clearly still working her way back.
Element's individual players lack the versatility that can be the hallmark of some of the division's stars. But as a combined unit, they are incredibly effective. Their offense seemed to lean on Kahle's big throws and Young's ability to outrun gritty defenders and out-grit speedy defenders to score at times, but even if the opponent threw their best options at taking those things away, Washington was able to find a way. There's a selflessness and unity to their play style, speaking to a heavy buy-in from the team, and it could take them a long way.
Victoria Protects Their Bid
Going into the weekend, the Victoria Vixens were one of the division's biggest mysteries. A 2-5 Stanford Invite weekend was their only tournament before the NW Challenge, leading to many questions: are the Vixens still of nationals caliber without Danie Proby? Can they do their part in securing the Northwest its phalanx of bids? Where exactly is Victoria again?
While they yet again went 2-5 throughout NW Challenge, the Vixens proved they have no interest in playing supporting roles. Corrinne Dunwoody was the team's main trigger, complemented by handler Naomi Redmond whose strike cuts roasted the Whitman defense despite their 11-12 loss. Kate Scarth and Lexi Omand are the primary and secondary looks in the vert stack, and they proved dangerous on midfield gainers.
Their 13-4 win over Western Washington this weekend places the Vixens at 5th in the region, close on Whitman's heels. But for now, in a region that just earned 5 bids, that's the only place they have to be.
Dartmouth New Favorite in New England
While Dartmouth had only played a single day of the season, back on a Saturday in February at QCTU, they showed why the offseason hype train had saved them some seats. A 3-4 record doesn't sing at first blush, but they were always competitive despite shaking off rust. Their early mistakes looked like the ones you see in the first two months of the season, but they settled in more by the final day of play.
Their roster definitely has some players to be afraid of. Angela Zhu and Julianna Werffeli form the country's best young backfield combination. Eva Petzinger launched bomb after bomb – although sometimes to nobody – and was scary in her limited deep cutting. She could stand to get sent deep more often, but Dartmouth found fleet-footed Patty Neckowicz, along with young Piper Curtis and Carolyn Susman, offered them more than enough open huck looks.
What they do over the next four weeks or so will be critical. New England has two bids at time of press, but could go up to three if some of the invalidated results dominoes fall their way. Tufts, Northeastern, Harvard, and potentially darkhorse Middlebury will make Regionals a test. Dartmouth has a lot of work to do, but should be considered dangerous in any given matchup.
Carleton Safe in the North
Syzygy only brought two lines to NW Challenge, but they made the most of their small squad, showing they not only remain the team to beat for the North Central's automatic bid, but have a great shot at another quarterfinals berth at Nationals.
The duo of backfield threats Lucia Childs-Walker and Elizabeth Borden combined with Emily Buckner to continually challenge opponents, even without Katie Ciaglo's help.  Buckner's length creates difficult matchups for opponents while Childs-Walker delivers consistent high quality throwing and Borden can make big plays. But they were not operating alone. Ahna Weeks and Claire Rostov lent their handler skills to the cause while Megan Chavez and Nami Sumida bolstered Syzygy's presence in the cutting lanes. They switch fields dangerously and play solid if unspectacular defense in all zones.
Their consistent players turned in an appropriate weekend. Wins over Whitman, Victoria, and even weakened Virginia all look good, as does hanging around with UBC. An end of weekend loss to a shorthanded Western Washington club stands out as their weakest effort of the tournament, and they even battled back in that effort, scoring last in the cap. They can compete with the types of teams they'll need to fell to get to quarters and could sneak up on a top team. That's all assuming they deliver at Regionals.
Whitman Skilled But Unsteady
The Whitman Sweets have a roster filled with the right ingredients for a Nationals team, but they didn't always put them in the right order at NW Challenge. When they played up against elite teams like Stanford and Oregon, their offense looked frazzled: they had two cuts in the same space, or nothing at all. Many throws looked like good ideas the cutters wish they'd had first. When they faced their cohorts, Whitman's game tightened up, and a better team emerged. They looked more confident in their game, and they were able to execute.
This inconsistency likely stems from the new shape of their roster: three of their starting seven are new to the team – Nina Finley, Alissa Soo, and Linnea Soo – so the Sweets still have kinks in their system. Each of these players is experienced, but it takes time to know where your teammates will be, and the Sweets haven't had that kind of time with their top line. Finley was also battling injury throughout the weekend, rolling her legs every time she was on the sideline. She was definitely not at top speed.
You can see what the pieces are. When they were on, Julia Bladin was one of the tournament's biggest stars in the backfield; the same can be said of Claire Revere as a cutter. The Sweets will probably be able to hold their spot at Regionals, but they don't yet have the elite consistency to take down bigger fish.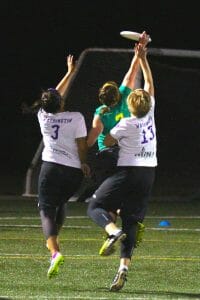 Closing Notes
– Oregon Fugue is still Fugue. They make jaw dropping plays, dominate in open space, and frustrate teams defensively with their speed and the level of confusion they generate. It is strange not to have a section on them, but that's because there isn't much to say you haven't already heard. Worth noting that freshmen Ella Hanson stepped up in a big way at NWC.
– While several teams chose to rest their legs against the Seattle Fryz, none of these teams would deny that this youth club team is a worthy opponent. They even make huge plays like this! It can be hard to remember these players still have four years of college ultimate to play. Start recruiting now.
– Western Washington's performance this weekend could be a case for why the NW Challenge doesn't guarantee the region their pick of bids. Their uneven showing all weekend did little for the region's bids. Abbie Abramovich remains the axle around which Chaos has to revolve, particularly with Tiffany Phan going down to injury. The #evilempire looked a little smaller at NW Challenge.
– Friday night's showcase game between Oregon and Washington drew a gigantic crowd and was quite a show under the lights. Ranging from elite club players and legends to clueless friends-of-parents to little kids, the diverse crowd came out to see some action and the game delivered, including a Hayley Wahlroos IO crossfield backhand and a monster lunging layout D from Lauren Sadler.
– UC Santa Barbara wasn't expected to make waves at the tournament after underperforming all season, but their results could make fans want to push the panic button. Playing without star Lisa Pitcaithley, who is healing from various maladies, the team took the weekend to try and fix some of the issues that have plagued them all season.
– The level of competition was clearly closer to nationals than any other regular season tournament. Even with byes, teams looked run down after three games in a day. Seeing teams figure out what to do with a game-bye-game-bye schedule was intriguing and probably useful for those teams heading towards that type of pool play schedule.
– Speaking of, Stanford seemed short on bodies this weekend against such stiff competition. Halsey Hoster was ill and Amanda Somvilay was out (two of their key rotational pieces) and Courtney Gegg was also sidelined by the weekend's conclusion. Monisha White, Steph Lim, Anne Rempel, Caitlin Go, Jennifer Thompson, and the incredible Michela Meister played a massive amount of points and their combined skill and their team athleticism kept them in games. But they are not as deep as some of the other elite teams they match up with, even if their top 7 is very strong.
---
They also lost a game to Seattle All-Star youth team Fryz ↩