With a surprise third bid earned by Maryland at Easterns, and two elite college programs at the top of the tournament, Atlantic Coast Regionals is set to be one of the most exciting in the country. What teams could sneak up and punch their ticket to Nationals?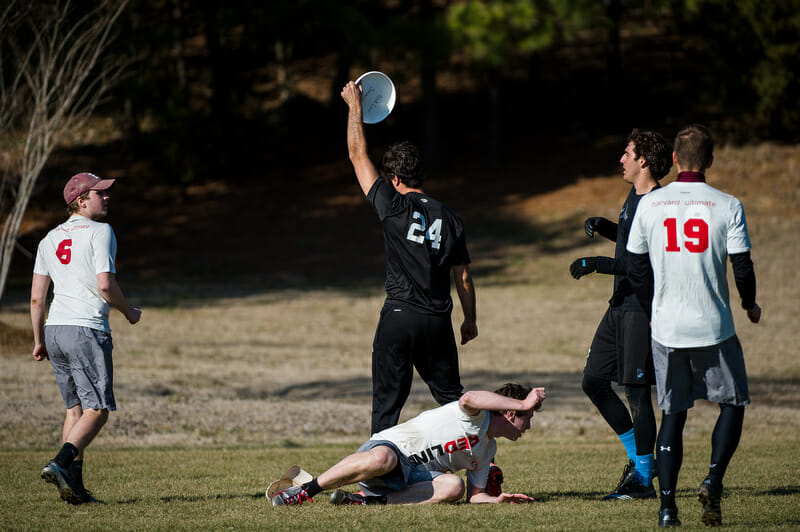 For fans of college ultimate, there's been hoing and humming about 2015's probable national semifinalists, practically since Colorado Mamabird and Ohio State Fever walked of the field with their medals in Cincinnati. But before the fanfare of the national stage, our media-favorite contenders must slog through a field of their rivals, old and new, looking to steal a trip towards glory and notoriety. Welcome to Regionals.
There are three trips to Milwaukee on the line in Axton, VA this weekend. With UNC Darkside and UNC Wilmington long the top dogs taking the two bids in the Atlantic Coast Region, the extra trip adds a delightful wrinkle for teams willing to battle into the 3rd place game.
Who can stop UNCW?
One loss to Pittsburgh.
Since a middling performance in their first regular season appearance, that's the only negative in the the Seamen's L column (despite some close calls with Georgia at both Easterns and Easterns Qualifiers). Against the top competition, UNCW has gotten it done time and time again, and the loss to Pitt discredits nothing. "The good thing about this team is that, aside of Carolina Kickoff in the early Spring, we haven't shied away from competing since Day 2 of Nationals last year," Wilmington coach Greg Vassar explained.
The team isn't impervious to scores or spells of poor play, but this group of young men have defined themselves with a gritty never-quit defense –it's almost as if being down a point or two is better motivation. A bevvy of defensive sets aid this team in locking down on throwers and — as I've written before — defensive captain Charlie Lian has the green light to unleash his monstrous hammer.1
At Myrtle Beach, eyes on the UNCW sideline were treated to the emergence of Cale Ward on the defensive line, as he made big plays to create turns and reel in hucks. Ward joined Lian, Xavier Maxstadt, Luke Hancock, and Jack Williams during big points when lines tightened up, and he'll likely do it again in Axton, VA this weekend.
Familiar faces will try to exploit the Wilmington offense (and avoid their relentless defense) at Atlantic Coast Regionals: UNC Darkside, NC State Wolfpack, and the Maryland Space Bastards. Of those three, Maryland is the only team to yet take on the Seamen. NC State is 0-3 in matchups aginst UNCW so far this season; UNC, who owned this matchup in 2014, have only met Wilmington once so far this season, losing 15-12 at the Conference Championships.
Maryland and NC State will be hard-pressed to handle the full talent that Wilmington has to offer. Neither team has yet to demonstrate that they are deep enough to go toe-to-toe in man defense when Maxstadt, Hancock, and Williams are at their best. The game-time decision for veteran cutter Erik Esposto could create additional matchup issues for opposing defenses. NC State will hope to deploy some junk looks to force bad throws and Maryland has great chemistry in zone, but since Wilmington has been buttering their bread with high-risk shots this season, the task of upsetting the 1-seed may fall into the hands of UNC. It's not impossible, but it'll be tough now that Wilmington has tasted glory. "Our guys know how and want to win, badly," said Vassar.
In spite of all that grit and talent, the Seamen have been resting their stars since conferences. Maxstadt, Hancock, Lian, and freshman Kevin Mateer are all recovering from injuries and will look to return to practice later this week. Their health is easily a deciding factor for the team's ability to present constant threats on both sides of the disc and we'll stay tuned to bring you more as we know it heading into the weekend.
Questions Remain for UNC
I've had the nagging feeling that we haven't seen Darkside play to their potential yet this season. Roster turnover has presented a big challenge, new talent has been sliding into place, and injuries have clipped the top end of this team. Still, a different look doesn't necessarily indicate less talent, and despite 2015 not having the same storybook appeal as their 2014 run, this team remains one of the best in the country. UNC is as much a training program as it is a team and as late April and May loom near, it's a distinct possibility that Darkside will show us how high their ceiling is.
"Be it Regionals or Nationals, we hope to be at our peak in the next 2-4 weeks," said coach Mike Denardis the week after UNC's second-place finish at Carolina Conferences. With any luck, peak will land Ben Snell back on the field to relieve pressure for Jon Nethercutt and bring Tim McAllister's veteran talents back to the roster. Offensive execution is the real need for this team, since the defense has spun up nicely with a rash of young athleticism (similar to UNC Wilmington).
"Gritty defense is always a pillar of our program, and that's definitely still one of our strengths this year," said Nethercutt via email. He believes that the team is even deeper in 2015 than it was in 2014; injuries have sidelined the top players, many who have a significantly greater amount of mileage on them from last year's run to the finals and Ring of Fire's semis appearance during the club season. Darkside's younger talent has learned the systems quickly.
Though the matchup with Willmington is perhaps the most-anticipated, UNC will need to be careful around NC State, who's kept their inter-conference tilts tight in 2015. Nethercutt and his veteran peers know very well that the current Wolfpack stars have yet to beat Darkside in the college division, surely a motivating factor for State. If Snell cleats up in Axton, he'll be just the kind of release valve that Nethercutt has lacked so far in big games this season on offense. Snell is big, high-value target, and the two have impeccable chemistry in the backfield that allows Nethercutt to pick his spots and find targets downfield with ease.
A meeting with Maryland might be a tougher outcome to predict. The Space Bastards ran zone successfully at Easterns, and it was a similar set from Massachusetts that quickly frustrated UNC's offense back in February at Queen City Tune Up. Wind and chancy throws have been the downfall for Darkside's O-line at times and Maryland may need both of those ingredients to cook up an upset win.
Preparation and focus will be key for UNC as they seek to hold their seed and stay atop the rest of the region this weekend. "I think this year very much becomes a story of how well we adapt our system to our personnel and fit all the pieces that we have together into a cohesive unit," Nethercutt commented.
Maryland looks to punch their ticket for the first time in program history
The Space Bastards have never been very far from through the door to Nationals, hanging tight to prominence atop the region and always a foot away from the next threshold. According to alumni, since the program's establishment in 1993, Maryland has lost in the game-to-go three times: 2008, 2009, and 2014. With three bids up for grabs this weekend in Axton as opposed to the customary two, Maryland may find themselves in Milwaukee in late May even if they can't take down either of the UNCs.
This team's 2015 run is the story of hard work. Though Truckstop's multi-threat Mark Lin is a noteworthy name and crunch-time mainstay for Maryland, this team's success this year has been more like watching a uniformed platoon of players humping heavy packs through a dense jungle than it has been watching a group of young players coalesce around a couple of stars.
"Our mantra this year is simple: Respect All, Fear None, Finish Strong. Each opponent we played this season deserved and received our complete focus and respect," said coach Ben Slade. In their marquee wins on Saturday at Easterns, that focus paid off as the team erased deficits and stayed close with UCF and Auburn. Maryland continued to reap the benefits of their work with two undefeated runs: first through the consolation bracket in Myrtle Beach with wins over Michigan, Florida and Massachusetts, and more recently to the top of the Colonial section to win conferences.
Cohesion between veteran role players Lin, Nathan Prior, Issac Kinton, Max Cassell, and Eric Biggs (to name just a few) has been the lynchpin in Maryland's game. Slade has built a system that plays to the athletic prowess of his top contributors and the team has boasted a notable alumni fan club on its sidelines for key games. In their best moments, the Space Bastards have worked with patience through zones, connected on big hucks, and forced turnovers with well-oiled defensive sets.
Slade, and presumably his players, will remain humble and focused as they look to create a new milestone for College Park. "Success looks like getting out of pool play and into Sunday. If we get there, we can consider setting other goals," he said. They'll need to fend off the new contenders who are also looking to take a bid to Nationals that won't require an upset over Wilmington or Chapel Hill, most notably the NC State Wolfpack.
NC State will need to keep their wits about them
Is there anything more frustrating than having all the players, the plays, and the athleticism to win big games, and then failing to do it?
Early in the year, NC State came up in conversations about the Atlantic Coast. Beyond the flashy talent of Jake McGoogan, likely opponents shared bits of praise for the coaching staff of Garrett Dyer and Chris Bass as well as comments about the solid group of players that make up the core of the 2015 Wolfpack. To Dyer and Bass, 2015 would be a mental game: finding the right rhythm and staying in it all tournament long.
The hunt for team focus and consistent play has continued throughout the season and as a result, it's anybody's guess which NC State team will take the field this weekend in Axton. Will it be the team that nearly took down UNC Wilmington in a strong performance at Easterns Qualifier? Or will it be the bedraggled gathering of players that six of the their seven games at Easterns?
"The biggest thing is continued focus.  We've learned that lesson countless times, but when the most critical game comes as the fourth critical game in a row on the second day of play, you'd better maintain your focus or your dreams will be crushed," said Dyer over email. The team's goal is not necessarily getting over the hump and beating a vulnerable UNC — it's sustaining their concentration. "We're focused on our ability to maintain our mental state through 4 games on Saturday and 4 games on Sunday."
The Wolfpack's biggest edge might be their familiarity with the top competition. They're the most connected to the top three teams seeded above them: 3 games against UNCW, 4 games against UNC, and 2 against Maryland. With a little weather as an equalizer, the NC State junk sets could pose trouble for opposing backfields — they'll just need to make sure they pressure the deep equally. After reliably generating turns in the first half against UNC in bracket play of Carolina Conference Championships, Aaron Warshauer lit the Wolfpack defense up on hucks coming from Nethercutt.
Holding seed through the last game this weekend will give NC State one last shot at glory in 2015: the 3-4 game. "We intend to be part of the conversation up until the last point is scored on Sunday," said Dyer.
Stealing some glory for themselves

A few other notable competitors will being trying to sneak into the coveted 3-4 game. Virginia and VCU boast less-than remarkable regular season schedules, but finished in the top spots for the Virginia conference. The latter made a splashy appearance at Queen City Tuneup, but has since largely lacked competition outside the East Coast.
Though Maryland stayed in command winning both matchups decisively in the Colonial Section, Delaware quietly had a great start to their postseason. Sideshow notched all of their wins by four or more points, and lost in the championship game to the Space Bastards 13-15.
The Carolinas will send three other competitors in Appalachian State, South Carolina, and Clemson to Axton, though these teams have yet to stack up well in 2015 against the top end of their conference. Still, if they're able to peak well on Saturday, it's not out of the question for any of these lower tier teams to gum up the works for Maryland or NC State and find themselves in an exciting spot come Sunday afternoon.
---
We saw less of Lian throwing at Easterns, but that may have been due to the national-level competition UNCW was facing. Though AC Regionals will be tough, the number of tough games will still be fewer than Easterns. ↩