Three bids, but three heavy favorites.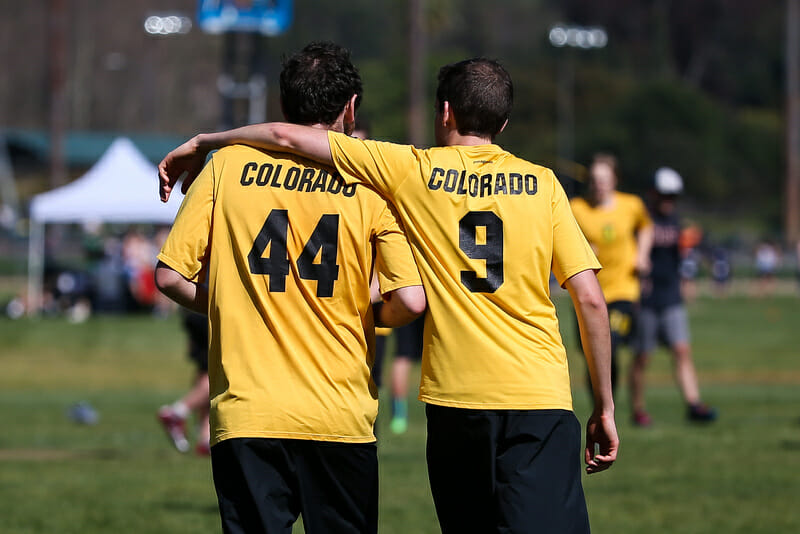 In Greek mythology, the fearsome beast Cerberus guards the gates of the underworld, his three snarling heads refusing the escape of the dead or the entry of the living. College Nationals may be more heaven than hell, but it's hallowed ground nonetheless, and the three beasts of the South Central — Colorado Mamabird, Texas A&M Dozen, and Texas Tuff — are not offering much of a chance to let any teams past them to taste the sacred fire of Nationals.
That might sound over-dramatic, but with #4 Colorado and #5 Texas A&M both finishing as top-five teams this year, winning their respective Conferences, and playing in high-stakes games at top tournaments, these two have proven to be untouchable to the rest of the region. Save for mercurial #18 Texas, that is, who held onto the region's last strength bid by their fingertips, and who everyone else will be gunning for a chance to play in Milwaukee. But will anyone be able to lop off their historically strong head this weekend in Denver?
Expect Mamabird To Soar
Although much has been said about how this year's Colorado team is not last year's legendary squad, first-year head coach Brent Zionic has done a fantastic job creating his team around his players. He's encouraged Mamabird to dictate their own vibe rather than treat the team like prepackaged Lego bricks to be assembled in a set order. So while this team is very different than last year's, there is one thing you can expect Mamabird to keep the same: finishing first at Regionals.
Colorado runs a smooth offensive system, favoring pinpoint I/Os and continues to the breakside, frequently shifting their plane of attack as they work hard for big unders. Though their offensive flow can sputter if teams are able to stop their pull-plays, Colorado is more than happy to be patient with the disc on the way to a score. Veterans such as Wesley Chow and Stanley Peterson (who appears to be healthy after some nagging injuries throughout the season) give Mamabird that extra big-play fire when necessary.
Colorado's four losses this year have been at the hands of Washington, Oregon, Florida, and UNC, all top-tier teams. They are a quiet and focused bunch with experience in big games against big teams (the losses to Washington and Oregon were in the semis of Prez Day and Stanford Invite, respectively). Mamabird puts away the teams they should, and have the depth and poise to hang with anyone deep into the Sunday of a tournament.
Though they might not have the deadly playmakers of A&M's Matt Bennett or Texas' Chase Cunningham — who are not so much as guarded by their defenders as they are followed, remora-like, across the field — Colorado's squad knows how to win a tournament together. Their depth, experience, and homefield advantage leave them in a great position to win Regionals and even grab one of the coveted top seeds at Nationals.
Look For A&M To Vault Over The Hump
Fueled by the yin-yang handler duo of POTY candidate Matt Bennett and Dalton Smith, Texas A&M finally seems poised to make a deep Nationals run this year. With a more committed, experienced team, many of whom took the trip to Mason last year, Dozen has the explosiveness and hunger to beat any team in the country in a one-off game. A&M displays the confrontational element of ultimate beautifully; they're a high-spirited team who relish winning their man-to-man match ups.
With Bennett and Smith whirring the disc back-and-forth like a pinball machine set on multiball, A&M's any-throw-is-possible offense truly freaks out college defenses. Though Bennett turns over the disc a lot, he touches it even more, and the mental space he takes up in a defense's head when he has the disc adds up exponentially over the course of a stall, a point, a game, which can cause a heavy, stretched-out, and unfocused mindset. With defenses having to take that extra moment of consideration, A&M's young, athletic cadre of cutters can cut wherever they like.
What's going to define A&M's postseason is their ability to convert their breaks. They have the athleticism and numbers to consistently play hard man-defense, but sometimes lack the focus to finish the job. Dozen proved at Centex, making the finals before falling to UNCW, that they have the depth to sustain a high level of play throughout a tournament, but at the same time, they still feel like a top-heavy team. A&M is better than ever, but Bennett can't play every point, as great as he is, and this team has never played with such high expectations before.
Simultaneously, this team has the skills and swagger to beat anyone, so don't call it a surprise if A&M come out of Denver as the South Central Champions. They're 3-0 against Texas this season, but have yet to face Colorado. The likely final between A&M and Colorado could be seen as a litmus test for Dozen's postseason hopes: a finals appearance at Nationals.
Use It Or Lose It
One could feel the collective exhalation coming from Austin on April 2nd as USAU announced the final bid allocation for the college season. All of Tuff released their breath, relieved to hold on to the third bid for the South Central. It was a bid they no doubt earned, but will have to fight for in order to make it definitively "theirs." The streakiest (yet still strong) head of the triumvirate, Tuff will be battling themselves more than any other team for a trip to Milwaukee.
Texas passes the eye test. With no fewer than eight players over six-foot, Tuff loves to milk the deep ball, often living or dying by the huck. When you have U23 star Chase Cunningham alternatively throwing and catching them, the huck is not a bad way to go. For most of the season coach Calvin Lin's team has lacked consistency, but their arrow has been pointing up since Centex. Like Colorado, Texas has had some growing pains after losing a lot of their starting core from last year, but Lin's system and their athleticism (and Cunningham's stellar play) has kept them more than competitive, even if they still haven't quite reached the potential they've shown glimpses of.
That being said, Tuff has been mercurial, even within the same game, laying out with ravenous desire in one half and then mysteriously letting up the next, heads down, hands tucked into the front of their shorts. As great as Texas' historic program is, the only way they're going to make it to Nationals is via the mental fortitude of their players, not the scheme of their plays.
Though they have yet to beat Colorado or A&M this season, losing to A&M for the third time this season, 12-15, in the finals of Sectionals, Texas could very well beat the Dozen or Mamabird this weekend. Based on the season, they're appropriately seeded as the third-best team in this region, but if they can focus in crunch-time, Tuff has the potential to win revenge and help out their Nationals seeding. Or, they could just as easily get frustrated with themselves and allow someone else to take their seat in Milwaukee.
Who else?
There are a couple potential-though-not-probable teams in the South Central who will be gunning for that third bid. I'm not a big fan of certainty, but Colorado and A&M are simply in another class than everybody else. I simply do not see them budging, even if they somehow mess up in pool play and have to claw through the backdoor (like A&M did last year). However, while I do think Texas is a much better team than everyone who isn't Mamabird and A&M, their streakiness offers a glimmer of light to the rest of the South Central hoping to go to Nationals.
Missouri (#28) would seem to have the best shot. They lost a close game to Florida (13-14) and beat an OK Harvard team (11-13) at Centex, finishing 14th. At Huck Finn they showed some grit that points to their potential as they fought their ways to the finals through the backdoor, beating a decent Stanford team in semis, but falling hard to Tulane in the finals. Most recently they cleaned up at Ozarks Conferences until they lost to Washington University in the final. They're going to need a lot of momentum on their side in order to crash through to Nationals.
Colorado College (#42) looked to be a strong contender in the region just a month and a half ago when they beat Minnesota and Harvard at Centex, finishing 11th. However, they proceeded to go winless at Easterns and were recently crushed by Colorado at Sectionals, 6-13. But Wasabi is a perennially strong program, and if they catch Texas with their heads down, they just might be able to sneak away with that final bid.
At the end of the day, it appears to be the same old South Central. With Colorado, A&M, and Texas watching the gates to Nationals, the rest of the field hoping they'll cannibalize each other and present a wounded opening. Unless that happens, everyone else is left to fight for scraps.