Is Carleton destined for another trip to Nationals?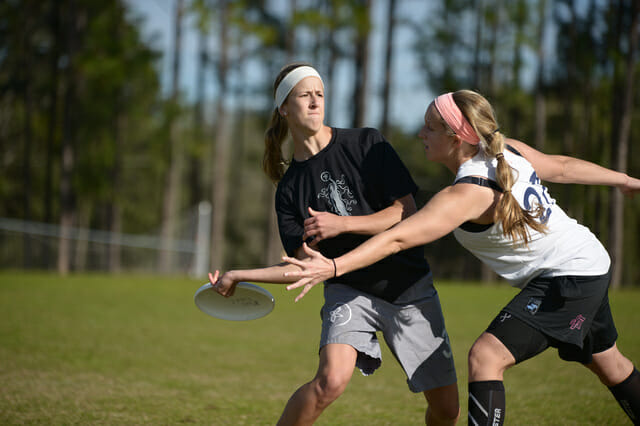 In another world, on another timeline, regions like the North Central would have another bid. The herd of talented, consistent, and deep mid-level North Central teams would have a chance to really test their mettle on the big stage. Algorithm arguments aside… when a region features such a breadth of talent, it's a pity to send only one team on to the College Championships.
This year the regional favorite remains the same – Carleton Syzygy – but their northern brethren are closer on their backs than ever before. Syzygy isn't even entering Regionals as the 1-seed, after a windy loss on double game point to Iowa State. The game sounded like a cold windy mess, but still.
There may be other worlds and other timelines, but this weekend there's only one bid to fight for. There are six very real suitors looking to take home the prize. Only time and wind will tell.
Tournament Profile
Date: April 25-26
Location: Oshkosh, WI
Bids Available: 1
Carleton Yet Again The Frontrunner
Syzygy arguably has the weakest roster they've had in several seasons, if only because in the past two years they have seen stars like Anna Reed, Julia Snyder, and Flannery McArdle walk through their program. This year they lost phenom Kirstie Barton to that fickle mistress called other-parts-of-life, but they retained Lucia Childs-Walker and Liz Borden, both patient and adaptable handlers. Downfield they still have Emily Buckner, a tall and talented force who gives Syzygy a physicality that doesn't come naturally to their style.
Yet their top tier of talent this season is not significantly better than most other North Central teams. But Carleton will still likely take the region. Because Syzygy knows how to win, and they do it well. This season other regional teams would take leads, then hold them like new parents hold babies: you want it, but you don't know what to do and you're terrified of dropping it.
When Carleton gains the lead, they buckle down, earn the break, and efficiently work their way to the winning score. They will do this over and over again. They play with the maturity of a decades-old program, and this strength bolsters the team to outperform.
Iowa State Peaks At The Right Time
Iowa State comes into Regionals as the 1-seed, carrying the momentum of victory from their sweep at Conference Championships. Now the key is keeping their focus. They will have two difficult matchups on Saturday – Wisconsin and Madison – and both teams will force Woman Scorned to stay on their A game for a full 15 points.
Woman Scorned has come a long way this season, giving young players new roles and investing the time to develop their skills early in the season. Their rallying cry sounded at Midwest Throwdown, when they gave Notre Dame the best game of the tournament and of their season. Iowa State played balls out… there's just no other way to describe it. If that team comes to Oshkosh, they're leaving with a bid.
A lot can be said about Iowa State: from their creative and crafty handling to their smart zone, the team can deliver 75 percent of an excellent game. The final 25 could arrive this weekend.
But if this is the last tournament of the season, then it's necessary to pause and raise a proverbial glass to the final tournament of Cami Nelson. Nelson seemed like a veteran leader on the team when she was still new; every year of her career I've assumed she's a senior, and every year she returns. She is not only one of the strongest players in the country, but she is also one of the most spirited, in a time when spirited can mean anything from "nice" to "Godlike". Her elite level of play has elevated the caliber of ultimate in the Midwest, and the contribution warrants a nod, no matter what happens this weekend.
The Bella Donna System
Early in the year there was hype around Bella Donna's roster. Despite losing their brand name star, Wisconsin was picking up U23 player Maggie Kennedy to join an experienced roster of workhorses who flew under the radar last year.
The challenge all season has been for Bella Donna to believe the hype themselves. When they do – when they cheer and rally and then execute – they're unstoppable. This winter they played an unsanctioned indoor tournament against many of their regional rivals, and they won with only two thirds of their squad.
"I 100% think we can and have seen us do it," said coach Robyn Wiseman in an email to Ultiworld. "It will be a question of if they believe in themselves and their teammates to succeed."
Bella is ready to play smart, targeted defense against opponents they know well. Despite still missing Maggie Kennedy to a fractured femur, and losing Anneke Vermaak to a Conferences injury, Bella is hoping they have built enough depth into their team to produce without burdening their veterans like Rachel Romaniak and Lorraine Guerin. Wisconsin worked this season to build their team for 2015, but they've also been working to build the team in 2020. The progress shows, and Bella will be even more dangerous in the coming seasons as they grow.
Wiseman pointed out that there will be no surprises at Regionals, and she's right: the question then becomes which team will use the familiarity to their advantage.
Minnesota Is A Bonafide Darkhorse
It almost doesn't matter what the Ninja's roster turnover looked like from last season to this one: they look like a different team than ever before, and they're executing at an unreal level. Their list of wins this season reads like a who's who of upsets: Kansas, Michigan, Texas, Florida. They have only lost two games this season with a margin bigger than 3 points, to California and Carleton.
Sarah Anciaux is already one of the most treacherous players in the region, and this season she's well matched by handlers Kalli Perano and Sara Helm. The Ninjas have a high ceiling this season, and there's a very real chance they'll be cleated up and competing late on Sunday.
Iowa Saucy Nancy Is Solid But Unpredictable
Despite considerable losses, Saucy Nancy had a season to be proud of. They use their talent well, giving Anna Pritchard and Liz Gronert endless opportunities for posterizing plays. Emily Fujii is a fast and fierce midfield presence, and Iowa has played through their midfield all season.
Iowa is good, but they likely won't be imposing enough this weekend to earn many upsets, and they're in Pool B just below Nebraska who has given them nothing but trouble all season.
Speaking of Nebraska…
Everyone, in every region, should be scared of a 6′ deep receiver looking for the disc from a tall and experienced handler. Liz Diffey and Emily Lander, joined by Angel Iverson, have elevated the Nebraska Cuddle Raptors from a D-III regular to an increasingly nerve wracking opponent in D-I. Teams don't want to deal with covering the height on Nebraska's lines, but they can't ignore it.
While Nebraska struggled considerably at Centex in the mud, they have proven capable in their region. They know how to cope with the elements, and they're likely to give at least one team their toughest game of the day.