Franciscan might not just be the favorite to win the OV, but also the national DIII title.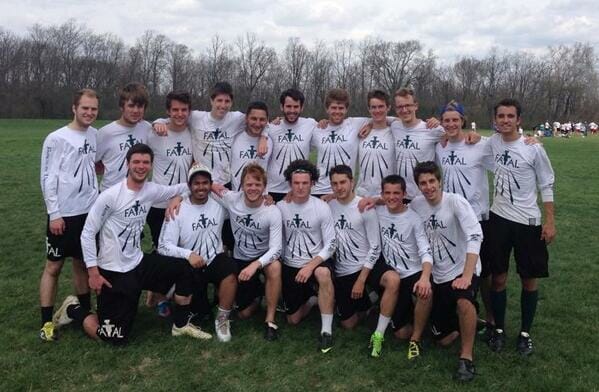 Consistently one of the deepest regions in all of D-III, the Ohio Valley is strong yet again this season. However, the tides have changed, and new teams are at the top of the region. With Lehigh going D-I and Kenyon not earning a bid to Regionals, Cedarville stands as the only team remaining from the Ohio Valley who made it to Nationals last year. 

Instead, a new group of teams has stepped to the forefront of the region.
Contenders
Franciscan Fatal
Ceiling: Earning the sole bid to D-III Nationals with little difficulty, and being a favorite to win it all once they get there.
Floor: Being upset late in bracket play.
Honestly, I'm picking this team to win D-III Nationals. There are plenty of great teams there, but none as talented as Fatal in only their second year of existence. With perhaps the greatest high school pipeline in all of college ultimate coming from Holy Family Catholic, one of the top high school programs in the nation, many of these players have been together for years.
"This year we picked up Dom Schuster (USA U19 National Team) and Stephen Babcock (Cincinnati Pig (YCC) team captain)," said captain Tommy Koch about the team's relationship with HFC. "They have been two of the most productive members of the team this season, both on offense and defense. The relationship we have with Holy Family Catholic is strong. Parents of alumni are in full support of the new Franciscan team, whether it's housing us for tournaments or cheering for us on the sidelines. We hope to pick up a few more experienced players over the next few years to maintain the experienced nature of the team."
After a stellar spring in which they ended up being ranked #1 in D-III as well as #25 overall, the team was able to build upon a surprise performance in the series last year in which they were a single point away from earning a bid to D-III Nationals. They completed an undefeated season in which their closest game was a 13-10 win over Case Western University, a consistent D-I regional contender. Despite the notoriety they've gained, Fatal looks at their ranking as motivation for the series. Koch said: "We learned to never underestimate any of our opponents, regardless of their seed in the tournament or ranking. Every game we remind ourselves that even though we're ranked/seeded the best team, it doesn't mean that we are the best team until we prove it on the field."
With a strong returning core of Tony and JP Bort, Jay Ratajczak and Tommy Koch as well as tremendous pickups in Schuster and Babcock, Franciscan Fatal looks as powerful as ever, well-deserving of their #1 ranking.
Messiah Mammoth Rebellion
Ceiling: A surprise upset in which they earn the only bid to Nationals for the region.
Floor: A quick exit in bracket play.
Just as Franciscan was the champion of the Ohio section, Mammoth Rebellion swept the West Penn Section, and with ease. Their closest game being a 13-6 win over Gettysburg, they cruised to a Conference championship with a 13-3 win over Dickinson (you might remember it ending on this insane play).
A consistent Regionals contender, Messiah came into the tournament last year with promise. However, they fell early in bracket play to Oberlin. When asked about lessons learned from last year, coach Charlie Hoppes said, "There was a lot of talk of Nationals when we really hadn't put the work in on our throws and fitness to warrant that kind of talk. We reaped what we sowed when Oberlin knocked us out, and it was a huge wake up call to all of our returners that this is something you have to work for every single day if you want it."
Just like Franciscan, this team returns a good deal of their core: Ethan Peck (Hoppes' early pick for Player of the Region), Mark Larsen, Connor Power, Christian Becker, Aaron Swarr, and Mike Stephan all return after having solid seasons last year. Only Zach Sizemore and Pete Warren were lost last year.
They finished the regular season ranked #17, just outside of a strength bid for the Ohio Valley. Regardless, it's been a very impressive season that they've carried into the series so far.
However, the difference lies in that the injury bug has bitten Mammoth Rebellion this year. Connor Power tore his ACL at D-III Easterns, and according to Hoppes, there are multiple injuries on the team. That didn't seem to matter at Conferences, however, which makes this team even scarier if they heal up for this weekend.
Oberlin Flying Horsecows
Ceiling: A deep run in bracket play.
Floor: A quick exit on Sunday.
The third favorite team to snatch the sole Ohio Valley bid to Nationals, Oberlin Flying Horsecows have ramped up their performances after falling short the past few years at Ohio Valley Regionals.
According to captain Evan Holliday, the team hasn't suffered from roster turnover very much. With solid players returning and other players stepping up into bigger roles, the team has become more cohesive and deep this year.
The Flying Horsecows had a strong regular season, but finished just outside of a strength bid, ranked #25 in USA Ultimate's D-III rankings. At Ohio Conferences, they kept up that performance, rolling everyone but Franciscan, who they lost to 15-9 in decisive fashion before beating up on Cedarville.
The biggest point Holliday made in our conversation was that although there had been a lot of talk in the Ohio Valley about only getting one bid to Nationals, he's not concerned. "This isn't about going to nationals, this is about the results you get out from the effort you put in," he said. "This is my last year on this team, and I'm proud to say that even if there were five bids in this region, the Horsecows would absolutely still be fighting tooth and nail to prove that they deserve that title. 
Thankfully, there is only one."
They'll have to step it up to upset Franciscan, but this team has the potential to do it.
Darkhorses
There are a few teams at this tournament who could play spoiler, though it's tough to say anyone could beat Franciscan.
Cedarville, who went ton D-III Nationals last year, is a team that had a great regular season, almost earning a strength bid for the Ohio Valley to Nationals right next to Messiah. They placed third at Conferences, losing badly to Oberlin in the second place game. However, that game meant little more than placing, as both teams had already earned a bid to Regionals.
Ohio Wesleyan, who lost to Cedarville and then beat Kenyon in the game-to-go, is a team that could surprise as well. Last year, they were projected to have an outside shot of landing a Nationals bid. They came close, losing to Kenyon on double game point in the game to go. This year, they've been inconsistent and heavily reliant on deep shots to bail out the offense. If they can turn it on, however, they have a chance to make a deep run in bracket play.
Dickinson is the final team that could make a run on Sunday afternoon. Led by Trevor Greisman, who has been mentioned in the All-Region discussions, Dickinson has the potential to surprise some teams. Just like Cedarville's loss to Oberlin, don't put too much stock into Dickinson's loss to Messiah at sectionals. The game was merely for seeding, as both teams had locked up a bid to regionals.