Notre Dame is 25-0 and heading to Milwaukee. Could they surprise some top seeds?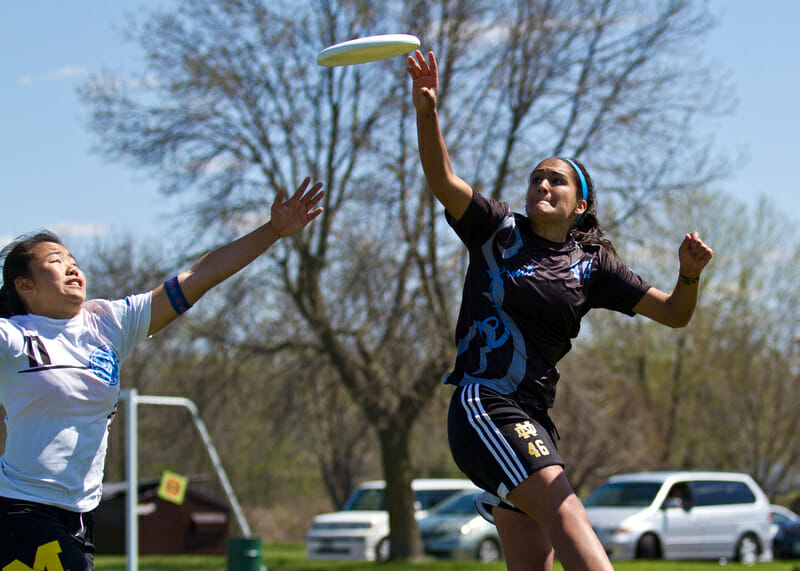 Notre Dame's win made this year's Great Lakes Regionals frankly more entertaining than it has been in years.
Even when Northwestern stole the title from Michigan in 2013, games across the board weren't this close. Great Lakes teams are becoming peers instead of a pecking order: teams like University of Chicago and Purdue can come into the weekend with impressive, out of region wins under their belt, and battles can be waged for pride and for bids on an even playing field.
Notre Dame Caps Off Undefeated Season
After Missouri Loves Company this Fall, I described Notre Dame as the kids who crashed the prom afterparty. A lot has changed since then, and a lot hasn't: this year they came into the Regionals weekend as the heavy favorite, and they won. But they still celebrated the win like party crashers: they brought their posse, bubbles, pool floats, hula hoops, and champagne. They're still the underdogs, and they're determined to have all the fun they can while they're here.
More to come on Notre Dame Womb, worry not. But they proved to be the real deal this weekend, literally dancing their way through the weekend to a 13-11 win over Michigan in the finals. They played fast, physical, and deep: the longball is clearly their throw of choice, and they utilize it often. Many people snub their noses at teams who only throw hucks… but when your completion rate downfield is well over 90%, who wouldn't?
Most teams either failed to compete with them in the air, or they simply underestimated that Notre Dame would catch the disc. Womb has an offensive rhythm all their own, and Michigan struggled to defend it. Handlers never hesitated to throw long, even if the cutter was covered, even if it was windy, even if they weren't set. To paraphrase the Michigan coach Ben Murphy, it's tough to defend the throw you don't expect.
Flywheel was their biggest challenge, and their two point loss was the closest game Womb has had since their first game this year vs Minnesota. But Notre Dame remained, in the end, untouchable. They deserved to win the region. Their real challenges will come at Nationals, where every team they face is of Michigan's caliber and more. More physically dominant teams will likely be able to figure out Womb's game and shut it down faster than Michigan did.
That said, Womb will also enter Nationals as the biggest question mark. Nobody has film on them. Kansas is the only elite team who has faced them this season, if you don't count when Notre Dame wailed on Colorado in early November. Their unique game stymied Michigan, and it could stump others.
Michigan Ends On A High Note
Michigan has nothing to be ashamed of in their final game of the season. If anything, their finals performance was the culmination of their season, combining elite skill, physical play, and a lot of heart.
"This was certainly our best tournament," said Ben Murphy after their finals loss. "One of our goals for the weekend was to have everything come together, and we saw that in a way we hadn't seen before."
Notre Dame grabbed a 5-2 lead early, and for a moment the finals looked like they would turn into another bulldozing. But Flywheel held on, forcing Notre Dame to earn their points.
Michigan was nevertheless still down late in the game, 7-12. But their comeback began when Hannah Henkin skied a pile of people, and threw the assist for the score, 8-12. Michigan went on to break three times in a row, and they were one point away from a crucial late game tie.
Hannah Henkin (2015 U23 team) was the MVP of the game, and should be MVP of the region. When asked for the highlight of the game, Murphy answered instantly: Hannah Henkin. No question. 
"She had bid after bid that was gorgeous, and beautiful throws…," he said. "She was easily the best player on the field."
You could probably fit Henkin in your pocket. She's five foot nothing, but she nevertheless kept pace – physically and mentally – with the game's aggressive tone. In every point, she made the play Flywheel needed most. She didn't spike the disc or show off, but she got the job done for the team.
Michigan never tied the game. Notre Dame scored, and Michigan's run was over, 11-13. But their play in those final hours revealed a team with the composure of a veteran program. The names change, but Flywheel is always able to deliver.
Northwestern Rises To The Challenge
Northwestern Gungho had all the pieces this season, and this weekend they finally came together and produced, breaking seed and ending their season 3rd in the region. In the process they closed out 3 close games against regional rivals Purdue, University of Chicago, and Illinois.
Northwestern's blueprint for games is always meticulously crafted. The team is coached by Machine captain Walden Nelson and Nemesis veteran Carol Li, and together they've built a nuanced offensive strategy. The problem all season was execution….
Until this weekend. After a frustrating and windy loss to Notre Dame, Gungho rallied against Purdue, winning a long game on double game point 9-8. Northwestern's run through defense set the mental tone for the game, and ever-composed play from captain Jenny Li facilitated many of the team's points throughout the weekend. Seniors Christina Sur and Phoebe Evans were key pieces in the Northwestern defense: Evans has a penchant for handblocks, and Sur's agility amped up the team's defensive tempo.
Talent was never the issue; strategy was never the problem. Li predicted before the tournament that the team would have to execute and play with heart to deliver, and they didn't disappoint.
Illinois Displays Impressive Mental Strength
Illinois played a lot of close games this weekend: 4 out of their 6 games ended within a 2 point margin. Of those games, half ended on double game point.
The good: The ladies of Menace showed mental fortitude throughout the weekend. They were able to battle back in games where they were behind, coming back from an 8-10 deficit to Indian to win 12-10 over Indiana. They were able to close out close games as well, edging out Purdue in a close battle 14-13. Illinois was so close, so often, to greatness. They had moments when their offense worked beautifully, and their defensive decisions were often nuanced and tailored to their opponents' game.
The bad: It takes mental strength to win double game points, but DGPs don't happen when the better team is executing and closing out games. Saturday was windy, but not that windy, not by this region's standards. When they were playing University of Chicago, a point early in the game lasted just short of half an hour because both teams couldn't connect downfield.
A lot of what Menace has been grinding towards came together this weekend. They weren't perfect, but they showed promise for next season, even as they graduate their core of Allie Fish, Jean Huang, Ariel Choi, and Kaytee Meagher.
Victory Out Of Reach For Purdue
Purdue AMOC ended the season with two wins over the Michigan B team and one win against Indiana, a far cry from where they had hoped to be when they began the season. A deadly cocktail of injured stars, wind, and questionable decisions kept AMOC one point away from victory…twice.
Purdue had lost handler Emily Beasley to a knee injury at conferences, and the team's need for a steady quarterback showed. Anne Hemmelgarn and Kristin Dudley did a lot of heavy lifting for Purdue, but the team seemed to lose the mental game before losing the actual one, and sometimes they waited for Dudley and Hemmelgarn to make the plays Purdue needed to stay in the game. All in all, a disappointing finish for a team who had such big dreams in the fall.
University Of Chicago Falters
On Saturday, legs weren't the issue for University of Chicago Supersnatch; rather, throws were their downfall. This weekend Chicago lost all their games except two 10-8 wins over Indiana, and they were very nearly bageled by Michigan, 1-15. The 20-25 mph wind on Saturday is nothing new for Great Lakes teams, but it can be intimidating for weaker throwers, and the inexperience on Chicago's roster showed in the adverse conditions.  Chicago's play improved markedly on Sunday with stiller skies, but the damage was already done.
In many ways Supersnatch had a breakout year, capitalizing on their available talent and chemistry. Jesse Handler, Amanda Dobbyn, Leah Kessler, and Yevi Reschechtko were enough to get Chicago to the MWTD finals, but the team had a ceiling this season, and they hit it. They're graduating 12 seniors, so Chicago will have a new slate next year, whether they want it or not.