Pool C looks the most likely to go to seed.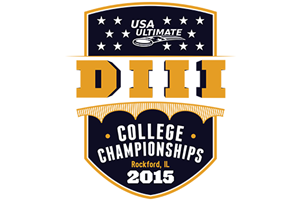 While it is probable that upsets and madness will prevail in other pools, Pool C seems to be the most easily deducible of the lot and most likely to go to seed.
The pool is a mix of rejuvenated contenders and new kids on the block. The top two seeds were big players at Nationals last year, Bowdoin is returning to the fray for the first time since 2012, and underdog Truman State is making their first appearance since 2011. While the early forecast calls for chalk in this pool, there are more than enough compelling stories and spectacular players on these teams to keep it interesting.
One of the most interesting subplots this weekend will be Elon Big Fat Bomb's quest to redeem their collapse in the championship game last season. 2014 Elon took the tournament by storm, convincingly dominating their pool on Saturday and then knocking off regional rival Richmond and historic powerhouse GOP on their way to the finals. We all know what happened next.
After suffering such a debilitating defeat, the team is on a mission to end this year differently. Despite losing both of their 1st team All-Region players from 2014, Andrew Gruninger and Matt Cameron, Elon has arguably been even more impressive leading up to Nationals this year. They repeated as D-III Easterns champs, took down rival Richmond in the Regional final, and enter Nationals as the overall three seed.
A big part of Elon's continued dominance has been the play of Brian Syzmanski. After a breakout performance at Nationals last season in which he tied for 3rd  most goals scored, Syzmanski has done it all for Elon on both sides of the disc. His combination of size and speed make him too fast for most big men to guard, and when matched up on a smaller quicker defender, his hulking frame makes him a terror downfield. If Elon needs a big play at some point this weekend, you can bet Syzmanski will be the one to make it.
Alexander Taylor has stepped up in a big way this year for the Bomb, taking on huge responsibilities as an O-line handler alongside gunslinger Aaron Rodgers. Those two have kept Elon's offense moving all year, and with their break throwing capability, are a threat from anywhere.
Elon seem to have a secure hold over their pool, but have a very tricky semifinal matchup with whoever comes out of the monstrous pool B looming. So far this year, Big Fat Bomb has proven they have the talent to reach the heights last year's team hit, this weekend they will have to prove they have the mental strength to finish the job.
A perennial Nationals team that doesn't receive a ton of fanfare despite winning their region every year since 2011 is Georgia College. The reason for this is clear, they come from the weakest region in the country and have been unchallenged for years. While the Southeast might lack significant D-III competition, Disconnected has proven that they belong in the National conversation with several quality finishes at Nationals, including a program best T-5th finish in 2014.
This season played out similarly to previous years for Georgia College, as they rolled through the regular season and the series without a serious challenge from any teams they faced. The real test for them starts this weekend, as they will play elite D-III competition for the first time all season. It is curious that the team elected to not play at D-III Easterns, as the experience would certainly have been valuable, but perhaps the team enjoys staying out of the spotlight so that they can be the hunters at Nationals instead of the hunted.
What they lack in regular season experience, this veteran team makes up for in Nationals experience. Seniors on the team have been to Nationals every year, which could prove to be extremely valuable. Disconnected is returning all five of their All-Region players from last season, including O-line handler and reigning player of the year Charles Morris, who was outstanding for Georgia College at Nationals in 2014.
Regular season experience is one thing, but experience at Nationals is vital; Disconnected's veterans have to be confident that they will be able to get the job done when it counts, because they have been there and done it before. The experience gap is why they are favored to hang on to their second spot in the pool over Bowdoin, the third seed, a team that had an impressive regular season, but hasn't been a player on the national scene in a few years.
After coming up short in the stacked Northeast region the past two seasons, Bowdoin was able to come out of the region with a solid 3rd place finish this year, good enough to grab one of the region's four bids and a ticket to Rockford. The team didn't return any All-Region players, but has depth at the top of the roster. Denis Maguire has been the big playmaker for Clown this year, capable of stretching the field with both his throws and his legs. Even if teams take him out of the game, Bowdoin has other players, notably Aidan Penn and Alexander Roche, who are more than capable of making big plays themselves.
Bowdoin's regular season was solid, but heading into Regionals they lacked a signature win. That finally changed when they were able to take down both Brandeis and Amherst 12-11 and 14-13 respectively. Clown hasn't looked dominant this season, but they have been consistent, and that consistency should give them a chance to survive to Sunday. They haven't been to Nationals in a while, but if they can stand up to the pressure, they are the team from this pool that has the best chance of breaking seed.
Another team making a reappearance at Nationals after a prolonged absence is Truman State Jujitsu. After making Nationals in 2011 Truman State had fallen off the map a bit as other powers rose to ascendency in the South Central. A strong Sunday performance at Regionals this year brings them back to Nationals and back into the spotlight.
Truman State was not a favorite to take one of the region's two bids, particularly after going 0-4 on the first day of Conferences and struggling just to make Regionals. Decisive blowout wins over Harding and Missouri S&T on Sunday at Regionals gave the team the confidence they needed to upset top seeded Rice and move forward.
If Jujitsu hopes to keep their Cinderella run alive at Nationals they need to avoid coming out slow on Saturday. So far this year Truman State has been able to really turn it on come Sunday, but the margin for error is so small at Nationals that they do not have the luxury of getting into gear over the course of the weekend.
Based on an up and down regular season and general inconsistency, it would be surprising to see Truman State escape the pool. Then again, they have been surprising teams all season, so why should they stop now?