FSU coach Peter van de Burgt joined the team in 2010. Senior captain Chris LaRocque started as a freshman that fall. What they've done together is remarkable.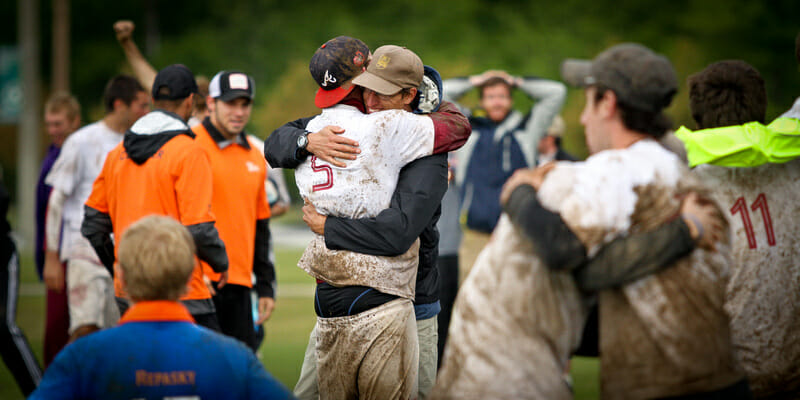 A trip to D-I College Championships requires talent. It requires full team commitment, belief in the system and the program, and the willingness to play for the greater whole. Once these characteristics are deeply embedded in a team's fabric, it's reasonable to talk about repeat appearances in the top 20–but that doesn't happen overnight. It takes a careful chemistry: the right mix of coaching, player leadership, and recruiting. Stir in a few unique ingredients–maybe a dash of trusting coaching philosophy, a sprig of rare talent–and success may bubble over a little sooner than you think.
For Florida State's Demented Ultimate Freaks (DUF), who will make their third-straight appearance at Nationals in Milwaukee this Memorial Day weekend, the tonic went from flat to fizzy in just a few short years. Just four years removed from consistently rounding out the bottom of their region, FSU has defied the scarcity of one key ingredient for success (youth talent) and could advance deep into the bracket in 2015. At the heart of it all, coach Peter van de Burgt and senior captain Chris LaRocque have worked together for years to keep improving the recipe.
*
On May 8, 2010, at what was then Atlantic Coast Regionals, Florida State DUF missed the Sunday bracket after handing in a middling 2-2 Saturday performance. That was nothing out of the ordinary. DUF's season results had never been more than a glimmer of light in the long shadow cast by Florida, Wilmington, and the other titans of that region before the redraw.
Though it wouldn't be the last year that DUF finished towards the bottom of Regionals, the fall of 2010 would beckon change in the form of many new players, new leadership, and a new coach.
"2010 FSU was a big transition period," van de Burgt admitted when talking about his first full year back in Tallahassee. As a graduate student at FSU, van de Burgt arrived in 2009 with every intention of joining DUF to finish out his eligibility. He brought some much needed experience with him.
Four years playing for Virginia Night Train and a trip to Nationals easily qualified van de Burgt to lead a less experienced team like DUF. Night Train had been through its own recent rise in the region on its way into the national conversation. Like it had been in Charlottesville, building from the ground up would be integral for development in Tallahassee. DUF would need to find itself as a program, infusing accountability and drive into a team that had been wavering in relative regional obscurity for some time. Van de Burgt would bring the lessons learned with Night Train straight to the field, using his fifth and final year of eligibility.
Van de Burgt's plans to play evaporated when he tore his ACL at his first scrimmage at FSU in 2009. Surgery followed in January 2010. Then, whether by chance or by fate, he was invited to join DUF as a coach that fall. 2010-2011 would be his first season holding the clipboard.
While DUF welcomed a new coach, leadership spent their time much the way most college teams do early in the year: recruiting. It was taking the better half of the fall semester for the team to chase down a promising freshman. With four years of high school tennis and a sizable dose of ultimate (rare at the time) on his resume, Chris LaRocque joined the team already armed with a flick and a backhand. For those who can remember recruiting in 2010 at the college level, it was still a big deal to find a rookie who already knew the game.
It had been at least six months since LaRocque had played ultimate regularly, whether at pickup or for the team he helped found at his high school nearby. Commitment to the team easily gobbled up four to five days a week and LaRocque had had to forcibly remove ultimate from his life so he could get the hang of school. "You're off on your own, you have no idea how to manage your time and you don't know if school is more important or if Frisbee is more important –you don't know how to manage the two of them at the same time," LaRocque said, reflecting on his beginnings with DUF.
When we spoke after Easterns and with the postseason looming, it was clear that LaRocque thinks carefully and plans well, especially after nearly four years of being in one leadership role or another for Florida State. Even as a starry-eyed freshman, he had the discipline to reign in his various responsibilities and prioritize.
No doubt with some pressure from friends who had joined the team at the beginning of the year, LaRocque took the plunge back into ultimate in the latter half of the fall, feeling that the rhythms of life at FSU had become a bit more familiar.
The dedication began to pay dividends in a remarkably short period of time.
By November of 2011, just barely into his second year at Florida State, LaRocque's role on DUF had ballooned with importance. Though by his account he barely stepped foot on the field, he came back to FSU as one of its most experienced players–he had made the trip to club Nationals with the mixed club team Sabre Corps.
LaRocque had already made his first impression on van de Burgt, back before the season with Sabre Corps. "He showed promise when he was trying out and then our first tournament his freshman year, he had a pretty huge sky right on the sideline in a pack of players and toed the line. Then I realized he could be a special player, but I never saw what kind of player he was going to develop into," van de Burgt said.
That's not to say that van de Burgt didn't see what kind of worker LaRocque was. On the contrary, as much as he is now recognized as a lethal thrower and intelligent on-field leader, his most defining trait may be his work ethic –it's the very thing, according to van de Burgt, that has brought about the star player who recently led Florida State to its first Southeast Regional Championship.
"He's on and off the field one of the hardest working people and has been almost every year he's been on the team," said van de Burgt. More importantly, van de Burgt continued, "He inspires his teammates to work as hard as him."
*
If hard work and commitment to the team are LaRocque's expertise, it's no coincidence that DUF under van de Burgt offered a place for him to flourish. "The biggest thing I tried to do coming in was build accountability," van de Burgt said of his first year coaching. To help DUF grow into a program, the players would need a framework to improve under. Perhaps more importantly, they'd need to show up on time and ready to work. It may sound simple to players that have grown up in fully-developed high school and college programs, but finding the right mix of fun and hard work that eases a team into a commitment to improve –in particular, getting each person to agree to a system that involves consequences for tardiness or missed practices–is difficult when the precedent is just to show up, do a few drills, and hang out.
FSU, like many other Florida programs, began 2010 (and likewise every year since) still teaching basic throws, basic cutting, and forcing to their new players. Dedication and effort quickly became tenets of van de Burgt's team. "We just stress hard work regardless of playing time or outcome…We're not getting the talent that other teams get so we have to work a lot harder to make sure that we're able to perform at a similar level," he explained.
At first, the value of having van de Burgt as a coach came in setting expectations and helping players be more intentional in every aspect of practice, games, and tournament weekends. Even as the more restrictive norms of a hard working team set in, van de Burgt maintained a philosophy that helped DUF evolve. "My philosophy is it's their team, not my team. I think college ultimate is a really beautiful thing because it's so player-oriented. It's up to them what they want to make out of the team and it's not for me to dictate how their college ultimate experience is going to be," he said.
Go figure that that philosophy meshed well with LaRocque's work ethic. He, along with fellow starters Andrew Roney and Connor Holcombe, adapted to van de Burgt's more player-centric culture and system. The team has grown to a point where LaRocque has been making the calls for offensive strategy for over a year, acting both as a captain and field general for DUF.
As the players began to embody the commitment that van de Burgt was striving for, he watched his hands-off philosophy allow the team to take on and then maintain a flair for the unique and silly, keeping the attitude on the sidelines light regardless of tournament or opponent. "They're goofy," he said of his players. "They feel free to maintain their personalities and inject their individuality into our team."
DUF's demeanor off the field as a group, has come to affect their play style and systems on the field. Both van de Burgt and LaRocque noted that the team doesn't run quite as strict a system on offense as other national contenders do. LaRocque's description of the O-line's willingness to trust his rapport with Roney shed light on a team that at times seems to feel out its opponents before adjusting and striking.
"We rely on players more than the system sometimes. That can get us into to trouble, but it works out," said LaRocque.
Where a team like Pittsburgh runs a recognizable reset pattern, DUF often counts on LaRocque and Roney to know each other's spots on the field and trust that each player will be their for bailouts and resets in a high-stall situation. There's a notable element of risk in trusting 1-on-1's to such a degree, but it adds an unpredictability to the Florida State offense; to watch them hum at Easterns this past season was impressive. DUF focused on running deeper lines, trusting their high-voltage offense to score and letting the defense adjust over time before applying pressure and converting breaks.
The starting offense, arguably as talented as any other team's in the division, is a product of five years of slowly building chemistry. FSU's success in scoring is as much as product of consistent coaching from van de Burgt as it is the more intangible elements of cohesion that bind LaRocque, Roney, and Holcombe. But the O-line isn't in question in 2015.
Florida State's defense was what made shockwaves at Warm Up this season, their high flying defensive plays taking them all the way to the final against Pittsburgh. From a program standpoint, van de Burgt explained that explosive, physical defense has become a mainstay — it's where the team starts with its new talent every fall. "That's kind of how we've had to define our team culture the past couple of years…one of the most important things we stress coming into the season is that playing defense and being willing to bid–that comes from what we have to work with as a program," said van de Burgt.
For LaRocque, defensive goals in 2015 have centered around not just the layouts, but also applying field-wide pressure. As DUF has grown into its role as a regional powerhouse, the team at times struggled to see the merit in defense via pressure as opposed to getting big, emotional blocks. "We struggled with it last year because we were so reliant on being more athletic than teams, so we'd let them have free stuff and try to take away downfield stuff," he observed.
With LaRocque's older brother, Drew, back on the D-line and in good health, DUF's chances of finding that more disciplined success through pressure are very achievable. The team will continue to try and increase its D-line efficiency as they head to Milwaukee, combining that with an already smooth and dangerous offense to make a deep run in the bracket.
How far will they go?
*
As a coach, van de Burgt's goals were humble and clear for his team. "The main goal that I always preach is that we improve every single time we're together," he said. "To me that's the most important thing." The national stage was still on his mind, but it seemed clear that DUF's continued improvement every season was the real hallmark for the team's success. Together with his co-coach Matt Childs (who joined the team in 2014 after coaching the FSU women's team), van de Burgt works continually to keep his team focused on the process goals they can control. "As long as they're focusing on doing the right things –every little thing–then the outcomes will take care of themselves," he said.
When DUF gets caught up in the outcome, van de Burgt noted, the team loses focus and hands in disappointing results. At Stanford Invite 2015, where DUF arrived as the subject of much attention after their strong performance at Warm Up, two Saturday losses to Colorado and Wisconsin showed that the team may have fallen victim to outside expectations. They cleaned up their act the rest of the weekend, but missed the bracket.
Since those slip-ups, DUF has only a pair of losses: to Pittsburgh at Easterns and a meaningless one to Florida at Conferences.1 It will be hard for them not to focus on outcomes, though, especially with an early season challenge from LaRocque burning in the back of their minds.
"I challenged the entire team in our first meeting [in the fall of 2014]…to make semifinals at nationals," said LaRocque. He admitted that the team was inspired by Wilmington's 2014 run–DUF had beaten them during the regular season and found themselves watching UNCW peak just at the right time to make it to Sunday night's semifinal against North Carolina. "We saw [Wilmington] make it to semis and knew at that point that we were that caliber team and could make it to that point in the season," he said.2
Even knowing that the team has collected enough talent and experience to send them that deep into the postseason, LaRocque is still a product of the team that he and van de Burgt have helped engineer. At the top of the Southeast, with a six seed in Milwaukee, glory still wasn't at the top of his list.
"This isn't about being the best team and being the team that wins it all — [although] that's what we want for ourselves…We came to college to have fun and meet a bunch of new people, and have fun while doing it," LaRocque said. "[The players] can have fun and be good at the same time. I think that's a culture that Pete and I brought up to everyone."
*
2015 is LaRocque's final shot at the College Championships. It's both a swan song and a chance at truly test the potency of the brew he's worked on for five years with van de Burgt and his teammates, especially after his unfortunate absence at Nationals in 2014. Though success may look the same for any team standing atop the division, FSU's recipe is a blend of van de Burgt's commitment to both hard work and letting the team continue to be itself, carefully combined with LaRocque's talent and leadership. The two have complimented each other during each step of the process, steadily improving the team's results each year until now, where they head to Milwaukee a dangerous team on the hunt to achieve their true potential.
---
They proceeded to destroy Florida in the Conference final. ↩

Last year's results at nationals for DUF were spoiled by LaRocque's absence. He was at a wedding. ↩