Check out which eight games we will be streaming from Milwaukee!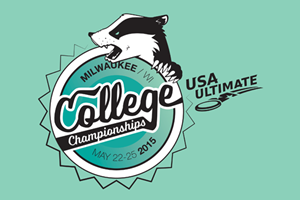 Ultiworld is excited to announce that we will be livestreaming eight games from the 2015 College Championships during pool play, prequarters, and quarterfinals!
All games will be streamed for FREE on our YouTube channel and will be a fantastic supplement to our round-by-round reporting.
We are looking forward to our most ambitious coverage ever at a major tournament. We'd like to thank USA Ultimate for making this possible. We will have a totally optional "tip jar" — if you enjoy our coverage, we would appreciate your support.
Here is our livestreaming schedule — you'll be able to follow all of our coverage on our Live page.
All Times Central.
FRIDAY
10:30 AM: Oregon v. Notre Dame (W)
12:30 PM: Stanford v. Dartmouth (W)
2:30 PM: UNC v. Florida State (M)
SATURDAY
8:30 AM: Oregon v. Florida State (W)
10:30 AM: Texas A&M v. Minnesota (M)
2:30 PM: UNC v. Oregon (M)
5:00 PM: Prequarter (W)
SUNDAY
8:30 AM: Quarterfinal (M)
Semifinals and finals coverage will be broadcast on ESPN3.
***
Note: We did not have much control over the selection of games. USA Ultimate picked games for the showcase field where we will be filming, and we had to choose from those games.