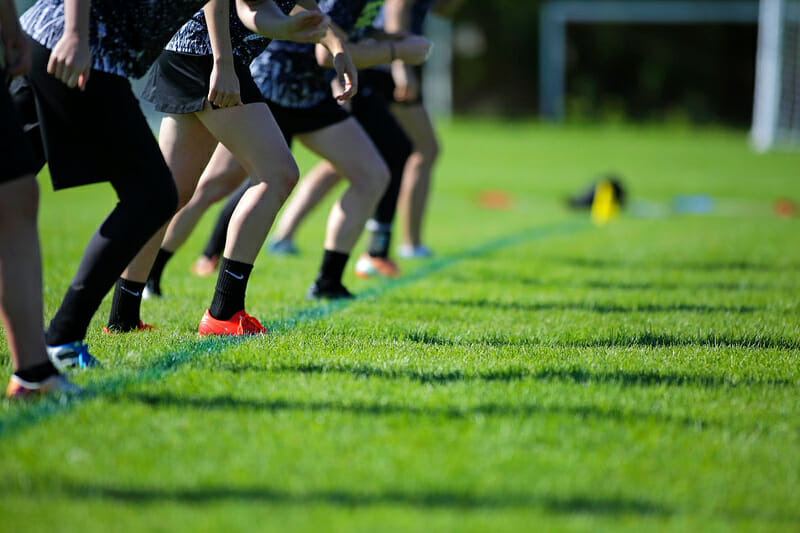 Here's what happened on Friday at the 2015 USA Ultimate D-I College Championships in the Women's Division!
Pool A
Notre Dame gets a little less mysterious
There were a lot of questions about the unknown Notre Dame before they stepped to the line for their first game against the imposing one seed Oregon Fugue. Was their talent up to snuff compared the country's best? Would their unique mental game survive the test of national exposure and media coverage? Could they perform?
The answer today was a healthy yes. They gritted through an intimidating first half against Oregon to tie the game. Despite their eventual loss, Notre Dame proved, step by step, that they deserve to cleat up in Milwaukee.
After their early morning loss, they faced the Central Florida Sirens. Notre Dame hasn't been tested this season by many zone configurations, but when they faced one of the most unique zones in the division, their offense held. Not perfectly. But it held.
The chinks in their camouflaged armor show, and they won't do much about it this weekend. Tomorrow Notre Dame will face Victoria Vixens and the Florida State Seminole Ladies to hold their seed. If they win one of these games, they're set for the rest of their weekend. The hype is real. Maybe.
No Consistency, No Safety
The five games in pool day did little to separate the five teams from one another. Each team showed flashes that they were capable of taking down the others and only Oregon finished the day unscathed. Things are still in the air for Saturday.
For the four remaining teams, their exchange of wins keeps all of them alive for the prequarters, or even more. Notre Dame and Victoria in the best position, with a win over UCF and FSU respectively, but losses to Oregon. Florida State defeated UCF on double game point, but suffered an unexpected loss to Victoria.
More importantly, no team looked that strong. Even Oregon was in shaky situations with Notre Dame and Victoria before big second halves helped them pull away.  The same inconsistencies in execution that have fueled skepticism about FSU made their appearance. The starpower of Victoria – Kate Scarth put on a show Friday – carried them, but the Vixens looked shallow. 0-2 UCF's inability to convert breaks and lack of throwing depth makes competing with elite teams harder.
The remaining games serve key importance. Central Florida vs. Victoria and Florida State vs. Notre Dame will be highly relevant and it is unclear which teams should be the favorite at this juncture.
Pool B
Stanford Looks Dominant
No team looked more in control than Stanford Superfly. Their combined 30-7 aggregate tells a lot of the story; no lead they had was ever threatened. Beating the lowest seed in their pool by a huge margin is no surprise, but the way the Southwest champ handcuffed Dartmouth's offense showed they are hitting their stride.
They confirmed that their defense is vicious and versatile. In person matchups, the combination of Steph Lim, Michela Meister, and Halsey Hoster can frustrate great offenses. Additionally, they mark effectively and apply nervewracking pressure. Their zone is disciplined and Stanford's coaching staff is intelligent in their use of it.
Monisha White really clicked today for Stanford. Her aggressive throwing makes her a streaky playmaker, but she opens up the field in a way none of her breakthrowing teammates do. Zone defenses, particularly, have to adjust to stop her over the tops, freeing up the other handlers to hurt them through the middle.
Things look good for Superfly moving forward. Washington was considered their primary pool play competition, and they were shocked by Middlebury and struggled to close out Ohio State. Meanwhile, OSU comes in winless, having been blown out by the Dartmouth team that barely registered on the meter against Stanford.
Ambitious Washington Doesn't Deliver
When a team seems to be building toward the national finals, the hard truth is they shouldn't find themselves in the mental and actual hole they were in today. For their first day at the College Championships, Washington delivered a close game with defending national champions Ohio State and closed the day with a faltering loss to the five seed Middlebury.
Their game against Middlebury showed a smart, talented team who nonetheless couldn't take over the game. They played their stars, they ran their plays, and they dropped the disc. This game doesn't permanently alter the course of Element's weekend, but it's worth paying attention to. What happened? How did they drop those early points, and why couldn't they rally earlier?
Tomorrow Washington will face Stanford and Dartmouth. They have no more breathing room. Their season rests on two games tomorrow. Washington has proved this season they can run with the best, but it's time to start using their legs.
Pool C
Surprise Shakiness For UCLA
The third overall seed was, for the most part, earned through their big wins over the course of season. But, here and there, some puzzling losses and skin-of-their-teeth wins kept them from being a sure thing. That hasn't changed with the stakes.
Their first game against Carleton was a strong showing. Offensively, Margot Stert and Han Chen were the central pieces of an athletic unit that knew how to stretch the field with well timed deep cuts. The defense was able to grind out a few long points when needed and it was a clear cut victory.
Then came along Texas, the fifth seed in Pool C. Suddenly, UCLA found a team that could grind with them. Texas's smart handler play allowed them to win a few long points where UCLA gave the disc away with difficult throws. Strong defense from both teams kept either from pulling away, but UCLA dug a hole too early to get out of.
UCLA has to find a way to respond. UBC looks very strong and they face a scrappy Pitt team that has more in common with Texas than Carleton. Possession oriented offenses might be able to take advantage of UCLA's reliance on the deep game and on their playmaking speed.
UBC Cruising
UBC came out incredibly strong today, playing the two lower seeds in their pool and decisively showing that so far their placement in the bracket is valid. They were commanding early on, only allowing two points in the first half in both their Texas and Pittsburgh game, and never losing control or faltering.
Kailin Chang, Mira Donaldson, and Amy Luo were key pieces in UBC's playing strategy, but their team is deep enough that goals and assists from today were spread across a number of players. They held Texas to four points total, while Pittsburgh had a stronger second half and got their total up to seven. British Columbia never looked worried, even after the opposing team got pumped up after a score, and they never allowed Melee or Danger to score twice in a row.
These conclusive games are promising for the rest of UBC's weekend, especially given the last part of their regionals showing a few weeks ago. Tomorrow they open against UCLA, who started out the top seed in their pool before falling to Texas. It could be the perfect opportunity for UBC to show what they can do.
Pool D
Kansas Fights Into The Bracket
As the fourth seed in Pool D, Kansas had to ruin someone's day if they hoped to have a chance at the bracket. Today that team was Whitman. Kansas began their morning clawing on the coattails of Virginia, a win they would have loved to have in their back pocket but not one they needed.
Their second chance at redemption came in the form of Whitman Sweets, a team well-matched for Kansas Betty in their strong handler core, grinding downfield defense, and their penchant for upsets. Whitman and Kansas matched in one of the most evenly played games of the day, but Kansas' offense was tough to contain: Caitlin Fitzgerald and Jenni Corcoran earned 10 assists each throughout the day, and Kailee Karr was the division's leading goal scorer with 8 goals on the day.
Both teams had their opportunities for breaks, but Kansas proved their mental mettle. They've earned their place in the pool for now, but with Colorado as their one seed, it won't be enough for Betty. Look for one of the biggest rivalries of the women's division to play out tomorrow evening.
Virginia proves their pedigree
Let's start with the obvious: Alika Johnston was the top contributing player of the day with 11 assists and 1 goal. She was such a treacherous force behind the disc that even the mere threat of her deep throws changed how teams played defense downfield.
But, as Alika has pointed out herself, the team is not just her because they couldn't possibly win that way. Instead she's joined by a veritable army of fast skilled players who have and can take care of business. Kansas kept the game close in the first round with Virginia, but Virginia's offense was too polished and their conversion rate was too high.