We highlighted 14 of the most talented players in the country.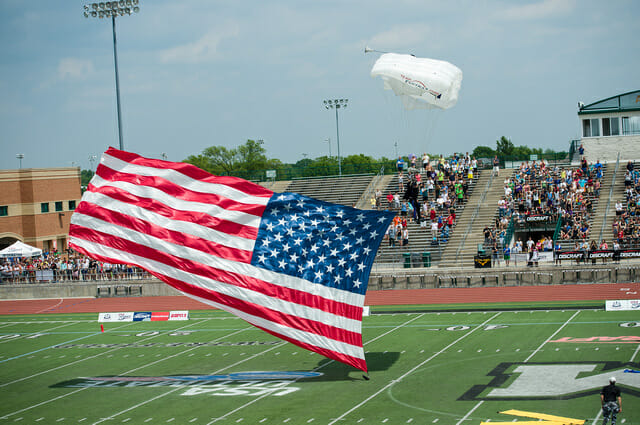 We are excited to announce the 2015 Ultiworld Women's All-America teams, honoring the country's best college players after an exciting season. The selection process included consideration of both the regular season and the USA Ultimate Series, including the College Championships.
Players will receive a custom VC Ultimate jersey as a tribute to their outstanding performance this year.
First Team
Alika Johnston (Virginia)
Why not lead with the 2015 Player of the Year? The Hydra captain consistently delivered top notch decision execution, shredding through defenses regularly. With perhaps the best first step in the division, Johnston was the division's best backfield cutter. Her urgent push for success was the pillar at the center of Virginia's ascension.
Bethany Kaylor (Oregon)
The Oregon senior made the POTY choice difficult with another season of excellence. Kaylor brings a full hand to the table every game, and is one of the country's best players at every stage of the game. Speed, strength, throws, marking, downfield D, she's the most well rounded player in the country. Returning for a 5th year, Kaylor will be seeking her third College Championship next year, an accolade befitting of her rare abilities.
Steph Lim (Stanford)
In her 5th year at Stanford, Lim finally helped maneuver her team deep into Nationals. Centered around her killer array of break throws and outstanding defensive abilities, Lim's quickness and decisiveness helped her lead Superfly, much to the chagrin of the team's they lined up against. With a smile on her face, she was able to dynamically switch fields and run the Stanford offense.
Michela Meister (Stanford)
Right next to Lim was Meister, another dynamic and experienced threat capable of changing the game on either side of the disc. Her throwing abilities have grown increasingly polished to the point where's she become as dangerous with the disc as without it. She's still a tireless worker who churns out yards with her legs or denies them on D. Everybody do the break dance.
Jesse Shofner (Oregon)
A second teamer in 2014, Shofner's game has gotten bigger, badder, and somehow, cleaner. She plays like the game like a cougar stalking prey, that's also being chased by a pack of wolves. There's that much electricity and forward momentum to Shofner's game, and few points with her on don't involve her or disc careening through the air with her signature swagger.
Mira Donaldson (British Columbia)
There's a very real argument that Donaldson is the best thrower in the college women's game with her blend of power and finesse. And yet she's a cutter, consistently finding space to yank away from the defense at the beginning of each possession. Her presence opens the field in a way only a select few players can.
Caitlin Fitzgerald (Kansas)
This season Caitlin Fitzgerald was everywhere for Kansas Betty. She was irreplaceable in their fast-paced, handler-driven offense. She made something happen during every point she played, and she played nearly every point this season for Betty. Many of Betty's closest games only reached double game point because of Fitzgerald's feisty and physical defense. She's not only the player you want on your universe line; she's the player who could play every other point as well.
Second Team
Qxnha Titcomb (Tufts)
The backfield maven for Ewo was clearly one of the top handlers in the division this year. Her throwing talents can match nearly anyone, with an impressive ability to throw effectively at multiple ranges and from multiple angles. Her field vision is truly elite, and maybe the aspect she excels in the most, allowing her to manipulate defenses like a chessmaster arranging the final checkmate.
Lauren Sadler (Washington)
Sadler's defensive prowess is well documented and really no player in the country made a bigger defensive impact on as big a stage as she did. However, she brings a very well rounded offensive game to the field and was one of the leaders in assists at Nationals this year. That motor works just about as well on O as it does on D and leaves foes in the dust.
Julia Bladin (Whitman)
Julia Bladin built the Whitman Sweets from a strong regional team a few years ago into a quarterfinals contender this season. Bladin has all the qualities of a start handler, but she should be remembered and defined by her grit. Bladin seems to win certain matchups by sheer force of will; her defensive intensity bleeds into her offense, and her desire to win is infectious.
Emma Kahle (Washington)
Not enough people know that Emma Kahle is a world-renowned freestyle champion. Seriously. Wikipedia calls her a "prodigy." So her impossibly low breaks through the country's toughest zones make sense, as does her cannon into the deep space. But her veteran field awareness and her crafty cuts come from somewhere else. In her first and final year with University of Washington Element, Kahle made herself the centerpiece of Element's offense.
Angela Zhu (Dartmouth)
The handler leading Dartmouth's charge at nationals sure didn't seem like a sophomore. Between commanding backhands and fast breaks, Angela Zhu has spent her two short years helping to bring Dartmouth into the national discussion. Her composure and her power behind the disc gave Princess Layout a strong base to work off; she will likely become the hub handler to shut down in the next few seasons.
Emily Buckner (Carleton)
The development of Buckner's skill set really gave defense's fits all season long. Excellent hands, a lot of length, and really strong throwing made her a strong and reliable offensive weapon that seemed capable of bailing Syzygy's offense out of any jam. She's also not afraid to get physical and has excellent footwork on both sides of the disc, adding a more explosive element to the Syzygy style.
Sarah Hansen (Virginia)
The definition of a workhorse cutter, Hansen was already a top cutter and downfield defender. Great speed, even better endurance, and aggressiveness made her a threat on either side of the disc. Her increased throwing aptitude made her a great downfield centerpiece for Virginia, helping her facilitate disc movement with the space her athleticism forced defenders to grant her.