The level of girls' ultimate continues to rise.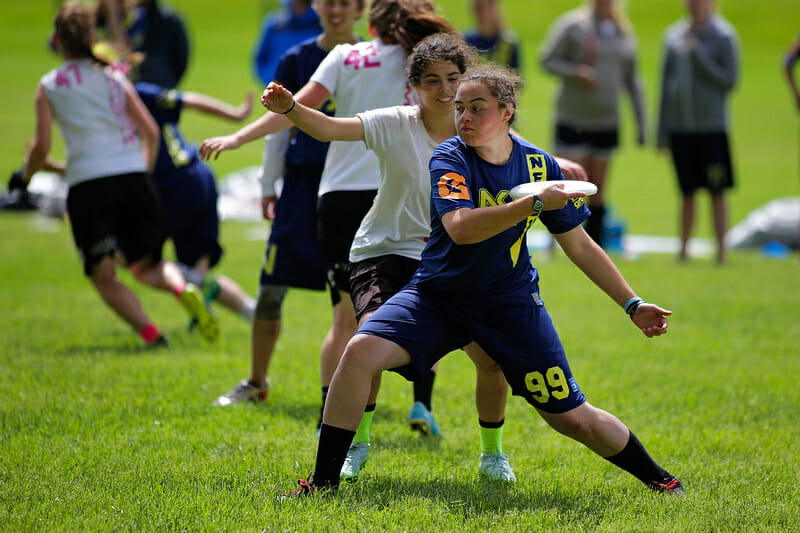 With wind gusts up to 25+ miles per hour, the High School Central Championships were filled with impressive upwind breaks, intense competition, and countless games that went to hard cap. The level of competition displayed over the whole weekend, especially in the semi-finals, showed just how much talent has been rising on the girls ultimate scene.
Neuqua Is The Team To eNVy
This weekend was a weekend of firsts for the Neuqua Valley ladies. They took home their first ever Centrals title and beat longterm rivals, Holy Family Catholic, for the first time as well.
eNVy played strong all weekend, coming in first in their pool by barely scraping past Edina. They beat St. Paul Charter in the most exciting game of the tournament in the semis. Neuqua was down 0-4 at the start, and 7-3 at half. The St. Paul Stars offense easily crushed the Neuqua zone and seemed to be moving too fast for the Illinois girls. However, right out of the half, the eNVy girls then scored four in a row to tie it up 7-7. St. Paul Charter scored but hard cap went off during the next point: 8-7. Neuqua rallied back and tied it up at 8s, which led to a double game point situation. After countless tries at their endzone, Neuqua came out on top to move onto the finals. The championship game against HFC was mainly about trading downwinds, and with an upwind break before half, NV was put on the path to victory and the team came out for the title with a final score of 9-6.
Holy Family Falls Into Second
The Omega girls continued to show their intense level of playing by easily taking the first spot in their pool. Their beautiful continuations in the wind were instrumental throughout the weekend and helped them easily defeat any team that stepped up to face them. By utilizing the fast break and finding holes in zones, these ladies continued to play a smart yet fast game. The Holy Family Catholic girls faced a thin-rostered Edina in the semi finals and defeated them 12-5. Holy Family moved into the finals, just like last year, but this time to face long time rivals Neuqua Valley.
The team started out strong, looking as if they were going to again defeat the NV girls, but struggled with Neuqua's tough zone. After a Neuqua upwind break, they lost momentum and half, 5-7. The HFC girls started to run out of steam. They still fought hard, but it wasn't enough; the final score was 9-6, Neuqua Valley. The Samson twins and Emily Dorsey played critical roles leading their team throughout the tough final games and deserve mentions for their accomplishments this weekend.
Third Place Shine For The Stars
The zone offense shown by St. Paul Charter was one of the most effective shown by any team this past weekend. With only losing to the two top seeds, HFC and eNVy, this team has a lot to be proud of this weekend. Not only did the Stars demonstrate smart playing, they displayed an incredible amount of athleticism.Jian Kettunen was a prime example of this as she was constantly everywhere on the field and never slowed down- causing defense to trail on her consistently. There is a lot to look forward to for the St.Paul team, and next year, they will definitely be out for blood.
Edina Plays Tall
The Edina girls from Minnesota finish in the fourth place spot. Like St. Paul Charter, this young but talented squad only lost to the eventual second and first place teams. This team showed up and had a major advantage of height to majority of the teams they faced. Their huck-based speedy offense often caught teams on their heels and their athleticism was unmatched. Because of injuries and low numbers, they forfeited the third place game against St.Paul, but this weekend confirmed that this team is definitely one to be careful when dealing with.
Cathedral Steps Down
Last year the Cathedral girls came in second, but this year finished in fifth. It took possibly one too many games for this team to find their groove, as they ended pool play with a 1-3 record. This young group got their offensive flow going on Sunday and clinched an important win against Hopkins in the fifth place semis and then went on to handily beat AU gold in the fifth place game. The younger members of the team have started to take on bigger and bigger roles on the field, and as they improve, so will the team as a whole.
Robbinsdale Fighting Back
Robbinsdale Armstrong finished 2-3 in their pool, but their confidence remained unshaken as they beat South in the fifth place semis. Despite the loss of some key senior players from last year, AU gold showed extremely impressive disc movement throughout the whole weekend. These girls started out strong by beating South Squall 8-7, but ultimately lost to Cathedral in the fifth place game.This group of girls have multiple great components of a fantastic team, and once they figure out how to put it all together they will become a definite force to watch for next year.
Hopkins Hustles Hard
With an impressive 3-2 finish in their pool, Hopkin's handler movement was one of the cleanest out there. They played a clean game this weekend but lacked intensity as the weekend wore on. The Edina girls were just too fast and too tall and took the second place finish in their pool away from them. They lost to cathedral, but ended up with a win against Minnesota South. If hERT can step up on their offense, it is only a matter of time until you see them in the top four at centrals in the upcoming years.
South Showing Up
Minneapolis South Squall had a decent showing this weekend and has shown definite improvement from last year. They finished even in their pool, 2-2 but eventually lost to AU gold 8-7. Offensive connections were key for these ladies this weekend, and their spirit on and off the field continued to help them rally through tough games against upper seeds. The end scores do not truly reflect the rallying fight of the South Squall girls and it is exciting to see where they will end up next year.
Memorial Staying Modest
Madison Memorial struggled through pool play, finishing without a win. They ending up losing to Cathedral in a heartbreaker and were out of the running to be in the fifth place game. In the round robin, the Madison girls beat both Walter Payton and Center Grove without much struggle. Memorial has gotten the hang of beating lower seeded teams around their level, but do not have the clean play that is required for bracket competition just yet.
Walter Payton Working Slowly
With being a second year team, the Grizzlies came into Centrals mostly looking to continue growing.They went 0-5 in pool play, not scoring more than 4 points on a team. However, they stepped their game up in the consolation round robin and beat Center Grove to take tenth place. The wind and high level of competition were both a bit too tough to face for the Grizzlies, but the girls persistence never wavered and will continue to grow over the coming years for sure.
Center Grove Stays Spirited
With also being a newer team, the Holy Mackerel girls found the competition extremely difficult. However, they put up strong fights in pool play against Au Gold, and hopkins. They beat the Grizzlies in pool play, showing a cleaner core. They lost close games in the round robin 7-8 Memorial and 5-6 Walter Payton, ended up last. The ladies won the spirit award.
Closing Thoughts
This past weekend was the most explosive finish for the end of the high school season. These girls have shown an enormous amount of dedication and love for the game along with their spectacular playing.Expect next years centrals to be just as, if not more, exciting and memorable.