A traveling women's college all-star team could make the rounds in July and August.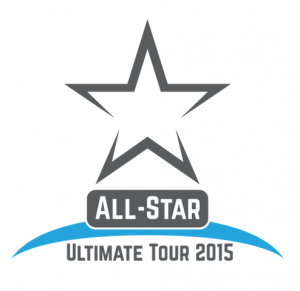 It's been talked about for years: a NexGen Tour for women's players. Now it could become a reality.
The All-Star Ultimate Tour would send 15 elite college-aged women around the country to face off against top club teams in showcase games in cities from Vancouver to Boston. The nine games played would all be filmed and livestreamed for free.
Tufts graduate Qxhna Titcomb (2015 U23 Mixed, 2015 Team USA Beach) is the project's creator. For five months, she's been planning the Tour. "We've seen a generation of players that have become well-known through the NexGen Tour and become role models for a lot of players, both male and female," she said. "And if you look across the board, there is a lack of visible female role models…I hope that [the Tour] does something good for the sport and lets people follow along and get bought into women in ultimate."
The All-Star Ultimate Tour is seeking $35,000 in funding from the crowdfunding website Indiegogo in order to pay for expenses, like the 15 passenger van Titcomb has already bought.
The current roster includes the following 12 players:
Jesse Shofner (Oregon)
Qxhna Titcomb (Tufts)
Alika Johnston (Virginia)
Jaclyn Verzuh (Dartmouth*)
Hannah Leathers (Georgia)
Hayley Wahlroos (Oregon)
Stevie Miller (Ohio State)
Caitlin Fitzgerald (Kansas)
Lisa Pitcaithley (UC Santa Barbara)
Dori Franklin (Colorado)
Megan Cousins (Colorado)
Erynn Schroeder (St. Benedict)
*Rising freshman
Titcomb hopes to round out the roster to 15 before embarking on July 27th. Getting players to commit has been "challenging," she said. "I don't know every single player in the country, and people are really busy with jobs, club season, and U23 Worlds."
The Tour will run from July 27th through August 12th and go through nine cities: Seattle, Vancouver, Portland, Denver, Atlanta, Raleigh, Washington, New York, and Boston, in that order. Austin is a possible addition after the Denver stop if the local club team, Showdown, can make it work.
Titcomb is hoping to maximize exposure for the Tour and the games by offering free livestreams. "I'm trying to make the barrier to access as low as possible," she said.
She's already test driven one of the Tour's two vans on the five hour trip to Solstice with her club team, Seattle Riot. She learned a lot — the seats need to face forward, which buttons do what. And it has air conditioning. "That was a huge hit," she said.
With just three weeks on the clock for the Indiegogo campaign and U23 Worlds (where she will compete) in just a couple weeks, you might expect Titcomb to be worried about getting everything ready in time for the launch of the Tour in just over a month. Nope — she's optimistic, and determined.
Although she feels confident that the Tour will raise the full $35,000, she said, "I think that if I didn't get all the money, I would still find a way to do it because I want to do it and I think it's a good thing for the sport. And I think the people I have on board are also excited for it. I'll make it work."
There is a bigger vision at work as well. As the website explains:
Our work is part of a greater global movement. The All-Star Ultimate Tour 2015 is an opportunity to show the world how powerful and skilled female athletes are. Gender inequality is a reality. This project is a step in the right direction for our sport, but we hope that the empowerment it facilitates reverberates beyond the ultimate community and plays a part in the global movement for gender equality.
"If you want to do something, you can't wait for somebody else to do it for you," Titcomb said. "So this is an opportunity to see something that I think is missing and make it happen."
UPDATE 6/26: The Tour has added Erynn Schroeder to the roster and reached 83% of its funding goal.
UPDATE 6/29: The crowdfunding campaign reached its goal today after a $2600 donation from Boston Whitecaps players and staff pushed it over the finish line.