An early look at the South Central region.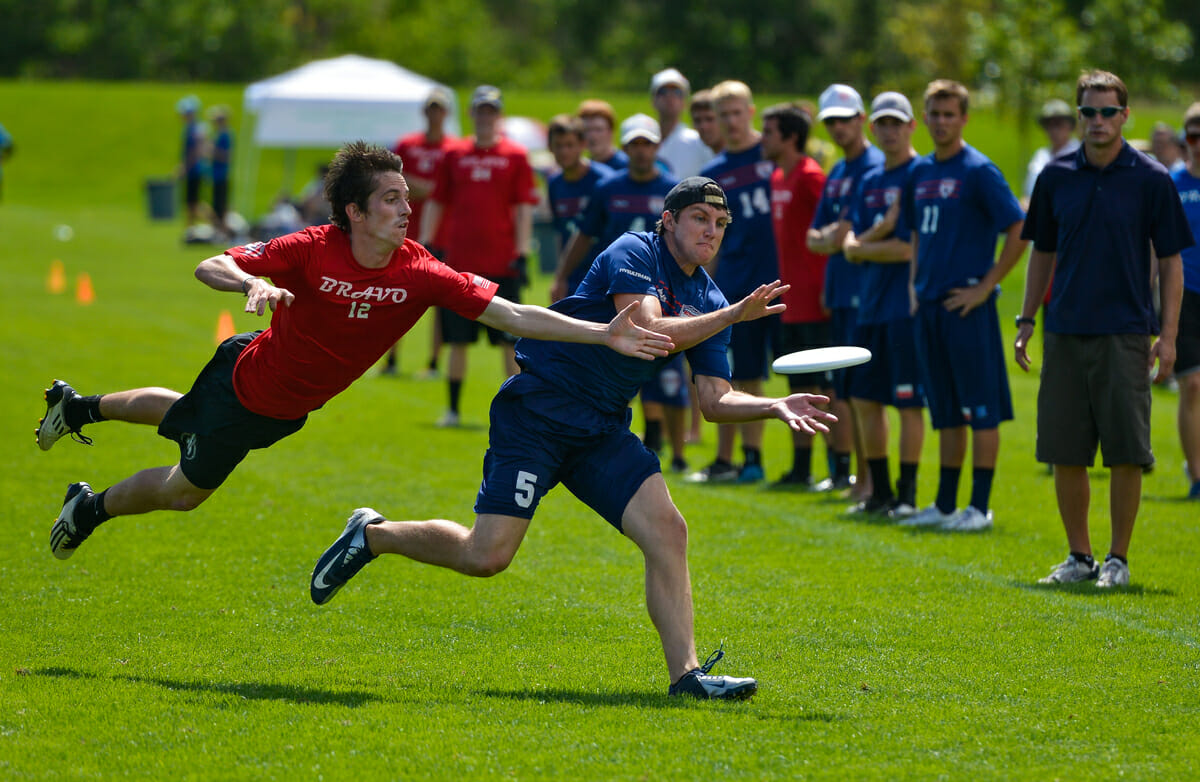 New blood is healthy in Ultimate. It keeps the sport moving, growing, and adapting. For the most part, since USA Ultimate restructured the regions in 2012, the men's club division has maintained a healthy level of balance. In most regions, the traditional contenders have had to fight for their spots to Nationals, and most years, a noteworthy team gets left behind. However, that is far from the case in the men's South Central region.
Since the restructuring, the South Central region has had two bids to Nationals each year. And every year, those two bids go to Denver Johnny Bravo and Austin Doublewide. No contest. Not even close. The only question every year is who will finish first, and who will finish second. Frankly, it's getting boring.
Yet the winds of change are sweeping across the ultimate landscape, with Select flight teams like Kansas City Prairie Fire and Pittsburgh Temper qualifying for the show last season. Newer clubs are realizing they've got a shot at running with the powerhouses. Will Johnny Bravo and Doublewide continue their chokehold over the South Central region? Or is this the year we finally see somebody new?
The Stalwarts
Doublewide
This offseason for Doublewide is one of returns. Kurt Gibson, Kiran Thomas, Kevin Richardson, and Ryan Bigley all return to play with Doublewide after a season (or two) on other teams. Not that Thomas, Richardson, or Bigley are slouches, but let's be honest: Kurt Gibson is the real marquee acquisition out of this group of prodigal sons. Gibson has got it all: speed, throws, defense, and leadership. You can plug him in anywhere and he instantly changes your team. He led Bravo in goals at Nationals, and was near the top in assists as well. His return to Austin instantly shifts the balance of power in this region, and Bravo, who was the clear favorite last year (regionally and nationally), is suddenly looking a lot more beatable.
Doublewide also picked up seasoned vets Brandon "Muffin" Malacek from Ironside and Matt "Skip" Sewell from Sockeye. Muffin's flick huck is among the best in the game, and Sewell's years with Seattle should prove valuable to a Doublewide team that was sorely lacking in experience last year. Finally the arrival of Mike Ogren, the former UCF standout, caps an incredibly productive offseason for the boys from Austin.
You can almost call the fact that Will Driscoll is coming back a "return" of sorts. Driscoll has moved to Oregon, and for a while it was looking like he might play for Portland Rhino a lot closer to home. But he just announced that he would suit up with Doublewide again this season. That's huge.
At Nationals last year, he led the team in both goals and assists, and not by an insignificant margin. He's more than just an athlete. He has the vision and size to throw to anywhere on the field, and the decision making to match.
Add to those players another big thrower in Ryan Purcell, huge bodies in Ethan Pollack and Kevin Richardson, and a stacked and athletic D-line filled with guys like Drew Watson and Michael Matthis. A very strong season leading TUFF should give Chase Cunningham a larger role on this team as well.
Bottom line: Doublewide, after a down season in 2014, looks to get back to their usual dominance out of the South Central after amassing an impressive collection of offseason roster pickups.
Johnny Bravo
If the story of Doublewide's offseason is who they picked up, Bravo's theme is quite the opposite. For the past two off seasons, Bravo has been the Miami Heat of ultimate, amassing stacked lines filled with players from all over the country. Nick Lance, Sean Keegan, Kurt Gibson, Brett Matzuka, Bart Watson and Brodie Smith all recently played for Bravo for at least one season, after either moving to Denver, or commuting for the season.
While this approach to rostering is admittedly controversial, you can't argue with the results. After working through some early season chemistry issues, Bravo went undefeated at Nationals, and claimed the 2014 national title. However, after two years of offseason drama, 2015 marked a dramatic change from this formula.
Kurt Gibson is back in Austin as is Brodie Smith, who had planned to play for Doublewide before he tore his ACL. Bart Watson is retiring and Brett Matzuka is gone as well (the latest rumors have him attached to Prairie Fire). These four veterans are enough to make or break a team. We've discussed Gibson's role on the team above, and Watson is one of the most storied and decorated players in the game. While Smith has been maligned for his fragility, there is no doubt that when he is on the field and healthy, he is an instant difference maker. Matzuka's move robs them of one of the craftier throwers in the game.
Finally, longtime Bravo players Tim Morrissy and Jack McShane will also be departing, removing some key athletes from the squad. I think it's safe to say that Bravo lacks the abundance of star power they have had over the past two years.
Don't get me wrong: the team still has a wealth of playmakers. Keegan and Lance remain alongside Bravo stalwarts Jimmy Mickle and Josh Ackley. Pawel Janas, Stanley Peterson, and a host of other Colorado Mamabird graduates (most of whom have a College National championship under their belts) fill out this team with gritty, athletic defense and high ultimate IQ. The chemistry among these Colorado guys is unquestionable.
Rhino stud Ben Lohre is new to the team, as is UNC standout Ben Snell, but they won't have the same impact as guys like Matzuka, Watson, Smith, or Gibson. Bob Krier is a strong coach and the Colorado chemistry and camaraderie should do wonders for this team, especially in the early season (plus Jimmy Mickle is pretty darn good) so expect Bravo to be up to the task of defending their national championship. However, it will be a tough road without the likes of Matzuka, Gibson, and Watson.
The Contenders
These teams, all of which are in the select flight, finished in a cluster in last year's TCT rankings, hovering right around 30th. Some have inarguable talent. Some have a dearth of experience and consistency. But none have currently managed to finish higher than third in the region.
Dallas PLEX
Plex's results last year at Regionals were unspectacular, finishing behind Inception and H.I.P., but there is no question they are talented, established, and disciplined. They are a committed team, and their 2015 schedule absolutely reflects that, with trips to Columbus in July for the Elite-Select challenge, and Arkansas for the Select Invite in August. Strong showings at these two tournaments, with a win or two against Elite flight teams, could be potentially be enough to start approaching the top 16.
Their early returns at this past weekend's Texas 2 Finger show a team still on the cusp. They defeated Space City Ignite and Southern Hospitality, but lost big to Kansas City's Prairie Fire, the tournament's #1 seed, twice. They also lost to perennial Nationals contender, the Santa Barbara Condors.
Still, Plex are one of the few teams in region capable of making some noise against Bravo or Doublewide at Regionals. Kevin Richardson, their premier deep threat, left Plex to return to Doublewide, but in response, Plex grabbed former Doublewide player Andrew Amerson and scored Matt Hudspith from Prairie Fire. Chris Larberg, Kevin Christian, and Kai Marshall from the University of Oklahoma were noteworthy fixtures in the college division. They have 14 rookies on their roster, which might cause some early season chemistry issues, but also is an indicator of the size of the talent pool which they are drawing from. Their roster, loaded with former college stars (many of whom received all-region nods during their time in school) from UNT, Texas A&M, Oklahoma, and UT shows off their considerable recruiting reach and strong reputation in Texas and Oklahoma.
Houston H.I.P.
H.I.P. is fun, and H.I.P. is dangerous. Led by the Bennett brothers — Chris, Matt, and Mitchell — this team consists of mostly players with Texas A&M or University of Texas connections. Matt Bennett, fresh off a season where he gained even more attention as the most creative thrower in the college game, will continue be lethal for these guys. His loose on-field demeanor trickles down through the entire team. How could you not have fun playing on a team where your center handler can get you the disc anywhere on the field?
In addition to the Bennetts, H.I.P. has Joel Clutton, the (literally) huge cutter out of TUFF who many compared to Will Driscoll. From A&M, crafty handler Thomas Slack joins his backfield partner Matt Bennett, and expect Ben Lewis, who had perhaps the most ridiculous catch of college nationals this year, to continue to rise as a cutter. Finally, Reid Bacon, formerly of Doublewide, joins H.I.P. this year, adding another super athlete to their roster.
Whereas H.I.P. of the past was largely considered a summer outlet for Dozen and TUFF players, many of these guys have already graduated, and club season is now the focal point of their year in ultimate. Expect a more disciplined and serious H.I.P. squad this season (though with Matt Bennett around, there is no doubt this will still be a fun team). Their true test will be the Select Flight Invite in August, where they will show if their unquestionably talented roster can match up on a national level. Expect big things out of H.I.P. this season.
Denver Inception

Inception's roster is solid, with little turnover from last season besides the loss of former Mamabird handler Wes Chow as well as Calvin Delamere and Todd Wolma, who both play for Bravo now. Mark Rauls, of Mamabird fame, will be looking to show out after a season where he was unable to play in the college Series. Plenty of other Colorado alums round out this roster including Matt Bubernak and Oak Nelson.
Unlike Plex or HIP, whose rosters are filled with former all-region college players, Inception seems a little less flashy. But to be sure: they've got some absolute ballers. Inception's strength isn't necessarily the names on their roster, but the results they put up and the consistency with which their team buys in season after season. They prove to be a constant force regionally and nationally, seemingly always playing well against the best competition.
Inception has historically been the third team in this region, behind Doublewide and Bravo. At Regionals last year, they almost flipped the script, nearly upsetting Doublewide in pool play, but then falling short by a larger margin in the game to go. Their near upset against Doublewide wasn't the only proof that they can play against elite competition: in 2014 they almost beat Madison Club, Condors, High Five, and Truck Stop. With revenge on the mind, expect them to get in good results at the Select-Elite Challenge and the Select Invite. Like Plex, their strong schedule gives them the opportunity to get a third bid for the region, so with some strong showings at those two tournaments, the South Central could end up with three spots to nationals for the first time since the redraw
Early Regional Picks
Bravo and Doublewide are stacked as usual. Expect them to both be contenders not only for the Regional crown, but also the National Championship. H.I.P. and Plex have the athletes to pull off an upset at regionals, but they won't do it twice. Inception has shown remarkable consistency against high level competition, but with the talent Bravo and Doublewide gained this offseason, it doesn't seem like it's in the cards for the second team out of Denver.
However, if Prairie Fire last year is any indication, a third bid could be attainable due to the strong schedules of both Inception and Plex (and to a lesser extent, H.I.P.). If any of those teams manage to notch some strong wins at the Elite Select Challenge or the Select Invite, the region could see a potential third bid. If that's the case, expect H.I.P. to swoop out of the shadows at Regionals and snatch up the third remaining spot to Nationals. Matt Bennett will delight further audiences in Frisco.
Final Regional Standings
1. Doublewide
2. Johnny Bravo
3. H.I.P.
4. Inception
5. Plex