The club season kicks off in Cincinnati!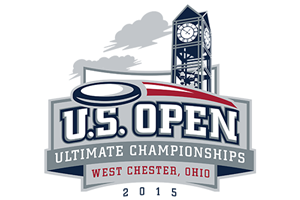 The club season gets underway in earnest this weekend at the US Open, as the top teams from each division will kick off the first leg of the Triple Crown Tour. The action at hand will give us our first chance to see familiar faces in new jerseys, new stars emerging on the club scene, and the beginning of the 2015 season.
It was a particularly volatile offseason for many of the top Men's teams, with news of significant roster shakeups coming to light over the last few months. The US Open gives us a chance to see how these teams will react to their new personnel, and an idea of what the final product could look like by the end of the season. The rosters moves that have dominated discussion in the preseason have left us with plenty of questions, and it will be exciting to see some answers start to take shape on the field.
Can Bravo Stay On Top?
Last season everything went right for Denver Johnny Bravo, as their ballyhooed acquisitions coalesced with their returners and brought Denver its first ever club championship in the Men's division. This year, a good chunk of their 2014 stars are gone, and the holes they leave on the field present some interesting challenges for Bravo.
With Kurt Gibson, Bart Watson, and Brett Matzuka all out the door, there are some openings for offensive handlers. The easiest solution may be to bring Nick Lance over from the D-line and give him the keys, but Lance's ability to run the D-line offense last year was a huge part of Bravo's success, and his explosive game is probably better suited to defense.
Bravo rookie Ben Snell had a very impressive end to the college season this year with UNC and his ability to move the disc provides ample angles of attack for an offense, but Snell has never truly been "the guy" on an O-line. Stepping up and taking that responsibility for the defending champs would be a hell of a baptism for Snell.
Whatever coach Bob Krier and the team leadership decides to do, you can bet that Jimmy Mickle will play a big part in the team's offensive schemes, and he may have even more to do on offense this year than in 2014.
What Does Ironside Look Like Now?
After coming oh-so-close last season to finally winning the championship they have been chasing for eight years, Boston Ironside enters the 2015 season markedly different from the squad that came without a few points of winning the title last October in Frisco.
Following eight straight semis or better finishes at Nationals, none of which resulted in a title, there were discussions that Ironside needed to shake things up if they were ever going to get over the hump. Boston certainly looks shook heading into the season, and probably not in the way people envisioned. A program known for its consistency and commitment to a few fundamental principles is suddenly entering a radical rebuilding stage. Not only did they lose several of their top veterans in George Stubbs, Russell Wallack, and Brandon "Muffin" Malacek, they also lost some of their promising young players, including Jeff Babbitt.
Where does this leave Boston? This weekend may give us some of the picture. It will be interesting to see whether or not the coaching staff will change the team's rigid tactics to suit their new personnel, or if they will simply try to find like-for-like replacements for the roles vacated by the missing stars.
Who Looks Ready To Improve On Last Season?
Behind the two 2014 finalists sit Toronto GOAT, Raleigh Ring of Fire, and San Francisco Revolver. Each of these teams ended their seasons a little earlier than they would have liked, and this weekend we get to see them begin their quest to improve on their 2014 finishes.
The odds-on favorite to emerge from this group, and Ultiworld's #1 overall team heading into the season, is Revolver. National champions three out of the last five years, Revolver has been a model of consistency in the club game, in terms of both their results and their roster. Their shock loss to GOAT in the quarterfinals at Nationals last season derailed their quest for back-to-back titles, but they look ready to redeem that defeat and then some this season.
The team brings back virtually every key player from 2014, and adds two big pickups in Christian Johnson and Jamie Quella. If Johnson is going to be a key O-Line cutter for Revolver this year alongside the likes of Beau Kittredge and Simon Higgins, he will need to develop chemistry with the offense and the Revolver system. This weekend will be a good chance to see how his unique skill set meshes with what was one of the best offenses in the game last season.
The team that knocked out the favorites from the Bay, Toronto GOAT watched it prospects for this season take a dip when the news broke that 2014 1st Team All Club star Mark Lloyd was out for the season with a torn ACL.
With Lloyd gone, the team's ceiling seems to be lower, and making a return to the semifinals look like a tall task. But GOAT has defied expectations before, and while they haven't made any earthshaking acquisitions yet, they often bring a key player or two aboard for the Series.
This weekend it will be interesting to see how the team's offense responds to losing Lloyd, and whether or not they will try to make up for his loss of production by elevating one player1 into his role, or by spreading touches out across their O-line.
Ring of Fire surprised some people last year by making the semifinals, and despite retaining most of their players this season they are still perceived as being on the outside looking in when it comes to spots in the semifinals. A good performance this weekend would put to rest fears of a regression year and remind people that this is a team that has been to the semifinals twice in the past three years, something that can only be said of Revolver, Ironside, and Johnny Bravo.
Ring may be going through a bit of a generational sea change this year, as the newly crowned UNC players along with breakout AUDL stars Justin Allen and Terrence Mitchell are in the ascendency. How much of a role the young guns play this weekend will be interesting, as we may be seeing a departure from the Ken Porter, Micah Hood, Taylor Pope-led Ring of years past.
Is Truck Stop The Real Deal?
A trendy semis pick this year after a dynamite offseason, Washington DC Truck Stop will have some high expectations coming into the weekend.
Last season Truck really struggled with D-line efficiency, failing time and time again to punch in their break chances. In their quarterfinal defeat to Johnny Bravo, that weakness cost them dearly, as they lost by only two points in a game in which their break conversation rate was a paltry 1/8. With the addition of players like Nate Castine and Seth Wiggins potentially bolstering that defensive unit, Truck Stop will be itching to get another chance at Bravo.
The first round on Thursday will give them just that opportunity, as Denver and DC will lock horns in the first game of the weekend. A win for Truck Stop in that game followed by a run into the semis and beyond this weekend would go a long way towards proving that Truck really does have what it takes this year.
Who Will Emerge From The Second Tier?
Of the remaining Triple Crown Tour teams playing this weekend, Pittsburgh Temper will likely have the most buzz entering the weekend following their merger with Dire Wolf. With lots of young talent from the University of Pittsburgh pipeline ready to prove themselves at the next level, Temper will be looking to make some statement wins this weekend the way they did at Nationals last fall.
After some down seasons, Vancouver Furious George will be looking to rebound in 2015 on the backs of their scary talented young players, headlined by Darren Wu and Gagan Chatha. Unfortunately, it seems that the Monkey will be bringing a small roster that does not include several of their young studs. This dampens Vancouver's expectations this weekend, as well as what kind of lesson we can take away from their performance.
New York PoNY is also in a bit of a rebuilding phase this year, losing nine players from last year's squad and bringing in several new faces. PoNY has been a very solid team the past few years, but has generally lacked the star power to knock off the best of the best. Picking up Chris Kocher from Truck Stop helps, and it will be interesting to see how they deploy him this weekend.
Can Any International Teams Make Waves?
Teams from Great Britain, Colombia, and Germany will make their way into the heartland of America to play against the best the US and Canada has to offer. Of the three, team Great Britain has the best chance of doing significant damage this weekend, especially after beating PoNY 17-15 last weekend in a high intensity scrimmage. Ultimate in the UK has been steadily growing, with the national team making it to the finals of the WUGC Championship in 2012 and Clapham giving Revolver everything they could handle at Club Worlds in 2014.
While some of the US teams may take this weekend lightly, as a chance to trot out new players and experiment with new tactics, the international teams will use it as a chance to showcase the growth of the sport in their respective countries. Don't be surprised if one of these passionate teams is able to come away with an impressive win or two over a favored US opponent.
Watch Ultiworld's free live video coverage of the US Open on Thursday, July 3rd and Friday, July 4th!
---
Maybe Isiah Masek-Kelly ↩