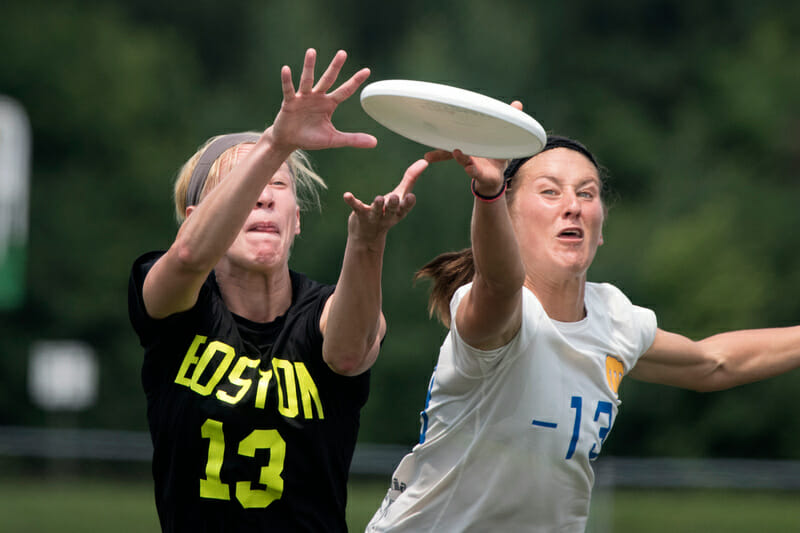 WEST CHESTER, OH — Aggressive early defense and stingy offense led San Francisco Fury past Boston Brute Squad 15-13 and into the US Open final on Saturday afternoon.
Alex Snyder paced the Fury offense, which conceded just a single break in the game, with two goals and four assists.
The game may have been decided early, as Brute Squad's offense struggled on its opening two points, turning it over three times. A hold on the first point was not enough to shake off the slow start, and a midfield turn yielded a break as Fury's Carolyn Finney floated an off-hand backhand to Ness Fajardo at the front cone to take a 2-1 lead.
That would be the only break of the first half as Brute's offense settled in behind strong play from Lien Hoffmann, who finished the game with a gaudy three goal, three assist, two block performance. Still, Fury was effective at generating turnovers and often forced Boston to play long, turnover-filled points. Fury's offense looked the opposite: patient and efficient. They turned it over just twice in the first half.
"Our defense forced them out of their game plan," said Snyder. "We were doing a lot of force middle and we tried to throw a lot of different looks: a few different junky looks and just trying to get them out of that first look. You know they're a really athletic, fast, strong throwing team so they're looking to run and gun and put those deep shots. We were just trying to slow that down a little bit."
Brute Squad had a chance to break at 4-4 when a Fury swing pass at midfield was too low. But an Emily Baecher huck went out of bounds and Fury marched back up the field. Sabrina Fong got a hockey assist with a wrap-around backhand break to Amber Sinicrope, who hit Manisha Daryani for the goal.
Fury added to their lead in the second half with two quick goals out of the intermission. Fong hit Sarah Carnahan with a hammer for a score to hold on offense. A huge red zone defensive stand followed on Brute's offensive point, and Boston turned it over on a reset. Elisabeth Duffy found Fajardo for the 10-7 lead.
Brute would finally score a break to close the gap to one after an odd stall out on Anna Nazarov. A stoppage earlier in the play seemed to throw off Nazarov, who never looked for a reset as the stall reached towards ten. Baecher picked up for Brute Squad and was forced into throwing a high stall helixing scoober to the break side in the endzone. Flannery McArdle beat her unsuspecting defender to the spot and snagged the front edge of the disc for a score.
Boston had excellent chances to get it even at 12 a piece. First, Nancy Sun overshot a wide open Carnahan. Brute Squad worked it down the field but Sinicrope threw it away on the goal line. Then Fury's Alden Fletcher dropped an easy pass in the endzone, giving Boston another chance. Again, they failed to convert.
With just two Fury offensive points left to attack, Brute wasted one as Baecher's outside-in pull never returned to the field of play, giving Snyder the disc on the attacking goal line. One throw later and it was 14-12, Fury, then quickly 15-13.
Snyder was directly involved in three of the final four points for Fury and looked like a dominant force on the field. That could be surprising considering she is coming off of some major knee problems from last season.
"I'm actually pleasantly surprised at how I'm feeling right now," she said. "I definitely started the season pretty unsure if I was even going to be able to play. I'm still trying to work through some knee stuff. I'm definitely not in the physical shape I want to be in in general, but right now I'm just trying to stay healthy. The end goal is Nationals where I want to be 100%."
Fury will get a rematch with Seattle Riot in Sunday's final. Fury lost to Riot 15-10 in pool play after going down 8-1 at halftime.