The US Open was an awesome way to kick off the 2015 season.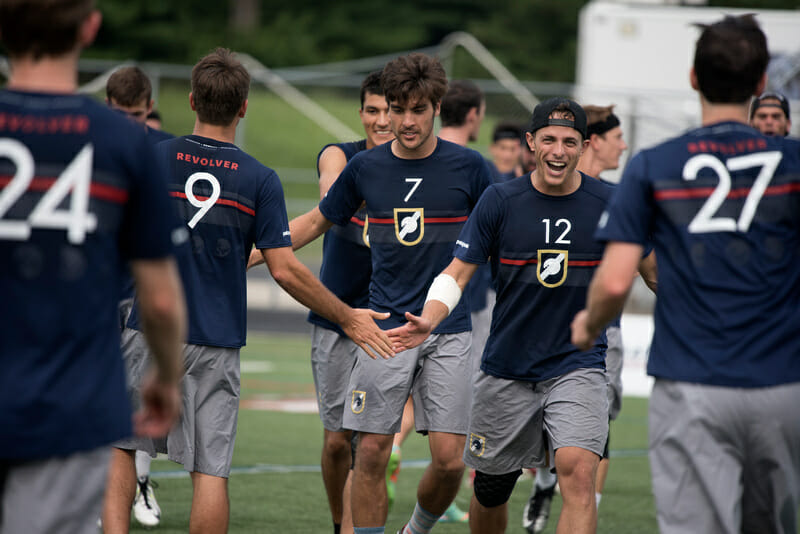 Going into the US Open last weekend there were many questions hanging in the air. Which teams had improved, which teams had taken a step back in the off season, and which teams were real, genuine, title contenders. We don't have all the answers after just one tournament in early July, but there are some definite narratives coming out of the US Open, both because of things we think we now know, and things that are still a mystery.
What We Know
Revolver Is Terrifying
Winning the US Open is becoming a habit now for Revolver, as they have emerged victorious from the first leg of the Triple Crown Tour in each of the past three years. What makes their victory this season so notable is how they won. While virtually every other team in contention this weekend showed early season rust and struggled to fit new pieces together, Revolver looked like they were already in mid-season form.
One of the reasons Revolver looks so good already is that their splashiest off season acquisition, Christian Johnson, is fitting into the offense seamlessly. He and Simon Higgins combine to make one of the most dynamic young cutting tandems in the league, each equally comfortable going in or deep while working off the other. And oh yeah, there is that Beau Kittredge guy too.
Anyone who projected 2015 as the year Beau lost his fastball needs to think again, as Kittredge put together an impressive 18 goal, 8 assist weekend, highlighted by his five goal performance in the final against GOAT. With Higgins, Johnson, and Kittredge to account for, opposing defenses are going to have several sleepless nights ahead of them this season.
The top talent on Revolver is undeniably impressive, but San Francisco might also be the deepest team in the country this season, particularly on the defense end. A player like Jordan Jeffery would be a key offensive cog for almost any other team in the country, but on Revolver he roams the D-line getting huge blocks and pushing the offense after turns. Players like Jeffery contributed to Revolver's ruthless D-line efficiency in the final, as they converted all five opportunites that Toronto gave them.
Ironside, Truck Stop, and GOAT all played very well against Revolver this weekend, but the Bay Area squad was able to take their best shots and still prevail. There will undoubtedly be dips in the season for Revolver — they were the favorites last year as well after all — but this weekend they threw down the gauntlet to the rest of the division and let the ultimate world know that the Revolver dynasty is far from finished.
Truck Stop Has The Potential To Be The Real Deal
Despite their loss in the semis to the Revolver leviathan, Washington DC Truck Stop has a lot to hang their hats on this weekend. One of the buzziest teams going into the season, Truck, on the whole, delivered on their potential and showed everyone that they belong in the conversation with semis and even title contenders at any tournament they go to.
One of the most encouraging signs for the team's future is that all of their pieces seem to mesh well together. The big new additions Nicky Spiva, Seth Wiggins, and Nate Castine all produced this weekend. Alongside Wiggins and Spiva, the key O-line core of Alan Kolick, Peter Prial, and Jeff Wodatch is well balanced and has enough flexibility to thrive even when defenses take away their first option.
There were certainly rough patches for the Truck Stop offense, but a lot of their problems where things like miscommunications on deep cuts, dump schemes that need fine tuning, and other issues that naturally occur when an offensive is learning to play together. By the end of the year many of the hiccups that cost Truck Stop this weekend should be gone, and they will possess one of the best offenses in the country.
The question for DC will likely be their D-line, as they struggled again this weekend on break conversion. Castine is a natural fit, as his fiery leadership and aggressive motion off of the turn should help move this unit up to the next level by the end of the season. They clearly have work to do, however, and right now their D-line is holding them back from being true title contenders.
It's Going To Be A Weird Year For The Northeast
It was a tumultuous weekend for the teams from the Northeast, the start of what is sure to be an interesting year for the region. With Ironside losing most of their name brand players, GOAT's talismanic star Mark Lloyd tearing his ACL, and PoNY bringing several new names into the mix, it was unclear exactly what was going to happen at the US Open. With the tournament in the review mirror one thing has become clear: expect the unexpected from the Northeast this season.
After a flat performance on Thursday, GOAT came out of nowhere to knock off Ironside and Johnny Bravo in succession, making the finals in the process. Missing not only Lloyd but a host of key contributors, GOAT looked dead in the water after their loss to Temper before turning things around in emphatic fashion.
Much of the credit for their success goes to players like Andrew Carroll, Remi Ojo, and Dave Hochhalter who had important roles for GOAT before this weekend, but flourished when given extra responsibility. Isiah Masek-Kelly certainly lived up to his billing as the next big thing, and is one his way to becoming more than just the next Mark Lloyd. The way that GOAT's role players stepped up to replace their missing stars is really encouraging for their prospects this year.
The trouble for GOAT is that, despite their success in West Chester, they didn't pass the eye test the way some other teams did. Their defense had a lot of trouble generating turnovers, and teams will not be giving the disc away at the same rate they did this weekend as the season progresses. GOAT's wins over Ironside and Bravo were huge takeaways for the team, but they will need to lift their ceiling before we can anoint them as genuine title contenders.
Ironside had one of the weirdest weekends of any team in attendance. They opened up the weekend by going blow for blow with Revolver, giving them their closest game of the tournament with a double game point thriller (available in the Ultiworld video subscription). They followed that performance up with an unconvincing win over Temper, and then blew a second half lead against GOAT in what would be their second crushing loss of the tournament.
It's worth noting that they played above expectations. Tom Annen looked like an excellent fit on the offensive line, one that showed a bit of a different look with multiple resets at times (as opposed to the traditional reset-less vertical stack O Boston is known for). Josh Markette is still playing brilliant ultimate and in general the offense looked fairly crisp.
Ironside's US Open experience is a study in glass half full/half empty thought. The half empty perspective: they missed the semifinals, and were eliminated at the hands of their regional rival. From the half full crowd: they lost by a grand total of one point in each of their two defeats, and the only teams that beat them on the weekend were the two finalists. We will have to watch the rest of the season to see which narrative was prescient, but right now the floor and ceiling of this Boston team look wider than it has in years.
PoNY's tournament was saved somewhat by their victory over a shorthanded Ring of Fire team, but in general their play showed that they aren't yet at a point where they can credibly compete with the best teams in the country. The New York staple brought in a lot of youth that may coalesce in time for the series, but with several hungry teams nipping at their heels for the Northeast's last bid to Nationals (most notably Dark or Light and Garuda) we could be in store for a crazy and entertaining Sunday at Regionals in September.
The International Sides Were Largely Outmatched
Germany's National team Inside Rakete probably fared the best of the three international teams competing in the Men's Division. They got the win of the weekend over Johnny Bravo and added a first round victory over PoNY. For a time, it seemed like they might have a shot at the bracket, but they couldn't put together a win over Ring of Fire or Furious George late in pool play and ultimately fell to the bottom of the pool on point differential.
Team Great Britain was just not in the same form as we saw the bulk of its roster (playing as London's Clapham) at last year's Worlds. That team almost knocked off Revolver in the bracket. This team just wasn't sharp enough to do damage against top sides. They ended up with wins only over last place finisher Team Colombia and Temper, coming up short against GOAT, Ironside, Revolver, and Ring. They did beat PoNY in a scrimmage last weekend. All in all, likely a bit of a disappointing weekend from the lads from across the pond.
Team Colombia went winless, but the team was thrilled to be at the tournament and getting some higher level competition. With a long-term focus on better competition and development, Colombia is happy to take some lumps at a top US tournament in order to improve. And it's not like they just got mercilessly blown out. They played GOAT, Temper, and Team Germany close. The athleticism is no doubt there; throwing under pressure and decision making still have work to be done.
What We Don't Know
How Will Bravo Put The Pieces Together?
Much like their fellow semifinalist Truck Stop, Johnny Bravo showed flashes of brilliance this weekend that were muddled by some uncharacteristically poor stretches. The big difference is that while the pieces of Truck Stop's offense make a lot of sense together, Bravo's offense is missing some key components.
As Jimmy Mickle pointed out after their loss to GOAT on Saturday night, Denver lost the majority of their aggressive throwers (guys like Bart Watson, Kurt Gibson, and Brett Matzuka). The burden to generate plays on offense shifted around over the weekend, but there didn't seem to be a magic combination. The team had its greatest success in their game against Ring of Fire when they were able to use their size downfield to abuse a smaller defense.
A lot of their success was predicated on cutter-to-cutter continuation throws, which worked in spurts but never over the course of an entire game. It seemed that several players on Bravo weren't totally comfortable in their new roles, particularly when it came to hitting those aggressive but necessary throws.
In general, Denver's offense looked very one dimensional, and we saw in the semifinals that when GOAT managed to gum up the cutter action downfield Bravo's handling core had trouble making the plays they needed to. We will have to see what they do over the course of the year to diversify their offensive gameplan.
They have a particularly thorny personnel decision to make in regards to Nick Lance. The Callahan winner was immense for Bravo all weekend on both sides of the disc, but he can only play so many points. Denver needs to decide exactly how they want to utilize Lance, whether that means committing him to a strict offense/defensive line or creating a hybrid role for him to play that depends on opponent and game situation. He often helped the offense get a hold when it was bleeding breaks, but that workload detracts from his defense. This will be an interesting storyline to follow as Bravo work towards retaining their title in Frisco.
Jury Still Out on Temper and Ring
Pittsburgh Temper and Raleigh Ring of Fire both left the weekend without a big win in hand, but there were extenuating circumstances that should leave both teams feeling better than their results might dictate.
Ring's roster this weekend ranged from "woefully shorthanded" to "merely anemic" as a large chunk of the team either missed the first day of competition or missed the tournament entirely. It is hard to take too much away from their performance because they were missing so much of their depth and several stars. Ken Porter, Micah Hood, and Taylor Pope were among those away from the team this weekend.
One takeaway from the tournament is that Ring's success this year will stem from their defense. In their two big pool play games against Johnny Bravo and Truck Stop, their defense was able to get them back in the game in the second half after staking their opponents sizable early leads. It took time for the Raleigh defense to ramp up to the requisite intensity, however; in both cases it came just too late to pull out a comeback win. Hitting the ground running in terms of intensity will likely be a point that Ring's leadership group stresses going forwards.
Temper was in a uncomfortable situation on Thursday, missing a handful of key players, most notably the Thorne brothers. They certainly could have used the precision and playmaking capabilities that Max and Alex bring to the table, as, despite victories over a shorthanded GOAT and an outgunned Colombian team, Temper did not look cohesive on either side of the disc.
On the second day of pool play the arrival of the Thorne brothers helped, but not enough to overcome some team-wide sloppy play. They went 0-3 on the day, including a loss to Great Britain that derailed any momentum they had accrued from their wins on day one.1
The weekend revealed Temper is still in an early stage of development on the season. Pittsburgh really just didn't look like a team that had put it together yet, so we will need to wait and see how they do at Colorado Cup before we can have a better read on this young team.
One note about Temper: we didn't see the kind of dominant performance from Tyler Degirolamo that some predicted. He clearly has the talent to be among the best players in the game (the eye-popping numbers he is putting up in the AUDL can attest to that) but so far this year Temper hasn't figured out how to best use him. Deciding how they want to incorporate Degirolamo's insane abilities into their offense will be key to their development this year.
How Do The Other Teams Fit In?
With the first major tournament of the club season in the books, Revolver look like the favorites to emerge as champions at the end of the year. While Ironside, Truck Stop, and everyone else who played at the US Open will want another shot at taking down Revolver as the season progresses, there are some huge teams waiting in the wings that will soon be making a big impact on the club season.
Doublewide is Ultiworld's #2 overall team, Sockeye is hungry to avenge their shocking prequarters exit from last fall, and there are plenty of wild cards like Rhino and Machine who might have the pieces to make 2015 their year. One way or another, we will see how these teams will affect the early season narratives already developing following the US Open. Many of those teams compete this weekend at the Elite-Select Challenge in Columbus, OH.
We got some answers in West Chester, but were left with just as many questions. It's going to be exciting to answer more and more as we watch the season unfold.
---
That loss actually hurt Ironside the most, as Boston would have advanced to the semifinals on point diff. despite their loss to GOAT if Temper also finished at 3-2. Pool play tiebreakers can be weird like that. ↩