A statement win for High Five!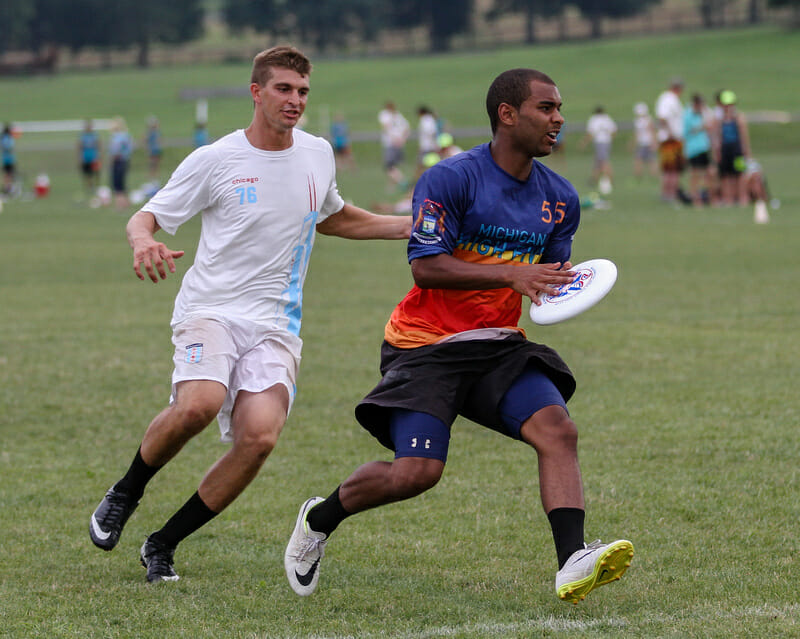 COLUMBUS — High fives all around.
There was plenty to celebrate yesterday for the new-look Michigan and Ohio combo team High Five, which easily defeated Great Lakes rival Chicago Machine 13-7 in the Elite-Select Challenge final.
"Today we just put together a complete game," said High Five captain James Highsmith.
It was Highsmith himself that set the tone early with a big layout block on the game's first point again Machine's Jonathan "Goose" Helton.
Helton called foul but an observer overruled the call; High Five broke to start as John-Michael Guest found Michael Meilstrup for the score.
High Five's mostly-Ohio-based offensive line did their job in this game, never yielding a break. In fact, the offense only had a single turnover in the first half.
The Michigan-heavy defensive line basically put the game away late in the first half. After Cullen Geppert threw a huck turnover for Chicago, High Five was ruthless with their D line offense, zipping the disc from sideline to sideline and churning past Machine's sluggish defense. Austin Engel hit Kevin Coulter up the flick sideline. Coulter made a layout grab and stayed in bounds for the break and the 5-3 lead.
"Our legs weren't as strong as we thought," said Machine captain Kevin Kelly. "High Five just kind of ran us."
High Five expanded the lead to three after Meilstrup blocked a low huck in the lane and Johnny Bansfield found Coulter for his second score.
Machine's offense had also struggled earlier in the weekend. Four players from last year's offensive line — Dave Wiseman, Pat Shriwise, Taylor Kraemer, and Tom Annen — have all left the team, so developing new chemistry is a work in progress. That meant they needed the defense to get them to the final.
"We really leaned heavily on our D line a lot of our early games and by this final they just looked spent," said Kelly.
They did have a chance to get it back within two early in the second half after Phil Cherosky threw it away looking for a backhand break. Chicago hucked to a streaking deep cutter and it looked like a sure score, but Bansfield made an amazing layout catch block on the trailing edge to get it back for High Five.
"I didn't feel like it was all that big [a layout]," said the soft-spoken Bansfield. "But once I heard the crowd, I knew it must have been."
Mitch Cihon and the High Five offense continued to play sharp down the stretch as the team pulled away late in the half with two more breaks.
Brett Kolinek was a bright spot for Chicago, finishing with two goals and two assists.
High Five shared the wealth: nine different players scored and nine different players assisted.
That highlights how much deeper the team is this year thanks to the quasi-merger with Columbus Madcow. "In that final, our legs were fairly fresh because we were able to give a lot of playing time to a lot of guys," said captain Mike Dagher-Margosian.
Perhaps more importantly, individual players' skill sets are being put to their best use.
"We are able to put a lot of guys in their more natural roles this season," said Highsmith. "Our starting defensive line has five guys that were on our O-line last year. That's substantial."
By reaching the final, both teams qualified for the Pro Flight Finale in late August. Neither has officially accepted their bid, but both anticipate attending the Minneapolis tournament.
High Five was insistent that this would not be the high water mark of their season. "It's not enough," said Bansfield. "We're going to improve from here. This is not the final product of High Five."