Some huge upsets peppered a drizzly Monday in London.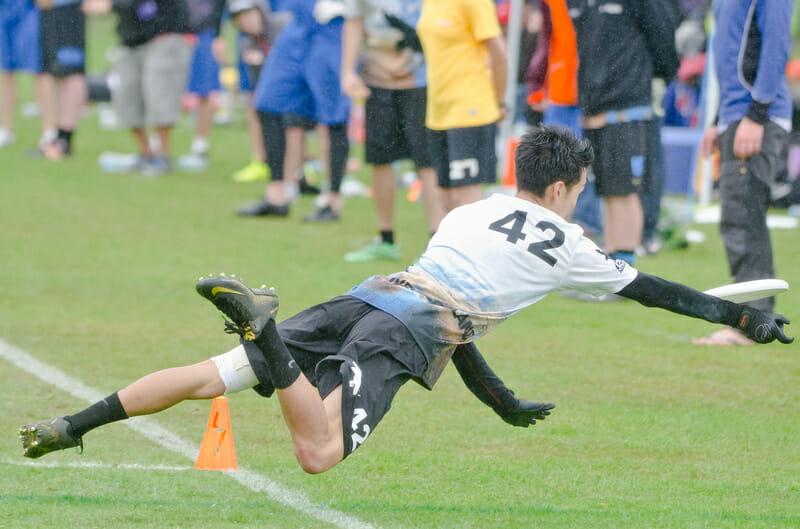 "Welcome to London."
Thats what I was told by a local Great Britain parent as I noted the half-rains and heavy winds we had been getting all day. The weather wasn't necessarily ideal for a day of ultimate, but someone forgot to tell all the players. On day two of U23 Worlds, the real fun began.
Open Division
Ireland knocked off pool C one seed Australia in a gritty contest 11-9 in one of the biggest upsets of the day in any division.
The wind was heavy, and Ireland seemed to be the better prepared for it. The team, in fact, went out of its way to practice in some of the windiest parts of the country before the tournament.
Ireland's win and Austria's big 16-11 win over the Aussies leave pool C wide open for tomorrow. Germany and Switzerland were both in good form for their first showing of the tournament. Switzerland ran creative offensive sets to isolate downfield cutters, but the German defense was just too tight for it to be enough. Germany's offense was technically precise and fundamentally flawless. Their mastery of spacing and timing prime them for a big upset later in the week. They defeated Switzerland 17-10.
Canada and Japan matched up in one of the more anticipated games of pool play. Canada notched the first break, taking a 3-1 lead. The D-line offense for the Canadians displayed their chemistry and smooth flow. Teir efficiency would culminate in a 9-6 halftime lead. After a Peter Yu high release flick for a 12-9 hold, Canada had a small slip. Japan rattled off some breaks, but a timeout and quick talk from coach Patrick Mooney settled the squad down.
After the eventual 14-11 win, Mooney had nothing but respect for Japan.  "The Japanese defense gives us something new," he said. "They gave us a bunch of different looks and put us in some tough positions."
The Canadians are happy to have gotten the tournament started.
"We've had a training camp and gotten to play some guys from Sockeye and elsewhere, but it's different when there's something on the line," said Mooney. Tomorrow Canada will play Sweden and New Zealand for a chance to win Pool B. Japan will hope to join them in power pools with a two seed holding finish.
A field over, Colombia and Denmark were locked in a tight contest. Denmark utilized one of the tallest rosters at the tournament, something in stark contrast to Colombia's small ball style. The Colombians showed creativity in both their throws and their unconventional cuts.
Unfortunately a Denmark player went down with a hard injury to his neck and back. Several points later, an ambulance drove onto the field during double game point. Both teams paused to watch the player be carted off the field. After a long break, Colombia quickly turned it giving Denmark a chance for the win. But a slight miscue in the wind gave it right back, and Colombia didn't waste their second chance. They won the contest 13-12.
A big game to be on the lookout for tomorrow is Ireland vs. Austria. A win in this game locks up a power pool spot and more than likely wins Pool C. Matthew Feely is the main handler for the Irish; his technical ability is what pushes the offense forward. Expect him to be a statistical leader by the end of the week.
Mixed Division
In their first point of international play ever, India broke the home team to go up 1-0.
"We had mentally prepared not to be here," said Harsha, an Indian player. "And then we got a call."
Two hours before they were supposed to leave for London, the Indian team finally got their long-awaited travel visas. They broke for the first point of the game against Great Britain. It was then, said Harsha, that they "realized why they were a top team." Great Britain went on to win 17-6, but India put up a good fight in that game and then again later against the USA.
South Africa and Japan played one of the closest games of the day in the Mixed Division. The Wild Dogs were not afraid of the heavily favored Japanese squad.
If you think Chain Lightning and Sockeye have different styles, try watching these two teams. Japan runs a spread offense that is halfway between a horizontal stack and no coordination at all. Mami Murakami moves the O along with her agility and sound decision making. Murakami notched five goals in the first half, and another crucial one in the second half for a 13-10 lead. The South African Wild Dogs seem to have a "green light" philosophy. Or as handler standout Oliver Goosen put it: "We have the height, we might as well use it."
South Africa plays loose, fast, and creative. The two styles made for an absolute joy of a game. After Japan got that three point late lead, South Africa stepped up the defense to tie it up at 14. On double game point, Japan had the downwind advantage. After a timeout, they isolated their cutters through a unique end zone spread and punched it in for the 15-14 win.
The other thriller on Monday was Chinese Taipei vs. Germany. After a difficult showing against the USA, Chinese Taipei quickly turned it around. Late in the game, a one point lead from Germany disappeared after a hold and two breaks from Chinese Taipei. An 11-10 lead was enough, as Chinese Taipei took advantage of a chance to win on offense. Chia-Yi Hsieh snagged a big sky and then dished to the end zone for the goal and the 12-10 upset win.
Women's Division
In the Women's division, Australia landed an upset over Great Britain. Australia coach Steven Wright thought his team showed great composure in their win. "Towards the end of the game we turned it a lot less," said Wright. "We've had plenty of wind and rain at our training camps."
The Australian women have been playing together longer than most U23 teams in attendance. Their first training session was in January. Throw in a few tournaments in the spring, and you've got a recipe for great chemistry. Later in the day, they finished the first half of their game against Sweden down one, but they figured out how to turn it on in the second half. They would finish on an 8-1 run.
Colombia was in great position in the last round of the day to shock everyone with a win against Canada. A 7-5 lead over the heavy favorites caused a few double takes from many of the fans in attendance. But a great huck from Mira Donaldson caused Canada to seemingly wake up; they rallied to take half 9-7. They carried their momentum to a comfortable 16-12 win.
***
With so many teams and so much competition, it's a challenge to stay on top of every contest around the field complex. What hasn't gone without notice is the sheer spectacle of this tournament. Ultimate is a language we all share and a tool we use to shrink the world. And in all the craziness and amazing camaraderie that is a Worlds competition, theres only one thing to be said: Welcome to London.